Now here we do have a nice rare bike with 461 produced worldwide.  In 2003, Aprilia produced an RSV Mille R Edwards Replica with a livery inspired by the Aprilia RS3 Cube MotoGP motorcycle riden by Colin Edwards, as with the Haga replica from 2002, the motorcycle came with a circuit kit, which included Akrapovic exhausts, a more pressurised airbox, an Eprom injection unit and 57 mm (instead of 51 mm) throttle bodies.  The Mille also featured a type of slipper clutch, which worked by using a vacuum on a closed throttle from the inlet manifold to give the effect of slipper clutch, but only on a closed throttle, whereas most modern examples use a ramp mechanism in the clutch basket.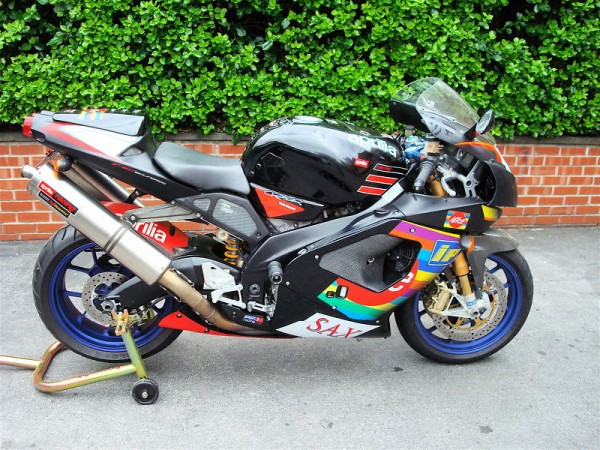 Up for Auction: an Aprilia Rare Colin Edwards Replica, one of 461 made world wide – street legal track bike – race kit on each machine – Rotax engine, 57-mm throttle bodies, Eprom injection unit, with racing chip – engine management, six speed close ratio transmission, carbon fiber larger air box and snorkel, Akrapovic titanium exhaust, slipper clutch, 16 tooth sprocket, four piston Brembo double floating disk brakes, Olins suspension front and rear, olins steering damper, Heli bars, OZ Blue forged aluminum Anodized wheels on Pirelli's…rides like a dream – top speed 180MPH.

I bought the bike from a friend who spilled it with 62 miles on it, scratched it up, complained to the insurance company that parts were hard to get and they gave him most of his money back. I had some panels repainted, made sure it was all straight and rode it! It is a wonderful machine but I can only ride one motorcycle, I hate to let it go but…….. I have a low reserve on this bike, that originally sold for over $19,000.

Please ask all questions before bidding, email through ebay, the winner of the auction is responsible for picking the bike up or for shipping to anywhere. A deposit on your Master Card or Visa of $1,000.00 at the end of the auction – the rest in three days. Bidders are welcome to come and view the bike in person, I tried to take as many pictures are allowed to show off the bike and also to show some of the minor scratches.
The eBay Listing can be found here.
RSV Mille R's are very nice bike sand this example is rather special with a low mileage.  It has got a few bumps and bruises but on a bike such as this it should not be an issue.  Price wise these are a bit of a bargain particularly when compared to other Italian bikes, this would seem to have a value somewhere in the $7k-$9k range based upon other examples being sold.  Happy bidding.
AS