The 2004 Ducati Monster S4R was the naked Italian's coming out party, showing that the plucky little air-cooled city bike, the bike that made Bolognese beasts accessible to the rest of us, could dance with its harder-edged stablemates. To do so, it eschewed basically everything the standard Monster wore, with the exception of the single-sided swingarm, round headlight and exposed trellis frame.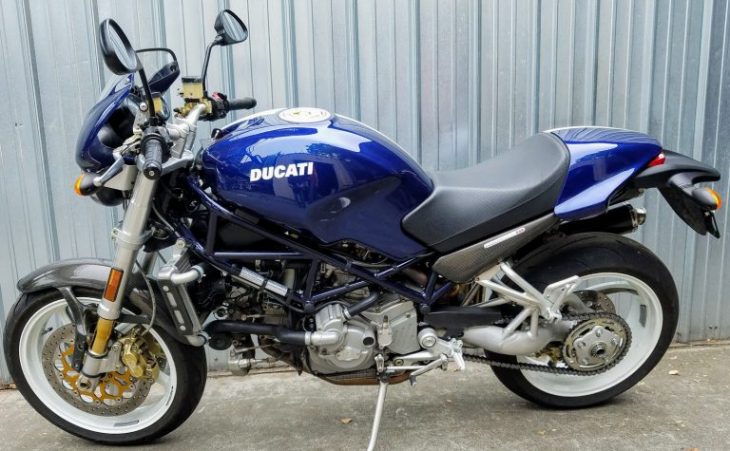 Underneath those framerails was hung the liquid-cooled heart of Ducati's recently departed 996, the wild last scion of the Tamburini designed 916. That meant somewhere around 120 horsepower hoisted skyward by Showa upside down forks, which made it handle on rails but ride like a race bike. It was, in short, one of the first naked hooligan bikes.
This lovely dark blue and white 2004 Ducati Monster S4R is a one-owner example from the Seattle area, and is being offered for the first time by our friends at Seattle Used Bikes. It's maniacally clean, fairly low mileage, and has a scant few very tasteful modifications. A set of carbon Termignoni cans, a freer-flowing, much cleaner looking mid pipe, carbon clutch cover and aftermarket slave cylinder.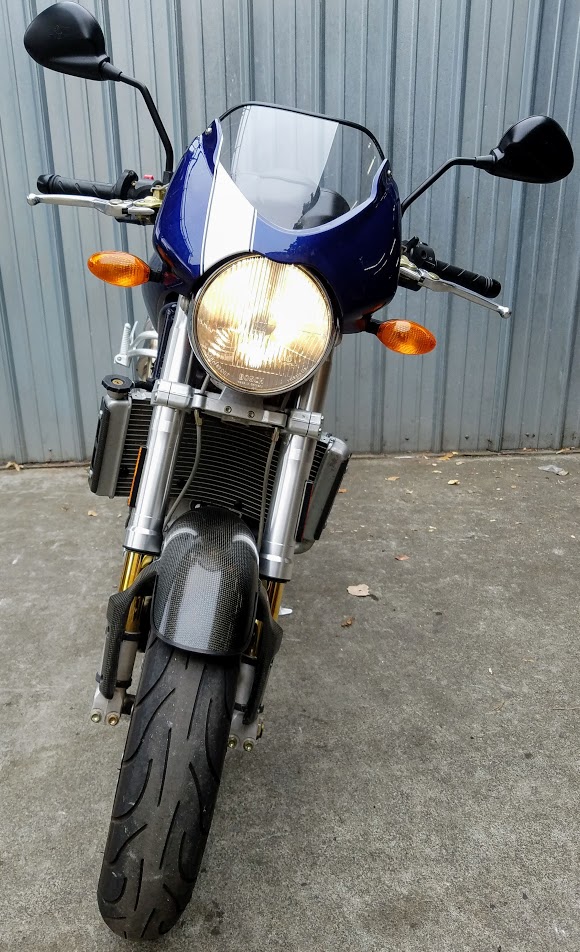 From the seller:
This is what I would consider a rare find. First reason, it's a one owner local bike, well maintained and kept with minimal but tasteful modifications. Second reason, it is the gorgeous Blue/White color that Ducati featured as it introduced this new model to the market in 2003. We see a few tasteful upgrades like the carbon fiber open clutch cover and an upgraded clutch slave cylinder, then there are those proper high swept Termignoni carbon exhaust, along with a Spark mid pipe getting rid of the "udder". This S4R has been mainly maintained over the years by its owner but major was done at dealer, a paper trail is provided.. We had a chance to look this one over, took care of a few items we spotted, did a bit of throttle body tuning to get it running just right, these are certainly one of our favorite Ducati Monster versions. It has not seen much use the last 5 or 6 years, our last records show 10,800 miles on it in 2013, consequently we have been enlisted to find a new home. No track days, NEVER on the ground, tool kit, manuals, code card, 2 black keys and a red key (all original) are all there along with a clean WA title.

This is a sweet S4R and if you wanted one when new but missed out, here is a chance to grab a clean one owner example.
Here are some comments from the 2004 press intro;

The Meanest Monster Ever – At the limits of the Italian coastal town of Cattolica, the road opened and stretched into the distance–and suddenly Ducati's latest motorcycle, the Monster S4R made sense.

"I cranked the throttle for the first time, and the most powerful production Monster lunged forward almost hard enough to bend its fancy new one-piece aluminum handlebar. This thing's fast! Seconds later the S4R is still accelerating hard past 120 mph, not surprising considering its grunt comes from the 996cc desmo that recently powered Ducati's 996 super-sport. But you only need to glance at the single-sided swingarm and stacked mufflers to realize there's more to this Monster than a bigger motor. The Monster concept has evolved gloriously in 10 years (with 130,000 units sold since the original M900), and the new S4R is a far more aggressive machine than all its predecessors.

The S4R's strong in the corners, too, thanks to the typically rigid trellis frame, racy steering geometry and firm suspension that copes well with everything. Weighing just 425 pounds (claimed, dry), the Monster's reasonably light, and its wide bar gives plenty of leverage for flicking through turns. Every time I had the opportunity to give it some stick, the S4R was brilliant fun. Those seeking a naked bike for commuter duty should consider its marginal low-speed manners and $13,495 buy-in (bikes should be available June 2003). But on the open road the S4R is far and away the best Monster yet, providing all the style, speed and Hooligan appeal required of a big, bad, naked V-twin". – Roland Brown – Motorcyclist Magazine

Credits cards accepted, up to $150.00 documentation charge may be added.

Seattle Used Bikes
4905 Aurora Ave N.
Seattle, WA 98103
dave@seattleusedbikes.com
Closed Sun/Mon Find us on Facebook and the Web
At a dollar shy of six grand, it's hard to argue with the value of this wild machine, which in it's day commanded nearly $15,000. It might be a few months yet before you can enjoy it, but that shouldn't stop you.