For Sale: 1990 Yamaha TZ-R 250
Here is another rare one that was pointed out to us by RSBFS reader and superfan Martin. We need to get this guy on our payroll as his tastes are just like ours!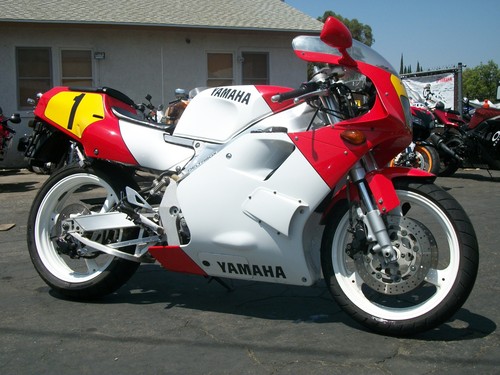 The seller has seemingly transcribed the TZ-R 250 Wikipedia entry into his advert, so settle in and let the words of many people typing into an open source online encyclopedia lull you to enlightenment.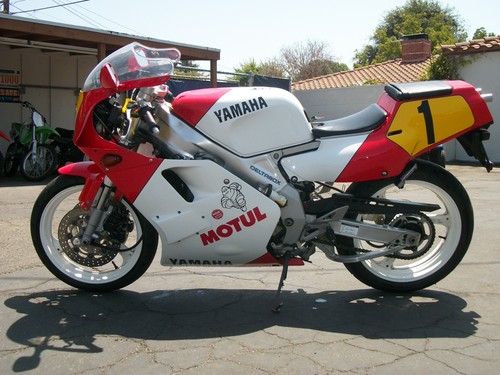 From the seller:
The Yamaha TZR250 is motorcycle manufactured and produced by the Japanese motorcycle manufacturer Yamaha between 1986 and 1996.

Yamaha produced road going 2-stroke motorcycle, loosely based on the TZ250 Yamaha racing bike. Parallel-twin, reverse cylinder and finally V-twin variants were produced. It evolved as a natural replacement for the popular RD 250/350 LC series of the 1980's. It has Yamaha Power Valve System (YPVS) which raises and lowers the exhaust port depending on the rpm of the engine, the YPVS servo motor starts to open at about 6,000rpm. In standard form 50bhp is claimed at 10,000rpm. Although mid 40's is more realistic, and will not rev much above 9,500rpm in standard trim owing to the restrictive standard exhausts and ignition boxes

Racing
Still raced in the Yamaha Past Masters race series with the British racing club – BMCRC. Racing engines currently claiming circa 56bhp @ 11,000rpm. Racing pre-mix fuel ratios typically 1:30. Standard exhausts are difficult to improve on in terms of power and torque, but they are very heavy and impede ground clearance. Jolly Moto exhausts are popular replacements as they are lighter, produce similar performance, and allow better ground clearance.

In 1987 Mat Oxley was the first person to lap the Isle of Man TT course at over 100mph, riding this model. An F3 racing kit was produced for a few years which included ignition boxes, carbs and exhaust pipes, helping increase maximum revs, power and torque.

History
Production started in June 1986. At a cost of around $6,000 new on release it was seen as an expensive bike for a 250 cc, but given that places such as Japan and Australia had 250 licencing laws in place one can imagine the stir that something that could hassle 750's on a track caused. 2MA variant being the UK variant and the 1KT model being the domestic Japanese variant. Variations between these two models being minimal, i.e. wording on the brake master cylinder in English or Japanese. Lighting arrangements were also different, to comply with UK type approval regulations, particularly the indicators were mounted on stalks rather than faired into the bodywork.

Then came the reverse cylinder version 3MA, then the V-twins 3XV. The variants followed the configuration of motor of the racing TZ250 of the time. Manufacture of TZR250s stopped in 1996.
This TZ-R looks pretty good from the pictures. As all of these were imported, there is usually a pretty large number of people who put their hands on the bike before you did, and part of the fun is to understand and work through prior modifications. Mileage is listed as 24,000 KM and change (call it 15,000 miles for stateside usage), and there is no info as to how fresh that top end may be. The picture shows a CA plate with current tags, so there may indeed be some magic in this bike!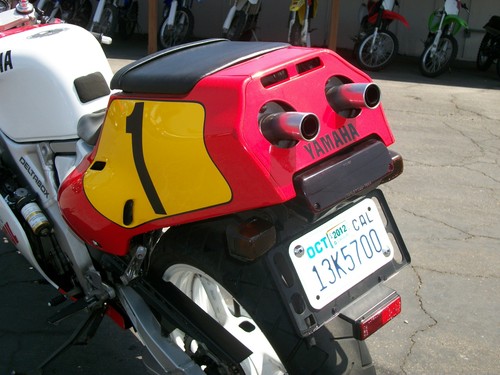 The current auction price is just over $4k in pretty moderate bidding, but still a ways off of the BIN number of $8,700. As far as quarter liter smokers go, this TZ-R is rarer than most, and looks pretty good. For more info and pictures, click the link and jump over to the auction. Thanks for pointing ths one out, Martin!
MI