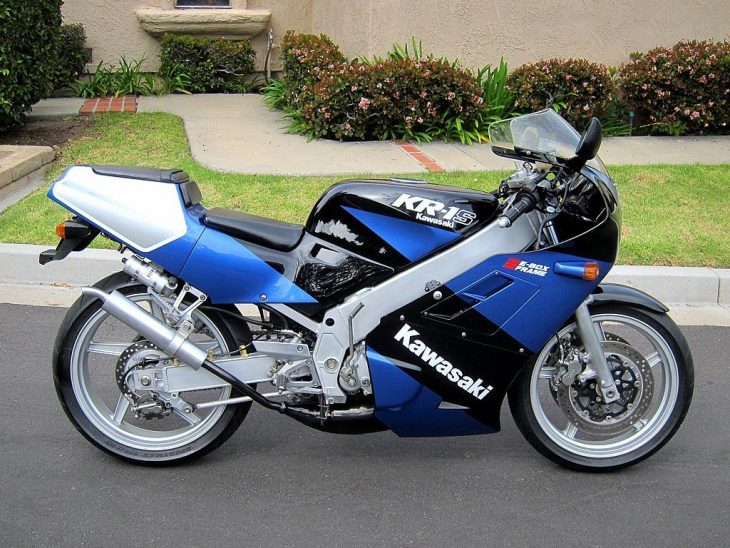 They're relatively rare here in the US, even in states with lax registration requirements, but late 80s and early 90s quarter-liter two-strokes were pretty widely available elsewhere in the sportbiking world, considering their narrowly-focused role and limited audience. Kawasaki was largely absent from the intense class rivalry during that period, though. Their earlier KR250 was out of date compared to something like the original TZR and they didn't have a real competitor ready until 1988 when the Kawasaki KR-1 and the sportier KR-1S were introduced.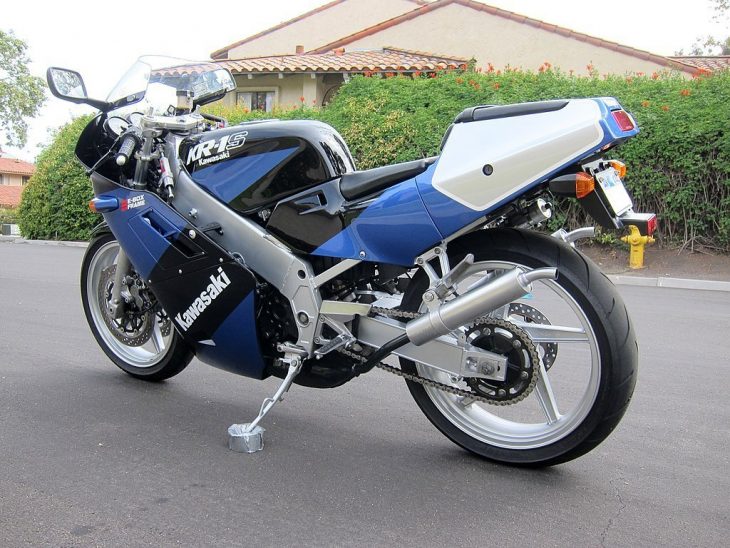 The KR-1 was discontinued in 1992, without any significant updates and well before the others in the class. Just 10,000 were built, making it a pretty rare sight outside Japan these days: Honda constructed more than ten times as many NSR250Rs! But although Kawasaki as a company didn't seem like they'd gone all-in on the idea of going head-to-head against Honda, Suzuki, and Yamaha, it wasn't as if the KR-1S itself didn't measure up.
Like most of its rivals, the KR-1S was powered by a liquid-cooled two-stroke parallel twin and backed by a six-speed gearbox to exploit the razor-thin powerband although, also like its rivals, the Kawasaki did feature power-valve technology, here dubbed "KIPS," to boost the midrange. Modern bikes with their ever-larger engines and horsepower numbers are increasingly equipped with electronic up-and-down shifters and autoblippers, but they really don't particularly need them on the road, considering the available power. A quickshifter/autoblipper would get plenty of use on one of these, had they been available: there's only so much you can do with just 249cc and the bike's government-mandated 45hp, so dancing on the gear lever is a required, not optional activity when riding a little two-stroke.
The frame was the typical aluminum beam unit of the class and the suspension was good but, compared to other bikes in the class, the KR-1 was a bit… raw. Handling was "lively" and the bike managed a best-in-class tested top speed of 139mph. An engine balance shaft driven by the 180° crankshaft seems like it was the only concession to civility, and even that was probably justified as preventing vibration damage to the minimalist frame, rather than as a means to refine the experience of riding the wee beastie.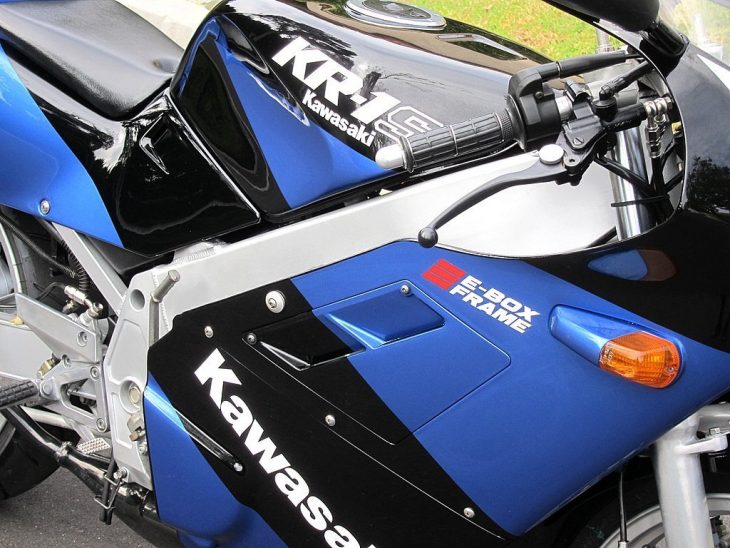 From the original eBay listing: Cali-Titled 1989 Kawasaki KR-1S in Zeus Blue for Sale
The KR1S model here in the USA is one of the most rare of the Japanese 250 racer replica two strokes. If one can be found, it will usually be the green, white, and yellow bike. Sometimes the black and green bike, but never a factory genuine JDM Zeus Blue bike. These bikes were very limited in production. The factory Zeus Blue bikes differed from the export models in a few ways: indicators, mirrors, calipers, rotor center color, wheel color, all ID by the frame number. California titled and plated to its original VIN# Rare. Call Tim @714-746-5087 for more details.

When I purchased the bike a few years ago, I went onto the forums and found only a handful of original Zeus Blue KR1S models all overseas: one in Australia, one in the Netherlands, and one in the UK. I would go so far as to say this is the only one in the USA, and I know it's the only one with a California title. This is THE rocking horse unicorn bike. To whomever buys the bike, you would be INSANE to remove the California title from the bike. That makes this bike so desirable. These bikes were ONLY JDM models never for export which is what makes them so rare. I have owned many many 2Ts (TZR, SPR, MC21, Rothmans, MC28, VJ23, V Model, Lucky, etc). These parallel twins really are amazing bikes. Having owned the four big Japanese manufactured bikes, to me there is no question Kawasaki is the most fun to ride. They literally are mad scientists and I LOVE IT! The KR1S was the fastest of all the 2T racer replicas. And if you know Kawasaki, they just built it and let it rip. Yamaha, Honda have their rev limiters, credit card ignitions, etc. Not Kawi. This thing will go all the way if you were to wind it out all the way. The sound of the parallel twin motor is simply the best. The cackling of the pipes. This bike has only had Motul 710 in it, runs fantastic, starts first kick, and purrs at idle. 18k miles on the clocks, float, gaskets, float valves all done, carbs serviced and cleaned, has Uni foam filter, new plugs, steering damper, factory toolkit, original key, etc. Clear California title in hand and current registration 'til Jan 2019. Bike is for sale locally so the auction can end at any time. Thanks. Enjoy the ride…
Personally, I prefer my wild-haired Kawasakis to be vibrant green, and not the more civilized, metallic green they've been using on their modern, more sophisticated offerings. No, I want that lurid, fluorescent green of old. But this color scheme is exceedingly rare here, and that does count for something. Not to mention that it does look pretty sharp! The 18,000 miles indicated may not be stored-in-your-livingroom low, but the bike does appear to be you-could-eat-off-it clean and is in immaculate condition, with the very desirable California registration. And yes, the seller is correct that re-titling it in another state is absolutely a bad move financially: legitimately-titled two-strokes of this era are difficult to come by here, and there are plenty of well-heeled enthusiasts willing to pay extra for something they can legally ride.
-tad