If asked to picture a red, Italian vee twin sportbike, the majority of the world would come up with a single marque: Ducati. But in truth the Italians have been rather prolific with their sporty scoots across dozens of manufacturers, even though some brands may not be household names here in the United States. And some, while once well known, have fallen to the march of progress and the downfall of insolvency. One of those surviving iconic Italian brands is Moto Guzzi – holding the title of the oldest motorcycle manufacturer in Europe still in continuous production. Now owned by Piaggio but allowed to operate quasi-independently, Moto Guzzi soldiers on with a handful of cruisers and V7 nostalgia bikes. However Guzzi once was known for sport bikes, and none highlight the brand better than today's Daytona RS.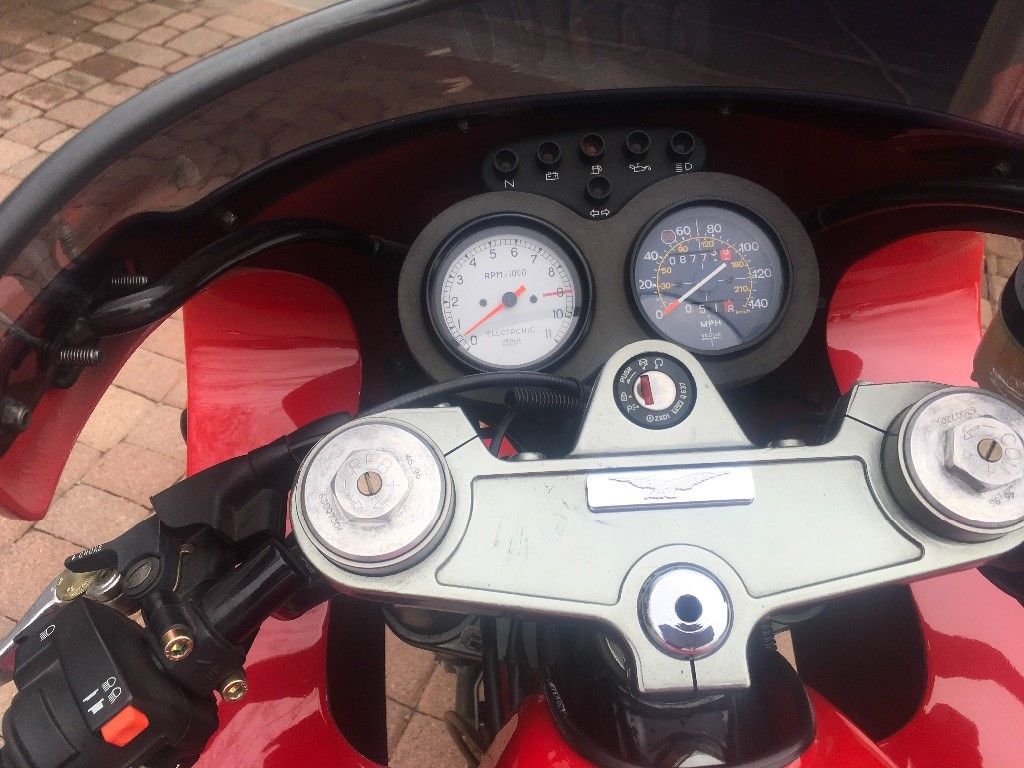 Based on the very (for Moto Guzzi) successful 1100 Sport model, the RS contained a few extra goodies in the horsepower and handling department. Like many other successful brands, Moto Guzzi marketed the RS as a premium model, selling the extra performance. Unlike the 1100 Sport, the RS featured new 4-valve cylinder heads and a bigger cam to help with higher RPM breathing. Modern EFI provided the fueling. Down below, a new lightened crankshaft was connected to a lighter flywheel, carillo rods and forged (rather than cast) pistons. Moto Guzzis have always been known to be robust motorcycles, and the venerable transverse vee arrangement readily accepted these updates without complaint. On the chassis side, the RS received uprated WP dampers front and rear along with 17″ rubber front and rear. Tipping the scales at the same rate as the 1100 Sport (approx 488 lbs), the RS offered 12 HP and nearly 1,000 RPM more motive power along with handling refinements and a 240 KM/h top speed.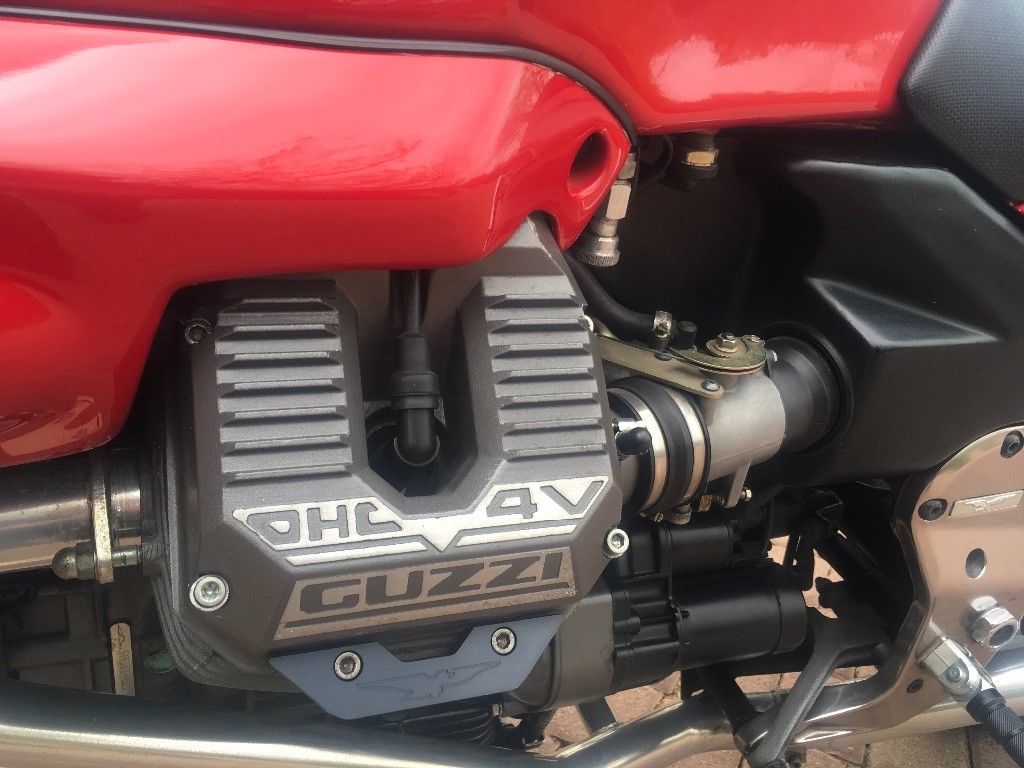 From the seller:
Daytona RS, very rare, only 34 to North America. I have had the bike for ~3 yrs in southern Arizona. Runs very strong, great looking with everything working. Mileage ~9000 as I continue to ride it on occasions. New cam belts, forks rebuilt, valves checked, tires good (Pirelli angel gt). Aftermarket exhaust, handlebars and Creedon chip.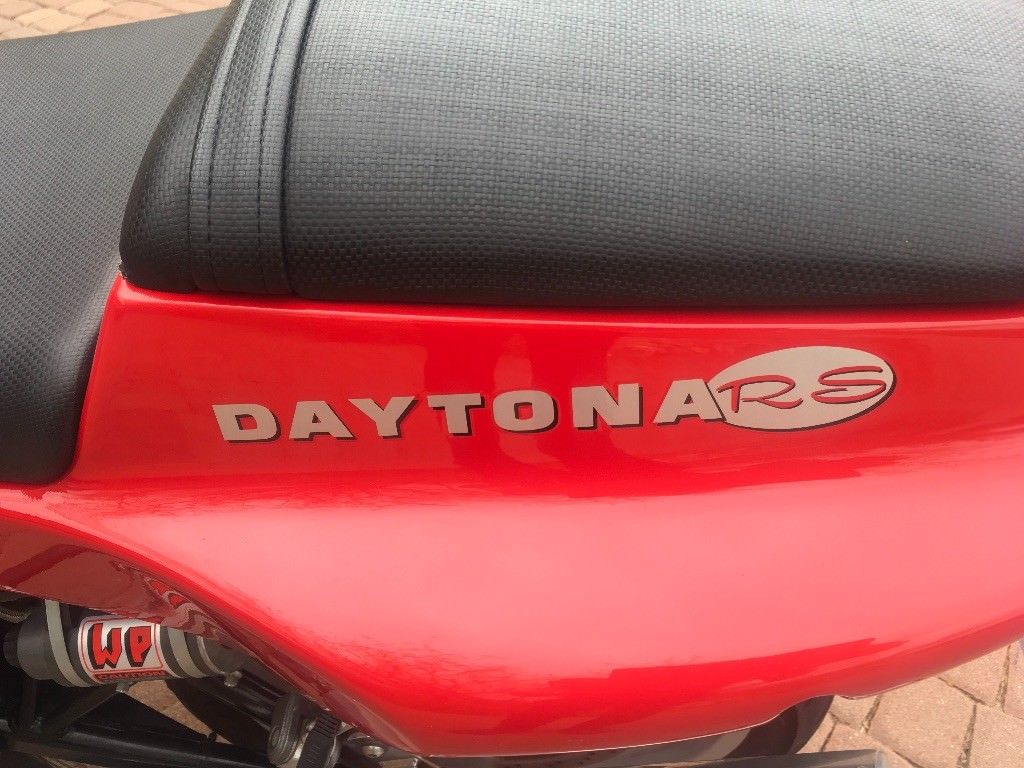 From a performance standpoint, the big Guzzis were largely outclassed by Japanese precision. From a local perspective, Moto Guzzi found itself losing ground to the group from Bologna – to the point where Ducati dominated the Italian vee twin sporting scene. Ultimately grouped into the Battle of the Twins class against Beemers and Harleys, Moto Guzzi never quite made the transition to the modern sportbike era. But to damn the brand because it refused to enter the hyperactive world of "win on Sunday, sell on Monday" would be missing the point of this Dayton beast. With long legs, great sounds and fantastic looks, this Daytona RS is timeless and offers so much more than a fleeting performance benchmark. This is a classic steed that performs well enough to hold its head up high while enveloping the rider in a cloak of quality and mystique. This is a bike that riders look at knowingly and longingly; this is ultimate cool, personified.
This particular Daytona RS looks to be in pretty good shape. There is some wear evident in the rash on the triple clamps – it is minor and does not affect functionality, but somehow marks in this area always aggrivate me – and some slight damage to the left side rear tail section. Otherwise this appears to be an honest bike, and presents well. The mileage is sub 9,000, and from the seller's text maintenance and care was performed as one would expect. There are some extras in the form of upgraded Termi exhaust as well as a tuner chip controlling the EFI, enhancing power delivery as well as rideability. These RS models are rare and in demand in the small circle of Guzzi fans, so this one may not last long. The opening bid started out at a rock-bottom $1,000 (with reserve), and the BIN is a reasonable $11,500. Check it out here, and revel in the artistry of Italian chic. Good Luck!!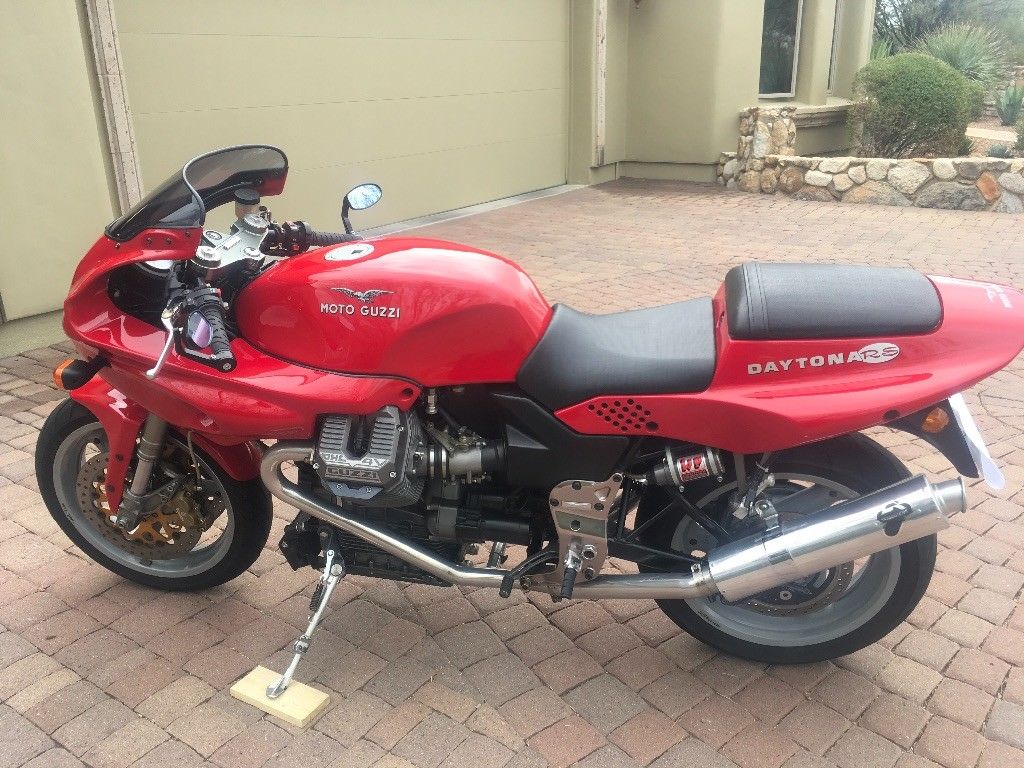 MI