Warning!
This post is in our archives. Links in this post have been updated to point to similar bikes available to bid on eBay.
Every post will be sent right to your inbox every morning when new posts are made. We will never sell our list or spam you. Plus you can click links to bid or buy right from the email and skip the site entirely. Subscribe to Rare SportBikes For Sale today!
Unlike many reinvented marques that attempt to trade on nostalgia, the resurrected Triumph knew they would be unable to compete head-on with the Japanese in terms of raw speed, so they created bikes like the Daytona and Super III to appeal to the heart with character and quality, while appealing to the head with real-world performance and reasonable pricing. On paper, it was no contest. On the street however, it was a different story, and the Daytona offers up plenty to like for street-focused riders looking for something different.
The Super III was a Cosworth-tuned version of the Daytona, with 115 claimed horsepower, up from 98 in the standard bike. Honestly, neither of those numbers will impress anyone today. But that was hardly the point, and the main selling point these days should be the modern-classic looks, the engine's muscular, flexible midrange, and the upgraded front stoppers on the Super III that are a major improvement compared to the fairly weak standard Daytona bits.
If you're looking for a "pure sports" motorcycle or track-ready handling, you're barking up the wrong tree here. The Daytona is relatively light, but feels big. Roomy. Handling is stable rather than nimble, and the engine is all about that mid-range, not top-end power. Max speed is around 140mph or so, but it feels like it could do that all day long and period testers described it as an excellent point-to-point motorcycle.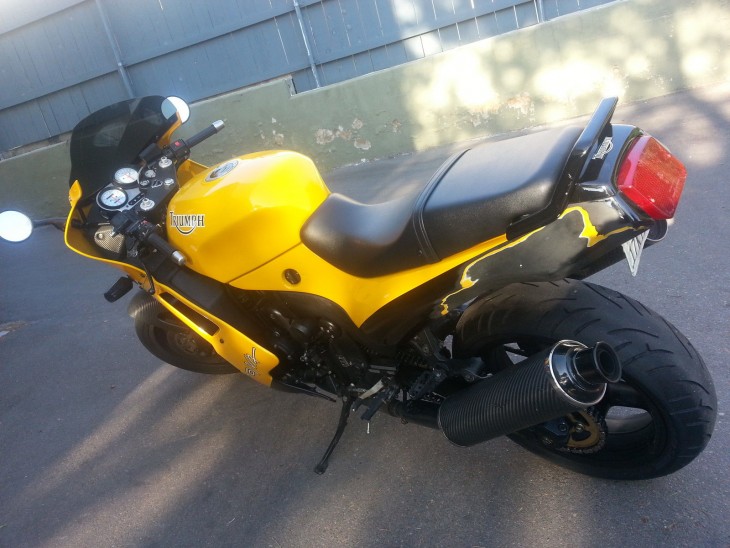 Getting the picture? Triumph knew they couldn't compete with the Japanese, so they didn't bother. They made a classy gentleman's express that needed to make no apologies on the road, with usable power, handling, and sport-touring comfort to go with quality construction. There's a reason that, as rare as they are, these so often seem to show up in such good shape. Except for when, you know, the owners crash them and stuff…
From the original eBay listing: 1996 Triumph Daytona Super III for Sale
For sale is the Rare Triumph Super III. Only 179 were ever imported into the United States from  805 that were ever produced. After nearly 20 years, that number has dwindled down to just a few remaining. I've only seen one other for sale and they asking $7000. Now is your chance add this great running specimen to your collection. 

The good: 

19129 miles of mellow adult riding. Low miles! This number is last week's number. I will be riding with my wife later today. It will be sold with less than 19,500 though.
Re-upholstered rear seat
Fork seals done
Valves checked (no adjustment needed)
Carb cleaned and tuned
Inside tank rust-free
Meat left on the tires NEW FRONT TIRE INCLUDED FREE!
Chain and sprockets clean and oiled (look great)
Rear solid cowel included(it covers rear seat)
Box of extras included free
Runs like New!

The not so good:

Bike went down at a slow speed when plastics were off. This resulted in scratches on right hand brake, light dents on exhaust, part of windscreen missing, exhaust cap on left side missing, rear brake lever bent slightly. Rear decals were sanded off sadly, as was right middle decal. See pictures, it's quite minor but I like to fully disclose what I can see.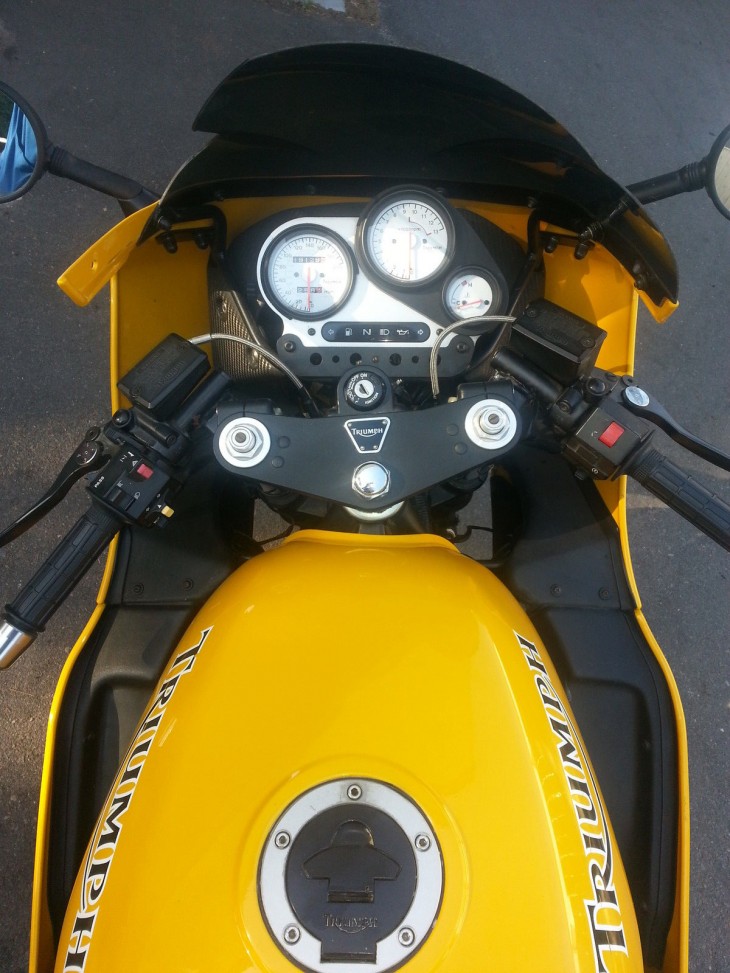 This example obviously needs a bit of paint and bodywork, but the paint that isn't sanded off looks shiny and well cared-for, and everything else looks in order. These bikes were well-built and nigh-unburstable: they may not have been able to compete in terms of performance, but they beat the pants off the Japanese in terms of quality. Daytonas of this period have very few inherent mechanical problems and for the $2,600 asking price, this looks like a bargain.
-tad