Warning!
This post is in our archives. Links in this post have been updated to point to similar bikes available to bid on eBay.

 Following on the heels of Alex's great post of 3 AMA Superbikes for sale, I felt compelled to post the badest production homologation bike on the planet.  I know, I know that can be debated, but can't be denied that these babies are bad to the bone!

First D16RR is located in Kalamazoo, MI and is the cheapest of the 3 on .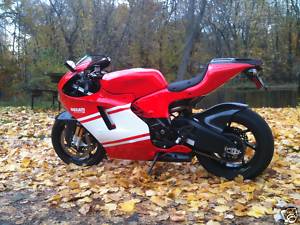 Owner says:
2008 Ducati Desmosedici D16RR Team Edition #190/1500 This bike is in Excellent condition! Adult ridden, properly broken-in. I comes with all the goodies from Ducati that came with the bike. Cover, the unused GP Replica Sticker Kit, both exhaust systems and ecu's, rear stand. Bike also has the optional Ducati rear hugger. Please email me with any questions.
This one has 3,300 miles on the clock and like I said before is the cheapest of the three at $45,000 with no reserve.
===============================================================================
Next D16RR is located in Seattle and is on as well.
Owner says:
It is #678 out of 1500.  

It still has the included service plan and warranty and all accessories that came with it.  It is the Team Version.  The decals are included but have not been applied.  It has had the Ducati Service Bulletins performed by the local Ducati Dealer in Seattle (improved valve return springs and wiring harness protection).

It includes the optional carbon fiber rear hugger.  The motorcycle has the factory included racing exhaust kit installed.  The stock kit comes with it as well
 
This one is priced in the middle of the three at $57,000 with no reserve.  The owner is also including a little bonus if you buy his bike.  You'll have to to get all of the details. 
================================================================================
Finally, the 3rd D16RR for sale is located in Portland and is for sale on just like the previous 2.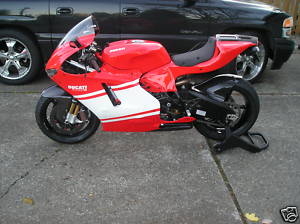 Owner says:
2008 Ducati Desmosedici D16RR Team Edition #869/1500

This bike in Great shape and only has 758 miles. Unfortunately money is tight and I need to sell this amazing machine.
 
This bike has a ton of upgrades (I thought Ducati already had the good stuff on it?) which are extensive and tasty.   
 I have had quite a bit of upgrades installed and they are as follows:

Titanium Race Exhaust
BST Carbon Fiber Wheels
Brake Tech Carbon Fiber Brake Rotors
Ferodo Carbon Brake Pads
Yoyodyne Titanium Hardware for Rotors
Dynojet PCV(5) Powercomander
Dynojet Quickshifter and Shift Rod.
Ducati Performance Rear Hugger
Vented Clutch Cover
Zero Gravity Rosso GP Replica Windscreen (shown in pics on bike)
Ducati Performance Double Bubble Windscreen
Casey Stoner Grips
Anti Vibration Handle Bar Inserts
Rizoma Bar ends
Ducati Performance Brake and Clutch Resivoir Covers
AFAM Rear Sporkets
Carbon Fibre rotors, Carbon Pads, Carbon Fibre wheels…..  Would love to see this bike in person and throw a leg over it.  I can only imagine how this thing sounds with the Titanium Exhaust cranked up to about 10,000g.  Just the thought of it makes my hair raise. 
================================================================================
So if you've ever had an itch to pick one of these bad boys up now is your chance.  Silly season is in full swing and the rare bikes are plentiful.  The D16RR's had a $72,000 price tag when new (someone can correct me if I'm wrong) and these are priced well under that.  The last one has a lot of expensive bits on it and I can't even begin to guess what they cost in addition to the bike.  Hope you enjoy looking at these as much as I enjoyed posting them.
dd