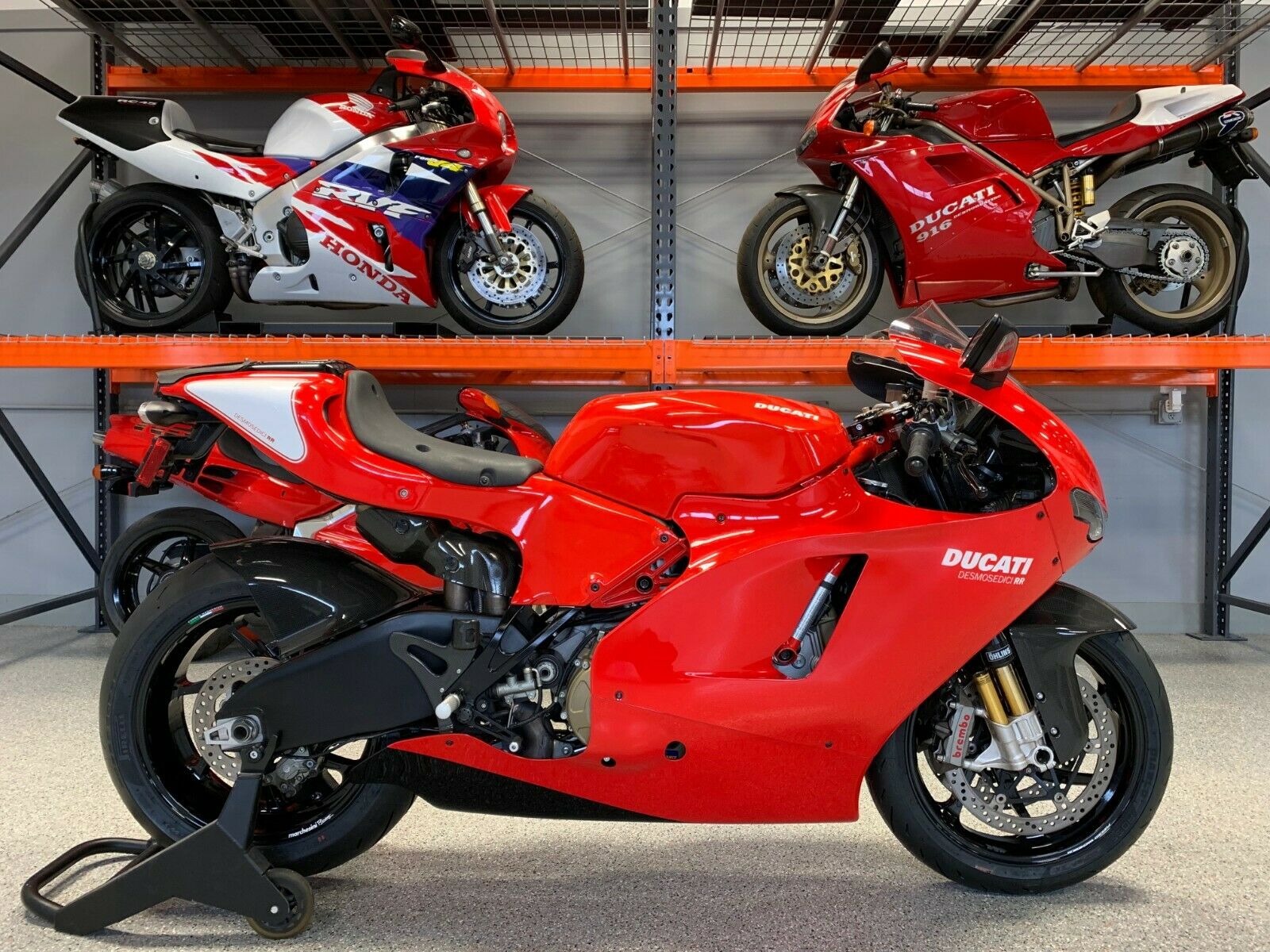 The introduction of the Desmosedici was a typical Ducati bombshell to the world. Over the top in a manner than only a MotoGP bike for the street can be, the D16RR was exotic and wild, beautiful and dangerous, and horribly, horribly expensive. This limited production (1,500 units total, world wide) model saw the introduction of the V-4, with the nickname Desmosedici (sixteen in Italian) and D16RR referring to this new arrangement. The bike was as MotoGP as possible for a Federalized streetbike, and retained some interesting features inherited directly from the racing lineage.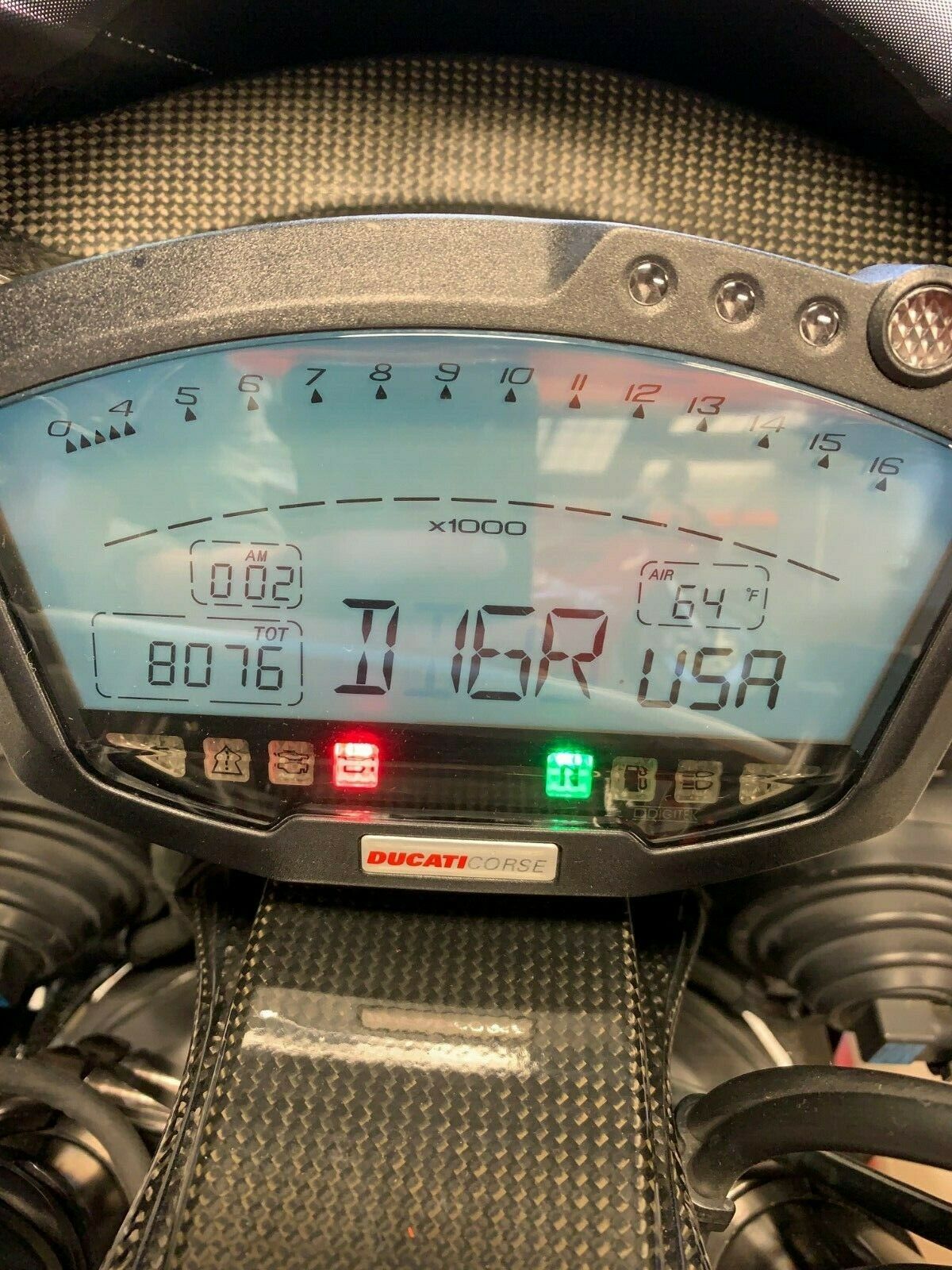 Essentially two L-twin motors placed side-by-side and firing together in a twin pulse manner, the D16RR was really an homage to the GP racer. Power from the 990cc mill was knocking on the 200 HP door, with 197 and change reported. As expected, RPM limits were raised over that of the twins, with max power occurring near the 14k mark. But it is not just about raw power. The Desmosedici remains pretty faithful to the racer with frame geometry, and top level Ohlins suspension and radial mount Brembo braking components (sorry, no carbon-carbon brakes for the street). The comprehensive electronics package even includes a data logger to help you develop as a rider. What isn't metal on this bike is all carbon fiber. What isn't carbon fiber is either aluminum (frame, cases, swing arm), magnesium (heads and wheels) or titanium (connecting rods, intake and exhaust valves). The frame is minimal, and hangs the rear suspension off in a stressed-member format. The seat and underlying structure is also cantilevered off of the rear of the engine.
From the seller:
2008 Ducati Desmosedici D16RR, #457/1500, 8076 miles. Second owner motorcycle with all service records. Original bodywork has never been used on the bike, was packaged by original owner/dealer when new and replaced with Catalyst Composites street kit. This bike comes complete with the 'Race Kit' exhaust, ECU, cloth cover and rear stand.

Notable mentions:
– New original bodywork, never used
– Extra gas tank
– Street and 'Race' upper fairings
– Matching rear Marchesini Genesi M7RR 17″ rear wheel
– Extra 17″ rear wheel modified for proper width, from 999
– Original rear 16″ wheel
– Race Kit Exhaust, ECU and cloth cover
– Ducati Data Analyzer
– Braketech iron rotors (with spacers, not installed)
– Original rear display stand (never used)
– New Pirelli Rosso Corsa II tires
– 1 new, 2 used Bridgestone BT-01 rear tire for original wheel use, 1 used front BT-01 (all in good, usable condition)
– Catalyst bodywork was recently repainted to get rid of rock chips around the leading edge of the side panels and mask
– All service records available

*Bike is up to date on its services. Most recent service, 7500 mile service completed at 7353 miles, by Moto Italiano in Santa Cruz, California. Also completed at this time was K&N air filter, new clutch and basket, LOF, fluid exchanges, valve check and adjustment,

** There are a couple of small (very small) chips in the left side of the gas tank, noted in last picture.
The fly in the ointment with race replicas is that they are NOT simply the race bike with lights. Because racers don't have the electrical loads required by lights, horn and signals, they can often get away with a minimalist electrical structure that offers just enough juice to power the ECU and fuel injection – or even run total loss with no charging system at all. That doesn't work on the street, where bikes need electric start, headlights which are on all the time, a working tail light and turn signals. The bigger alternator and battery takes space. The race bikes run dry sump lubrication, but again, that is less useful on the street and requires valuable space that could be utilized for the upgraded cooling system, the upgrade charging system or the emissions controls. And while you cannot simply take a MotoGP bike and call it a street bike, Ducati went through a tremendous effort to produce something like a GP bike. And if you were lucky enough to be close enough to the front of the line to get one, it would only cost you $72k.
If I'm to be honest, it was really the background bikes in the photos that originally caught my attention in this advert. The 916 is classic, and I love the RC45. But the NR750? That is even more over the top. And that just might be the problem with the D16RR. While a phenomenal achievement by a relatively small manufacturer – and certainly very, very exclusive – it somehow lacks the "OMG Wow" impact that such a high dollar amount warrants. These are truly amazing motorcycles in many, many ways, yet they seem to fail to ignite the interest and the curiosity of our readers. Meanwhile, this beautiful 8,000 mile machine (let that sink in – somebody actually rode this beauty a respectable number of miles!) comes with all of the "race only" parts and spares and has a complete service history. The BIN is set for $64k, but the opening ask on the auction portion is a mere $56k with reserve in place. Check it out here. I'd love to hear your thoughts in our Comments section about the Desmosedici, and if you drool over these the same way we look at smokers or other homologation machines. Good Luck!!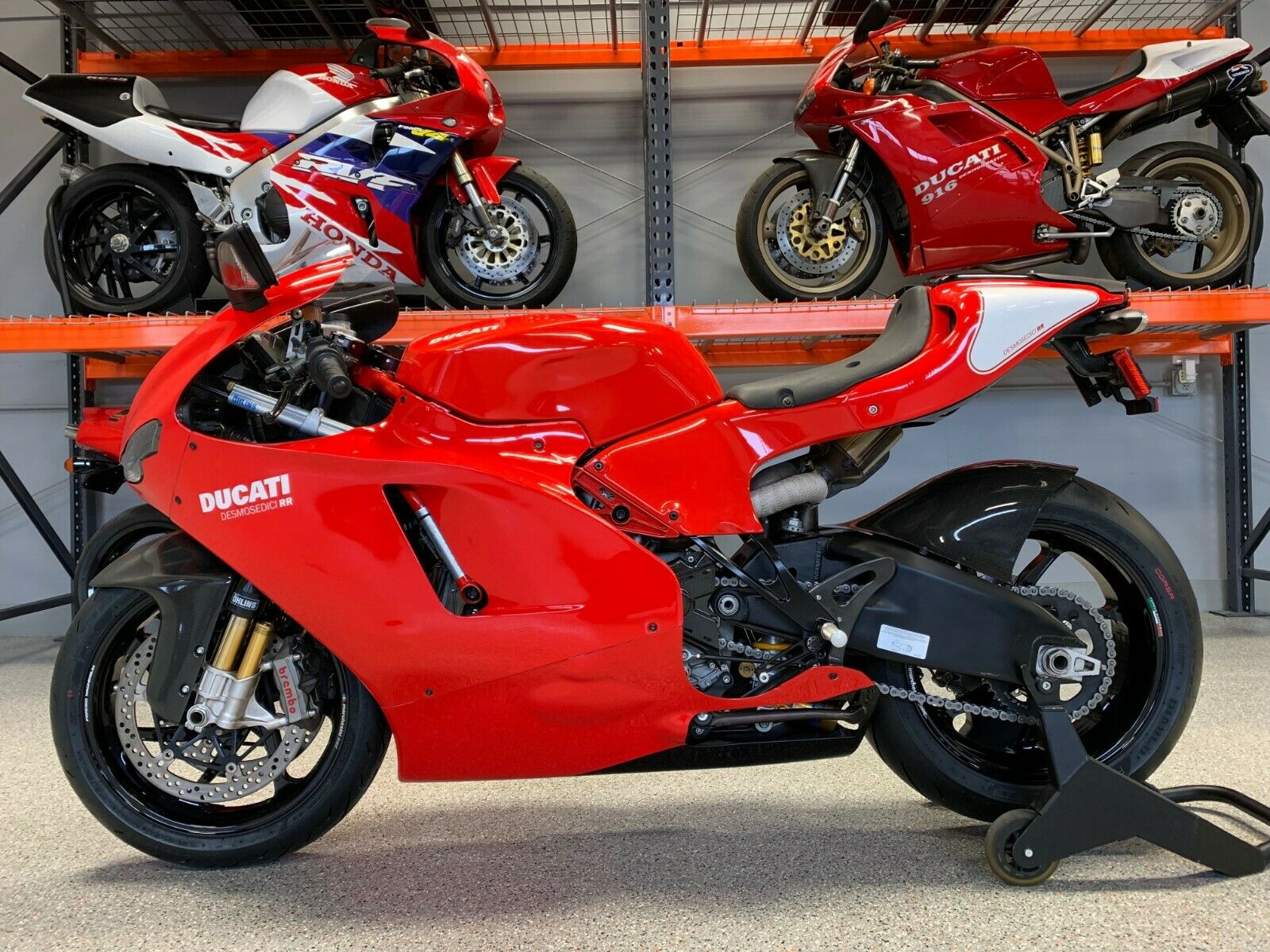 MI