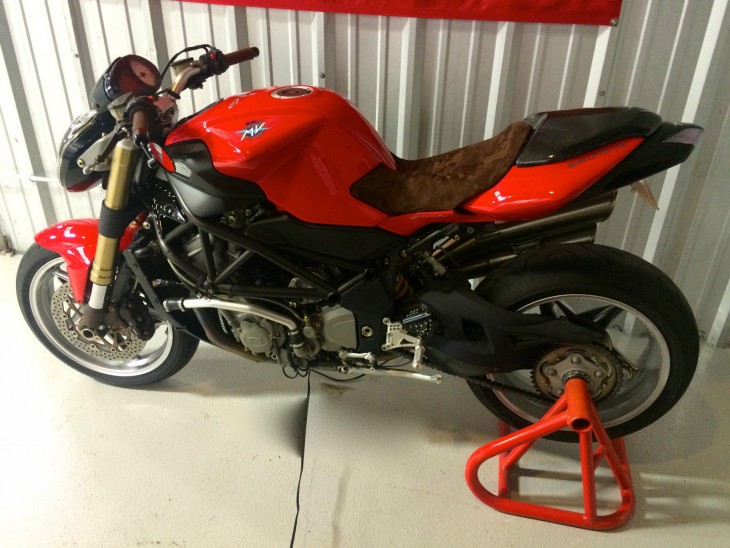 This entry may reignite the endless "what exactly is a sportbike" debate, but I'd argue that the MV Agusta Brutale is far more of a legitimate sportbike than a Ducati Monster or some other built-to-a-price bike designed to trade on an exotic name with parts-bin engineering. The Brutale is a full-on sportbike, fairing removed. It's far less extreme than the F4 on which it is based in terms of ergonomics, but isn't watered-down much at all.
It was almost unavoidable, really: in the same way that Triumph's Street Triple ended up being far more aggressive than competitors from Japan simply because Hinkley's budget was too small to create an entirely new bike. Triumph and MV Agusta simply did what you or I might have done with a crashed Daytona or F4 and pulled the shattered fairing, fitted comfortable bars, moved rearsets to a less punishing position, and called it done.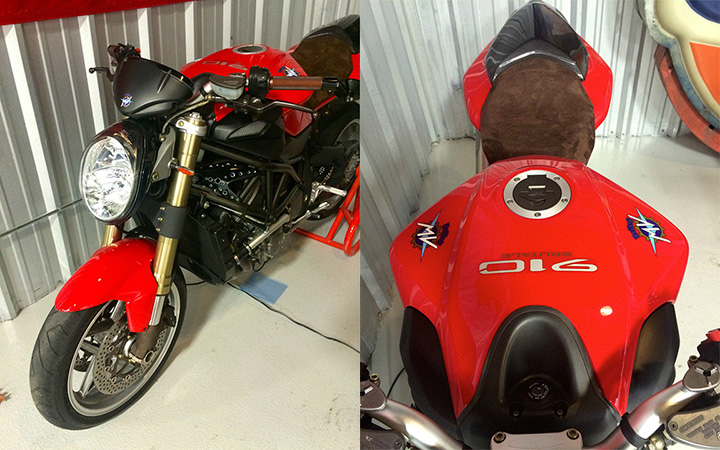 The suspension could perhaps have been tuned a bit better for the new weight distribution, but is undoubtedly high quality, with almost ridiculously beefy 50mm front forks. There isn't much room to move around on the bike: the seat sort of wants you to stay where you are and won't let you slide forwards or backwards much and the ride is stiff, but feels very well controlled at all times.
And, because of its exotic name and initially high costs, many have been absolutely babied, making them an excellent buy on the second-hand market.
From the original eBay listing: 2006 MV Agusta Brutale 910 for Sale
Here is an extremely clean and original Brutale for your consideration. 

3200 miles with light use by an older gent owner. Sensible modifications include CQ mid pipe (Cat removal), removal of license plate hanging apparatus and large turn signals (bike has LED taillight with integrated indicators) 

Ferracci adjustable billet rearsets. 

Light custom accents include: Suede seat, Tommaselli grips, powder coated and machined heel guards and frame guards, custom plate holder, Carbon fiber passenger seat cover. Omission of passenger pegs – all original parts available. 

Bike had recent spark plugs, correct AGIP oil and filter service, brake pads, front & rear, complete injector removal and service. 

Bike is in excellent condition, paint on body panels, trim, frame, wheels is all excellent. 

This is a blisteringly fast (135hp) bike that has a comfortable upright seating and handlebar position…fantastic for weekend rides or commuting. It's not uncommon to find Brutale owners with 20k – even 30k + miles on these bikes.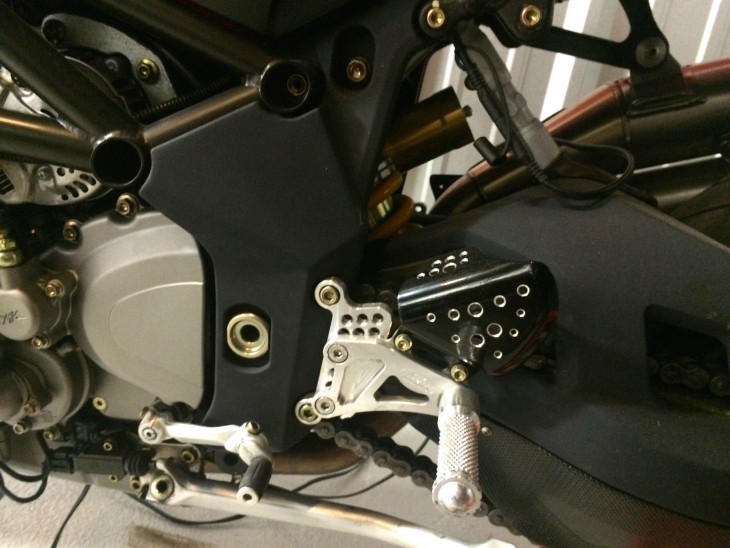 Unfortunately, if you're a fan of "moar noise" I've yet to see an end-can choice that really replicates the slash-cut style of the stock pipes, although a cat-delete mid-pipe like the one on this bike will free up a very expensive-sounding snarl from the radial-valved four. But you really don't need to do much of anything to these: they're pretty great right out of the box, with quality components, and plenty fast. Deleting the hideous stock mirrors is a great start, and even though it's probably a little bit gauche, I actually like the suede seat. It might impede side-to-side movement if you like hanging off in corners, but I'm sure you could find a second-hand stock seat for days when you want to corner-carve instead of pose…
And this will definitely do both. It makes plenty of power for a naked bike and the suspension has the chops to keep it under control.
Brutales are available for a song right now and are virtually indistinguishable from new bikes to the average onlooker. They're beautifully engineered and very well finished bikes: up close, the details impress. The hard parts are very robust, although some details can require attention: headlight lenses can, um… fall out, and you should make sure the rear hub has been updated, since earlier examples did sometimes fail.
So this may not make a great everyday bike, and you should plan to spend some money on upkeep, but when properly maintained, these are pretty spectacular bikes and should be able to embarrass more than a few sportbikes on road, track, or anywhere top speed isn't an issue.
-tad