Warning!
This post is in our archives. Links in this post have been updated to point to similar bikes available to bid on eBay.
Regular readers of RSBFS have seen many posts regarding Bimota, their history, collapse and rebirth. The Bimota V-Due (or VDue) model is usually referred to as the bike that caused Bimota to go bankrupt but this isn't the whole story. The VDue and the sudden disappearance of one of Bimota's main sponsors during the 2000 World Superbike season finally pushed the company into receivership but the Tesi effort actually started Bimota downwards.
The Tesi series  was a design and production effort based on the idea of hub centered steering offering improved stability over conventional forks. The Tesi 1D appeared in 1991 and attracted attention for its hub-steering system. (Note: The 'D' in 1D signifies Ducati as power came from the engine designed for the Ducati 851). The Bimota was equipped with a fuel injection system Weber dual injector per cylinder and other modifications that produced 113 bhp.
The problem was that the Tesi 1D and following Tesi related models were big development efforts than never translated into huge sales for Bimota, and the Tesi effort put Bimota into a a restricted financial condition.  Perhaps without the Tesi effort Bimota would have been able to weather the storm caused by the VDue debacle…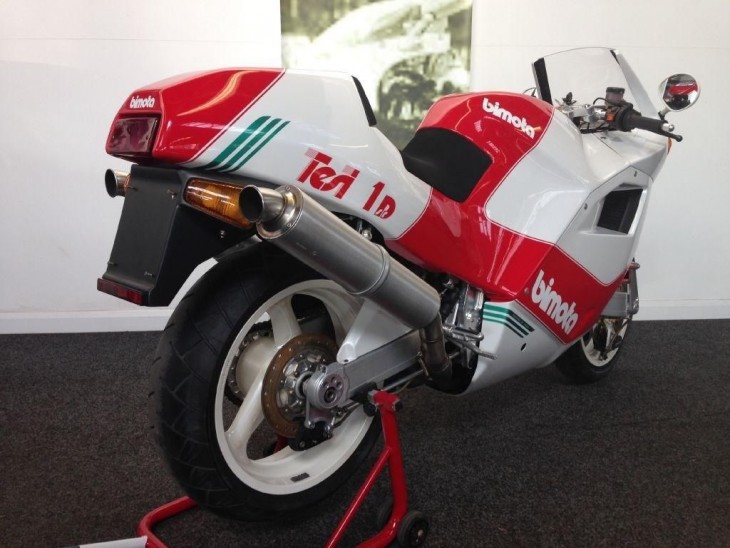 While the Tesi 1D is already a rare bike, the seller indicates this particular Tesi 1D is one of the limited edit SR models.  The SR models were different in that the engine had larger displacement, weight was reduced, the tank was reduced to 4 liters and the suspension was switched to Öhlins.  Only  164 SR versions of the 1D were produced, and they can be recognized by the green lines on the bodywork.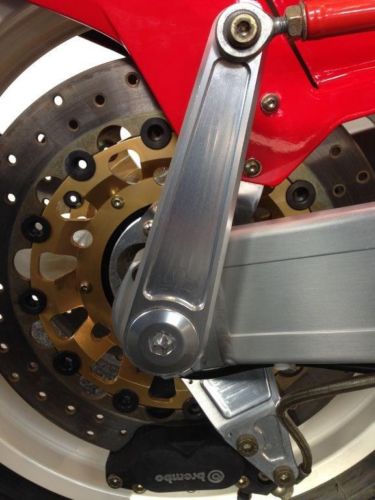 Like a lot of the early 1990's Bimotas', this one appears to have been owned by a collector.  The seller states that it was previously in Italy but it is now for sale via a UK-based dealership.  It certainly looks to be pristine and even seems to have the stock mufflers/exhaust canisters.
Is this ultra-low mileage Tesi 1D worth the $35,000+ asking price?  Well prices for the previous ones we have posted here on RSBFS have gone from 15,000 USD back in 2011 to over 20,000 USD just a few years later and all the Bimota Tesi models seem to be moving to the front of collectors most wanted lists.  Personally I think this price is a bit high but given the trend, this may be one of those situations a potential buyer looks back on soon and regrets not acting on.
-Marty/Dallaslavowner