Warning!
This post is in our archives. Links in this post have been updated to point to similar bikes available to bid on eBay.

Happy Happy…here are two versions of one of my favorite bikes, the Sukuki TL 1000R.   The TL is a bike that even today reminds me of the "old" days of motorcycling; big, fast and something that didn't suffer fools gladly. As noted in previous RSBFS posts, the Suzuki TL1000 series were V-Twins built in response to the enormous success of the Ducati 916/996.  Both the S/Street and R/Racing bikes were equipped with a 1000cc V-Twin torque monster engine that would let riders leave long marks off the starting line. However, the bikes were also equipped with a rotary rear shock system that was overwhelmed by the v-twin engine, which resulted in front end lift and for many riders, a different type of long black mark.

Sales of the TL1000R were also hampered by the fact that most riders were more focused on Suzukis big 4's, such as the GSX-R750 and GSX-R1100. The V-Twin from Suzuki was a bit of an oddball and fell out of favor after a few years, finally leaving the Suzuki lineup in 2003.
Here is the first TL, a 1998 version located in Victoria.   This is probably my favorite looking TL1000R as it comes without the late 1990's ey bleeding graphics that were so common at that time.  Also it isn't in the traditional Blue and White Suzuki colors (some TL's were offered with this package) and I think the all yellow look is the best of the TL schemes..
Note:  There is also a black and gray TL1000R version for sale on ebay australia right now that I think most people will agree looks a little dull in comparison
Mileage (40,000 kilometers) is higher than a lot of bikes featured on RSBFS but the bike looks pristine and the seller indicates lots of upgrades, include the all import rear shock being changed, as well as a full Yoshimura RS-3 exhaust system and new tires and wheels.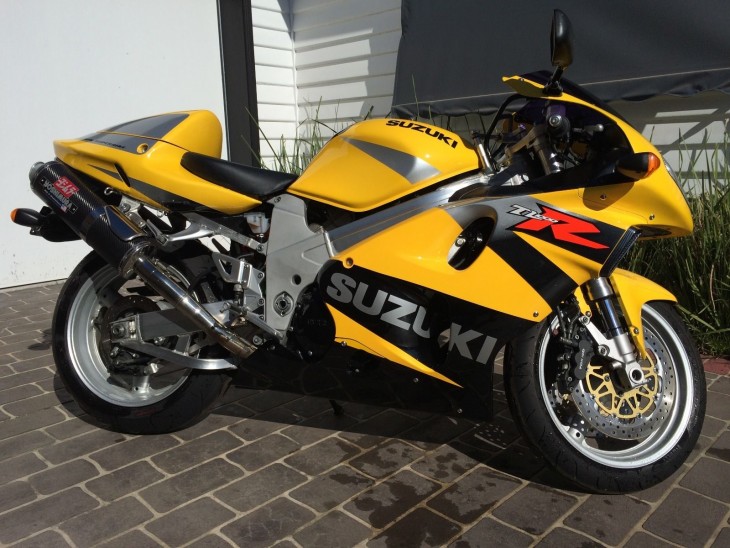 Here is the second one, a 2002 edition located in a different part of Victoria.   The graphics are a little more "robust" but the bike still looks great.    It has about the same mileage but I do see some evidence of scraping on the riders left side.
The asking price for these is between 6000 AUD for the first/1998 edition and 7000 AUD for the second/2002 edition, which is right in line with what we have seen these sell for previously.  Given that the weather will thankfully soon be turning a bit cooler in Victoria this might be a good opportunity for a AUS based RSBFS fan to pick one of these up.
Addendum:  While these will probably not be a high value bike for a collector, they would be a good get for someone who just wants to ride a big V-Twin sportbike and wants something other than the ones from Italy.  Also parts will probably be cheaper…I'm just saying..
-Marty/Dallaslavowner