Credit where due, Honda presented an Erion Edition after the race team won back to back AMA Formula Xtreme 600cc Championships in 1999-2000.  Thinking way out over the horizon, this Fort Meyers owner parked this CBR after just a few fill-ups, and it's ready for the next display opportunity.
With its third engine change since the FireBlade was introduced, the 929 was even more overquare, fuel injected, and boasting 152 hp at almost 11,000 rpm.  The all-titanium exhaust included Honda's volume tailoring HTEV system, stretching the torque band.  New for 2001 were USD forks, and a longer swingarm, smoothing out the handling under  power.  A new 17-inch front wheel fit into the revised fairing, which reviewed as a bit less exciting than its rivals.  Though growing from the original 900, every opportunity was taken to keep weight under control, and inch it toward the middle of the machine.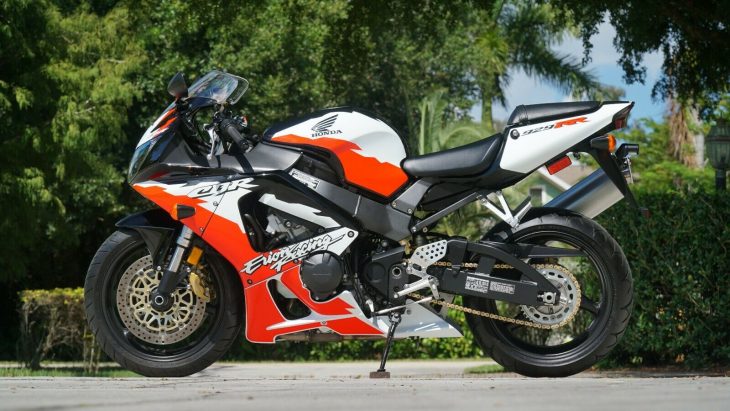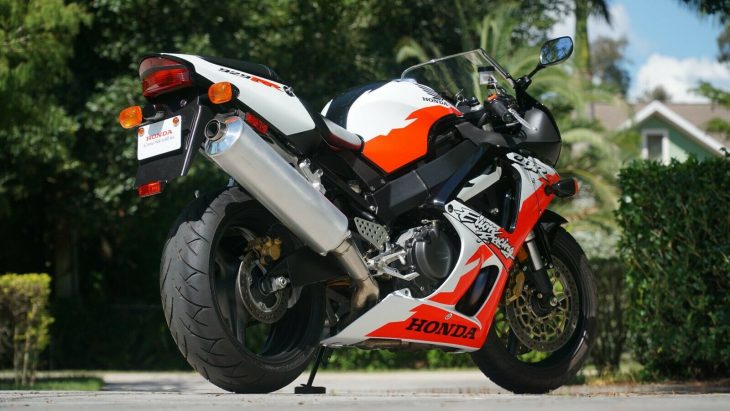 Though a twenty year old superbike priced at a hair less than a brand new one might only be for a superfan, the owner seems to have kept this one beautifully.  With little history to tell or worry much about, the comments are as bold as the graphics in the eBay auction:
ALWAYS STORED IN CLIMATE CONTROLLED BUILDING
HONDA EXHAUST RED SCOTCH BRITE PAD
MY COLLECTION IS GETTING OUT OF CONTROL 
NEED TO DOWN SIZE A BIT I HAVE SOME VERY SPECIAL LOW MILE BIKES
I KNOW THIS ISNT FOR EVERYONE BUT IF YOU WANT THE BEST HERE IT IS
BIKE IS SERVICED AND READY TO GO OR MOTHBALL AWAY
Erion had some great years with many bold faced names aboard, like Nicky Hayden and Ben Bostrom.  Not sure if the Erion edition was anything more than a graphic exercise, but the 929 needed a little extra help in the showroom during the R1's run for glory.  Looking forward to this seller's other auctions if they are all as nice as this.
-donn