Warning!
This post is in our archives. Links in this post have been updated to point to similar bikes available to bid on eBay.
Every post will be sent right to your inbox every morning when new posts are made. We will never sell our list or spam you. Plus you can click links to bid or buy right from the email and skip the site entirely. Subscribe to Rare SportBikes For Sale today!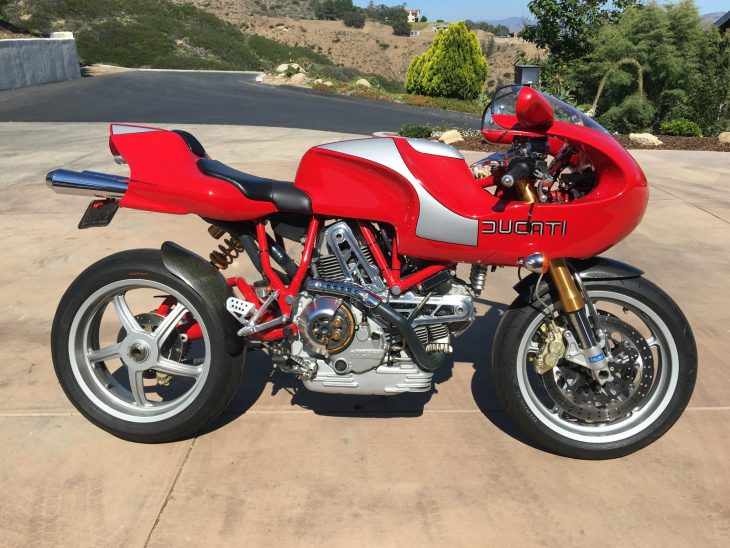 With all the flack Pierre Terblanche gets for his futuristic restyle of the Superbike line, it's easy to forget just why Ducati gave him a job in the first place. And while the 999 is finally beginning to be recognized for the design classic it is, bikes like his Supermono and today's Ducati MH900e are there to remind us that, although his designs can be shocking at times, when he gets it right, he gets it really right. Unlike modern cars [I'm looking at you, BMW and Mercedes…], the bike's alpha-numeric name has a very clear story to tell: "MH" stands for "Mike Hailwood," rider of motorcycles and unlikely winner of the 1978 Isle of Man TT on a Ducati. That win inspired the original Mike Hailwood Replica which in turn inspired this bike. The "900" refers to the L-twin's displacement, and the "e" for "Evoluzione."
Just 2,000 bikes were built. Production was originally planned to be 1,000 in 2000 and another 1,000 in 2001, but delays meant that bikes were actually built in 2001 and 2002. Originally, construction was contracted out to Bimota, but a little hiccup known as "bankruptcy" prevented them from being able to complete the work…
The MH900e could be accused of being overstyled a bit, but that bodywork is meant to evoke NCR-prepped racebikes that Mike Hailwood would have ridden and that tail section and tank appear strongly Pantah-influenced. The half-fairing shows off the engine, and that tubular swingarm may be my favorite feature of the bike. Other than the white-faced Veglia look-alike gauge of course. The graphics harken back to Giugiaro's 1970s redesign of the company logo which was fortunately more successful than his redesign of the bikes themselves… The MH900e certainly looks faster than it actually is, with around 75hp at the rear wheel from the two-valve, air-cooled motor. But with just over 400lbs dry to push around and quality suspension, it offers up real-world fun and a 130mph top speed.
Besides, performance is hardly the point here. I mean, just look at it!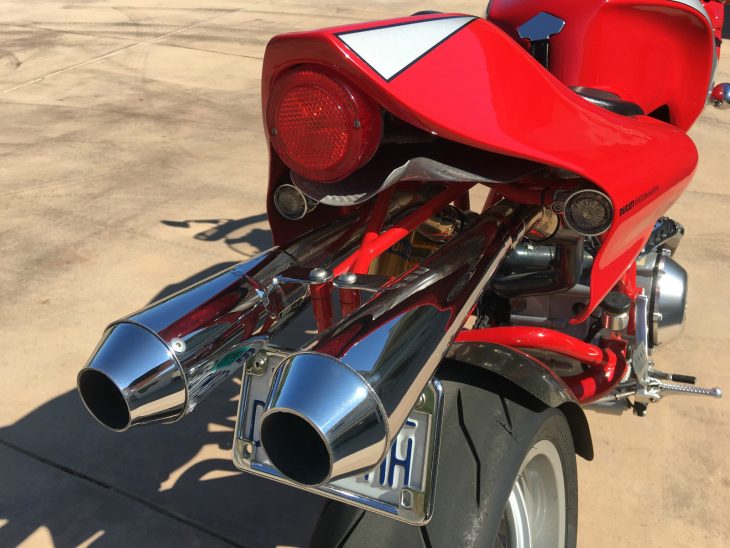 From the original eBay listing: 2001 Ducati MH900e for Sale
Better than perfect 2001 Ducati MH900 Evoluzione. This Mike Hailwood tribute bike has only 1063 miles on it. Only ridden to keep it fresh. Numbered #0279 of only 2000 manufactured. Period correct modifications – Very, very rare full Ohlins setup, CycleWorks 4.6 gallon tank, hidden battery, polished valve and belt covers, open dry clutch, relocated oil cooler, custom exhaust that sounds amazing, new Michelin Pilot tires, recent serviced and tuned by Trevor Dunne of Santa Barbara Ducati. Most period correct aftermarket parts are mostly unattainable. Have some extra parts, and wheel stand.  Also have tribute plaque. 
In spite of the wild looks, these are surprisingly competent road bikes with excellent, user-friendly handling, a killer midrange, and the usual Ducati soundtrack, although it's pretty muted through the stock exhaust system. Just the hideously limited fuel range and modest power limit the fun. Actual gas mileage is pretty decent, but the fuel cell holds just 2.2 gallons: most of that expansive-looking "tank" is taken up by an airbox.
Although I think the MH900e is probably a bit too attention-grabbing and the ergonomics too radical for a daily rider, that's okay: these are often display pieces and ridden only rarely. Which is also okay, since these are not practical motorcycles: the fuel tank is shockingly small and the seat is very high off the ground… Unless you're over six feet tall, expect to be rolling this one around on your tippie-toes. The seller mentions a CA Cycleworks fuel tank, which would be a very nice upgrade and allow the bike to be ridden to places with more than 100 miles between gas stations…
With the Cycleworks tank, you're looking at a realistic 200 mile range, not including a reserve, meaning this becomes a viable motorcycle. Assuming of course that you won't mind answering a lot of questions wherever you go.
-tad