The Suzuki TL1000R is widely known for an attempt to go superbike racing in period.  Large displacement twins were dominating the track and cementing a reputation for desirability that still lives on.  At this point the TL has a cult like following, despite some well known flaws.  Top two that come to mind are the weight and the suspension geometry.
For many years Bimota has wrapped their beautiful carbon bodywork around limited production frames holding other manufactures engines.  In the case of the SB8R a twin beam frame, with a stressed carbon fiber engine cradle holds a TL1000R engine.  While Bimota was able to squeeze about 10% more power out of the mill with the addition of a new fuel injection system with absolutely massive throttle bodies(59mm vs 52mm stock), the real real headline is that the SB8R is 46 pounds lighter then the Suzuki.
Fully adjustable Paioli forks and Ohlins shocks were used as they were some of the best components available at the time.  Brembo calipers and masters round out the braking system.  The self supported carbon tail and font carbon intake tubes just ooze cool.
From The Seller's eBay Listing:
This 2000 Bimota SB8R is an original. The owner has had it for 1 year. The vehicle needs work.
Seller's Notes
SERIOUS INQUIRIES ONLY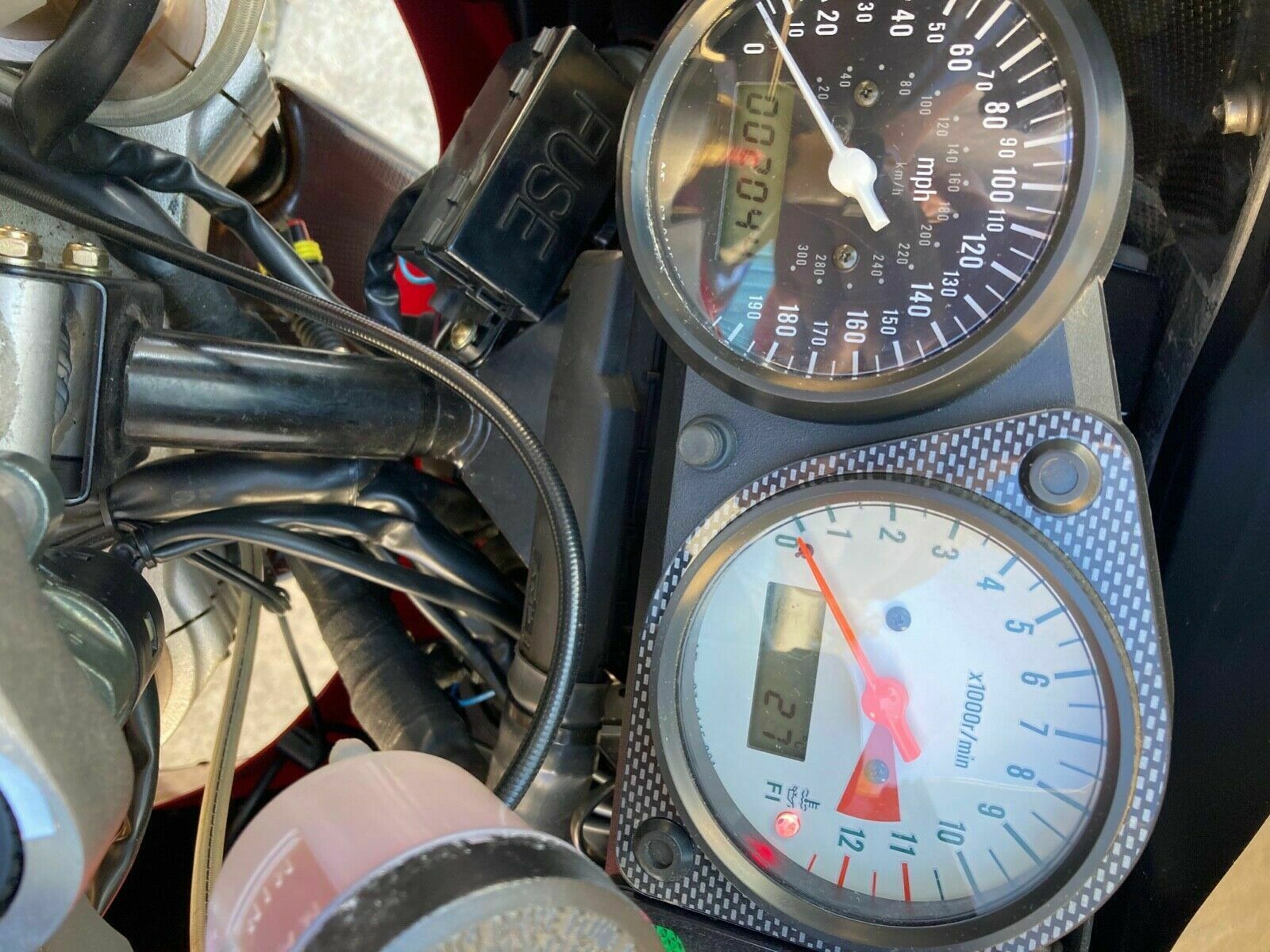 Dreadfully light on details in this listing, a little digging shows a pervious listing of the same bike.  Some of the details in that listing need a little bit of clarification.  It looks like the turn signals have been changed to the latter style clear lens units, not a big deal and an easy thing to correct.  The rearsets are not aftermarket, they are a factory option.  Basically a silver version of the adjustable units used on the SB8RS.  A fuel pump and system overhaul should be on anyone's radar when considering a bike with such low mileage.  While these were rare bikes, with about 250 made, parts are not that hard to come by.  There is a very active Bimota owners community, and an amazing classic parts division.
Priced at $7,000 and opened to offers this could represent a great opportunity for someone to dip their toe into the world of exotic bikes without fully busting the piggy bank.  The upgraded Corse exhaust is sure to please the ears and it is highly unlikely to see another bike like this out and about.