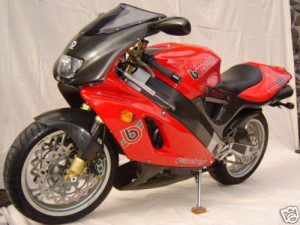 Found this one while I was searching this morning and it should please any of our Bimota fans. This SB6R has been modified quite a bit, but they are all very tasteful and should maintain the integrity of this classic exotica.
Owner comments:
The accessories include large diameter CF sport mufflers, K&N Carb Jet kit, with a high flow fuel pump, Gold Ti coated fork tubes and a 530 chain and sprockets conversion. The carbon fiber frame protectors, CF one piece belly pan, CF inner fairing panels, CF mirrors and CF front cowling really sets this bike apart from any other SB6R.
The contrasting gold top triple clamp adds a touch of color.

The instrumentation is by Stack: 8130sp electronic rally dash. The handle bars have Salamander anti vibe bar ends. The shock reservoir clamp is made from billet stock.
Ignition is by Dynatek 2000, this system includes 3ohm coils and is multi adjustable with variable (1&4) (2&3) spark timing.

Front brakes are by "Braking" wave rotors. The calipers are K.A.D. six piston monoblock. All the pads are new.
The rear rotor is titanium including titanium rotor bolts front and back.
The foot pegs are Vortec.

Suspension: Paoli 46mm RSU forks, fully adjustable. Ohlins rear shock multi adjustable

Engine modifications include a properly installed and tuned Cosworth 1199cc 12.5:1 compression big bore piston kit. Lightly ported cylinder head and degreed stock cams.
If you're in the market for a Bimota this one might be for you. The owner has listed several contact numbers for anyone interested in more information. I really like all of the Carbon Fibre on this one. Very nice indeed!
dd