This is the last year for the true, factory race, 7RR's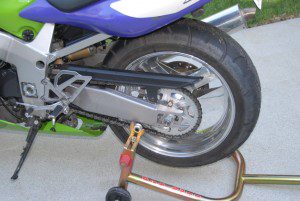 These are getting super hard to find and this one looks to be in pretty good shape.  The miles are a little high at 26,000, but hey, it's 14 years old.  This one has some very tasteful upgrades that include PM Chicane wheels, Muzzy exhaust and a Double Bubble wind screen.  It's for sale on ebay right now so if you are in the market for one of these don't let it get away. 
  What sets these awesome bike apart from their ZX7R siblings is the following:

Keihin Flatslide Carbs as opposed to the standard CV carbs. 
Close ratio gear box and slipper clutch.
Adjustable rear swingarm pivot.
Adjustable steering head angle.
Adjustable front suspension with more compression and rebound (Fork tubes slightly bigger than stock zx7r).
Upgraded front calipers.
The 96's are my favorite of the 7RR's I only wish I could bid to win.  This one isn't a Garage Queen as it has plenty of miles on it so you shouldn't feel bad about riding should you win the auction.  At time of this posting the bid was a measly $1,000.00, but the reserve wasn't met.  I would suspect this one will fetch somewhere in the $5,000 to $6,000 range, if the seller will let it go for that. 
dd