Warning!
This post is in our archives. Links in this post have been updated to point to similar bikes available to bid on eBay.

This particular example comes with a few caveats such as some light damage on the lower fairing, needs a new oil injection pump, and a price isn't listed with the sale.  But it does state that the mechanicals have been recently refreshed and it carries the all important title.  Even more interesting is how they obtained a title for this typically gray-market import:
HOWEVER, DUE TO A LOOP HOLE, WE HAVE A UNITED STATES TITLE FOR THIS ITEM. TITLED IN FLORIDA. SO, IN THE EVENT YOU FIND ANOTHER BIKE LIKE THIS, IT IS VERY UNLIKELY TO FIND ONE WITH A TITLE ISSUED IN THE UNITED STATES. THAT MAKES OUR EVEN MORE RARE!!

Q: WHERE DID WE GET IT?
Q: HOW DO WE HAVE A TITLE?
MY WIFE DOES AUCTIONS OF ALL TYPES. SHE HAPPENED ON AN AUCTION ONE DAY OF A WAREHOUSE. SHE BOUGHT THE WHOLE CONTENTS WITH SOME ITEMS SEEN AND SOME UNSEEN. BARRIED BY BOXES AND ALL KINDS OF STUFF WAS THIS MOTORCYCLE.

THE STATE OF FLORIDA HAS A PROCESS FOR STORAGE FACILITIES TO AQUIRE TITLES FOR ABANDONDED AND OR UNPAID VEHICALS TO GO FOR SALE AND BE SOLD.

IT REALLY IS A PROCESS AND NOT EASY TO DO. BUT IT IS DONE AND WE HAVE A TITLE FOR THE BIKE. THIS WAS THE LOOP HOLE THAT DID NOT ASK FOR PRIOR TITLES AND OR EPA STANDARDS THAT WOULD PREVENT TITLING.
This kind of detail is usually not provided on the web because it help state agencies to close such loopholes.
Anyway, back to the bike. If you've been on the lookout for a low miles bike in the Southeast, this could be your day. Check out this 1996 Honda NSR250 MC28 For Sale: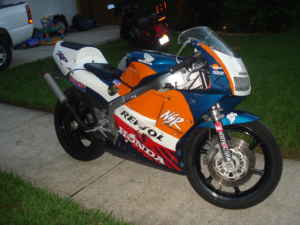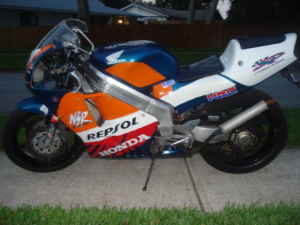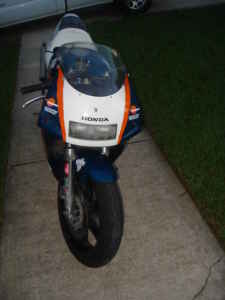 quote from seller's Craigslist ad:
1996 HONDA NSR250 NSR 250 REPSOL SP.
FACTORY RACE BIKE.
MC28
SINGLE SIDED SWING ARM – PRO ARM
TWIN CYLDER
TWO STROKE
OIL INJECTED
WATER COOLED
DISC BRAKES – EBC BRAKES
KICK START
DRY CLUTCH
PGMIV MEMORY IGNITION CARD (NO KEY) LOOKS LIKE A CREDIT CARD
DIGITAL SPEEDOMETER
ORIGINAL PLASTICS
10,938 KM OR ONLY 6,797 MILES!!

THIS IS AN ULTRA RARE EXOTIC MOTORCYCLE. FROM MY READING IT APPREARS THAT THIS IS ONE OF ONLY 1,000 MADE FOR THIS YEAR AND MODEL. I BELIVE IT IS 657, LAST NUMBERS IN THE JAPANESE VIN. NOT PRODUCED FOR US EMISSIONS AND NOT IMPORTED HERE FOR STREET USE. BIKES WERE SOLD MOSTLY IN JAPAN OR EUROPE. SO DUE TO US EPA STANDARDS YOU CAN NOT GET A TITLE FOR STREET USE.
Depending on price, this could make for a great track bike or fixer.
dc
Update: This post is pretty outdated. Check out these Honda Replica's on eBay right now:
[AffomaticEbay]Honda Replica[/AffomaticEbay]