Warning!
This post is in our archives. Links in this post have been updated to point to similar bikes available to bid on eBay.
Kawasaki's ZX-7 Ninja was known in other markets as the ZXR750, although I'm really not clear on why. Calling your "Fireblade" a "CBR900" makes plenty of sense if your target audience is more excited by technical names than by evocative ones. But shuffling a couple letters and numbers around doesn't send a very different message… When I was younger, these were just too green for me to lust after, although these days I love the bright, non-metallic green and white scheme.
The ZX-7's 748cc inline-four followed the hallowed traditions laid down by Superbike homologation requirements and convention: four cylinders, sixteen valves, liquid cooling, six-speed gearbox, hung from a twin-spar aluminum frame. The resulting 109hp means that, on paper at least, this bike would lose out to a much lighter modern 600, as you'd likely expect: tempus fugit. But the 56lb-ft of torque, while not a performance metric sportbike manufacturers typically brag about, mean that the ZX-7 is also blessed with a rich midrange that might surprise some of your buddies on less vintage sportbikes.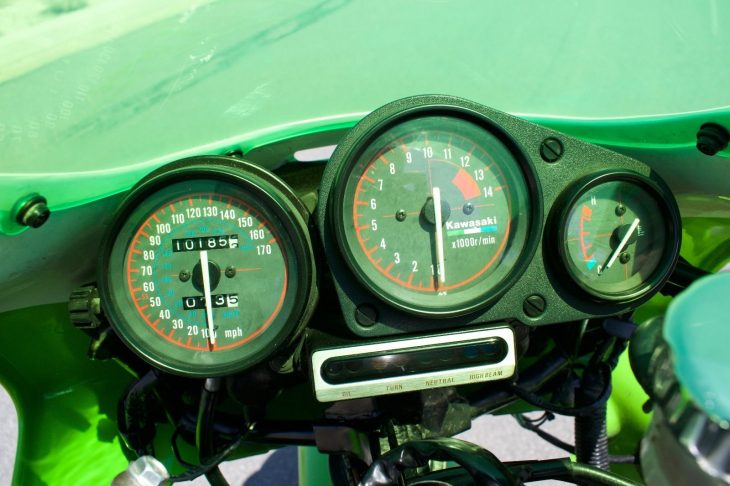 Built between 1989 and 1994, this particular version of the ZX-7 was a follow up to the somewhat flawed H1 and H2 versions of the bike produced between 1989 and 1991.  Those early ZX-7s were saddled with an engine that was a carryover from the previous generation of Kawasaki sportbikes, along with a famously stiff rear suspension. The J model bikes that came along in 1991 rectified both of these problems and the bikes saw more success on track. In spite of the issues with the earliest versions and the fact that the bike had grown very long in the tooth by the time production ended, the Kawasaki ZX-7 was a popular machine, and always made a great roadbike: highly-communicative front ends, strong brakes, and impressive mid-corner stability helped to overcome weight issue on the final versions, while a primitive slipper clutch and a positive neutral finder probably had Ducati owners green with envy…
But as with many Japanese sportbikes of the 1980s and 1990s, most were abused, crashed, and generally neglected, making high-quality, low-mileage examples like this one very difficult to find today, and prices have risen noticeably over the past few years as collectors begin to snap up the good ones.
From the original eBay listing: 1992 Kawasaki ZX-7 for Sale
Here is a great 1992 Zx7 for sale with low 10k miles. I recently bought this bike because I wanted a classic sportbike to ride on weekends but this one is just too nice to rack up mileage on in my opinion so it will go to a new owner that can do as they please. This bike has NEVER been tracked or raced. Always Adult owned and loved / babied.

These bikes are getting harder and harder to find in this condition and low mileage, as many private collectors and investors are buying them up and hanging on to them. This bike, as many of you know, will only appreciate it value if kept in its current condition. This would be an AWESOME display bike in a man cave or office, but it is also completely ready to ride.

The brake and clutch fluid reservoir caps were replaced with chrome ones in the 90s ( I have originals in good condition will go with bike), There was a "zxforce" green tinted windscreen installed,  maybe a couple other very small things, Otherwise bike is very stock. Everything works, lights, horn, turn signals, dash indicator lights etc… Bike has a brand new set of Michelin Pilot Power tires mounted and balanced. ~400$ value. Bike comes with manual and original tool kit as well.

The new owner will also receive a Bunch of VERY NICE (some never even worn) matching gear with the bike, Shoei Helmet, 1 piece Teknic track suit, full Teknic rain suit, Intrepid cross country jacket, two pairs of Teknic gloves, Teknic boots etc.. If you don't want the gear I can take some off the final price (contact me for details)

This bike has always been garaged which is very apparent when you see it, no sun fading anywhere. Paint and decals are all original. Have Clean NV title and keys in hand ready for new owner, currently registered into 2017.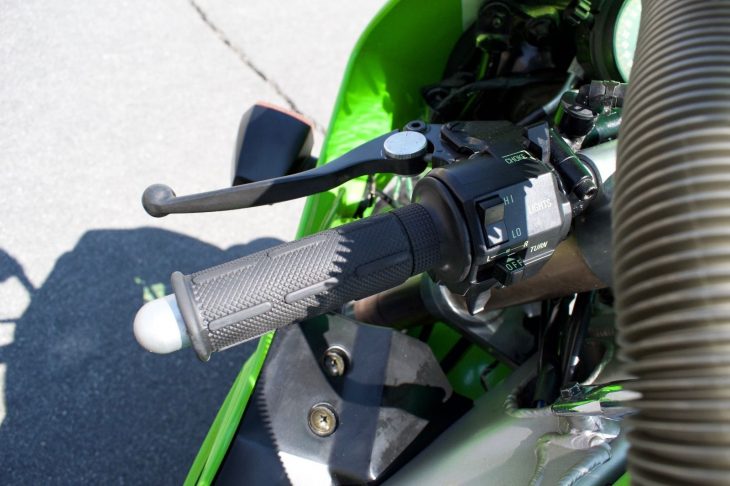 Bidding is very active on this bike but is currently just north of $2,000 and far below where it will likely end up. It's no garage-queen, but this bike looks like it's been well cared-for by a sympathetic owner and the bike is mercifully free of the polished-frame nonsense that was inflicted on these bikes. The green-tinted screen is very tacky, but easily replaced if it's not to your taste. I always thought those little wings on the tail were aftermarket additions, but they appear to have been original. Grab handle? Stylistic flourish? I'm not sure, but I'd be finding some way to remove it if I owned one of these…
-tad