When I first saw an NC30 in this red/black color combo earlier this year, I thought it was stunning. Unbelievable we get a second chance to feature this great looking bike in these colors!
Part of the collection for sale from Ozzie, this bike appears to be every bit as well looked after as the others. As a sucker for dual round lamps, this one does it for me on a number of levels. The 400 puts out 60hp and spins all the way to 14.5k, all the while evoking sensations and emotions that remind you it's connected to it's bigger brother, the RC30, and Honda's racing pedigree.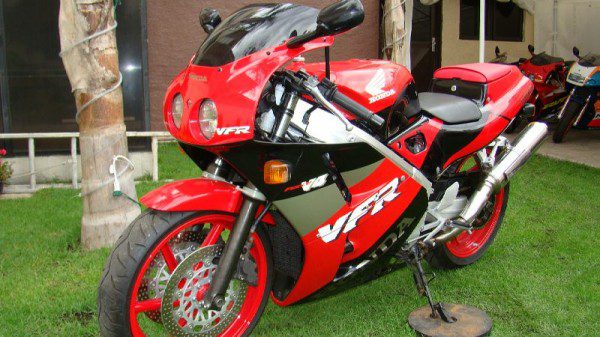 quote from the seller:
This is a VFR400 (NC30) considered a baby brother to the VFR750R (RC30) Homologation model. This is prime example of a clean bike with just 10k miles. This bike came just before the RVF400 (NC35) and shares most of its features including the engine. It came is a variety of colors of which this black and red was the most desirable. This bike is all/mostly original with 15,000KM (9300miles) (has a red passenger seat) I also have a dual (stacked) Kevlar exhaust system that came of a race bike I had several years ago. Would be available with or without this exhaust. Exhaust is no longer available in Japan and had a value of $1800.00. Will sell bike as pictured for $7200.00 plus tax and title fees approx $400.00. The race exhaust is $600.00

813-655-8470
Ozzie
As you can tell by now, I agree with Ozzie that the black and red is the best looking!
Good luck with the sale Ozzie, and thank you supporting us a featured listing for your collection!
dc