1989 Yamaha FZR 400 1wg intact and 100% original.
**Update: Bike sold on ebay for $2,800.00 B.I.N.
Thanks RSBFS!
My bike is now listed on ebay and can be viewed here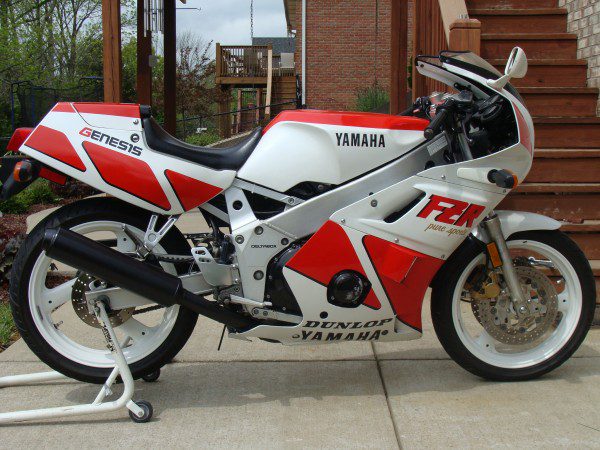 I think everyone knows that I am a FZR 400 nut, but it is time to let one of them go. So, I am putting up for sale my 89 red and white, 100% original, all stock 400. The history on the bike is limited to the time that I've owned it, which is just shy of 1 year. I purchased it on ebay from New Hampshire, site unseen, and had it shipped to me in Indiana. Like most hobbyist, I have way more money into to it than I expect to get out of it, but it is a nice clean example. I bought it and immediately started cleaning it up and sourcing parts that I wanted to replace so it would be even nicer than it already was, but I didn't replace any parts. I never even licensed it because it was apart being cleaned or something being powder coated. So in short, all of the things I'm about to list have 0 miles on them. That's right, I worked on it all winter and early spring only to sell it. Why am I selling it, you might be asking? I'm only selling because thanks to RSBFS I was able to locate and purchase my dream 400 which is a 1990 100% original version with only 8,000 miles on it. And, I purchased it from the original owner with the original sales receipt. Pretty cool eh?
Back to the 89'…
Recent updates include:
Fresh powder coated/clear coated rims. The clear is powder coating as well
New wheel bearings – front and rear
New screw down valve stems
Fresh ceramic coating on the stock exhuast
Rebuilt master cylinder
Rebuilt both front brake cylinders
Fresh brake fluid
New front brake pads
Fresh fork oil – still has the original springs
Fresh oil and oil filter change
Carbs cleaned
New spark plugs
Cooling system flush and fill
Solo seat + stock rear seat
Factory service manual will be included
And a whole lot of cleaned parts 🙂
Now, I don't want to mislead anyone, because this is not a cosmetically perfect example. It is a 21/22 year bike with the usual bumps and bruises that come with having 28,300 miles on the clock. I believe 1,350 miles a year is low by anyone's standard, unless you're a collector with several bikes to choose from. This will probably surprise most of you, but the 89 runs as good and if not better than my 90. 400's are known to run hot so the previous owner wired the cooling fan to be on when the key is on. This is a huge benefit when sitting in stop and go traffic.
Here are some more pictures of it and should you have any interest in it let me know and I'll answer any and all questions.
Asking price is $2,700.00
Video added per request:
I will help with shipping in anyway I can and of course the bike is available for viewing.
Cheers!
dd