1987 Yoshimura Tornado (Bonneville) Replica on Ebay
I don't know about you guys but my eyes lit up when I saw "Yoshimura Tornado" in the auction's  headline.  Don't let the replica part get you down, it looks like this bike is loaded with some rare Yoshimura kit parts.  If you aren't too famaliar with the Tornado's, here is what I know.  They are Yoshimura's version of a race replica.  They generally come loaded with every bell and whistle Yoshimura has.  They are extremely rare and not exactly cheap.  They have continued to make them on and off through the years.  Check out Yoshimura Japan and click on the "Complete" tab and you can see some of the more current versions.  Technical  info on the original Tornado (sometimes referred to as a Bonneville by Yoshimura) is hard to come by.   I know it was wrapped in special bodywork and had a hand made aluminum tank that made it stand out from any ordinary GSXR.  Engine wise, all I know is that it was loaded with everything Yoshimura could throw at it but I don't know specifics.
Before we get to the bike, here is some serious Tornado porn.  I'm guessing this is an official Tornado by the looks of the big gold plate stamped to the frame.  Enjoy!
Here is some eye candy for the bike on auction,  it is screaming out for an official Tornado replica paint scheme: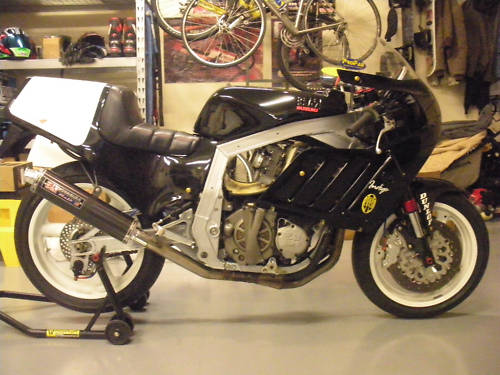 Here is a snipit from the auction:
This bike built by Chris Geiter and featured in the June 1994 issue of Sport Rider magazine. Chris built the bike from the ground up and I purchased it from him. For those familiar with the original magazine article, you will notice some differences in the photos, specifically the front brakes and wheel colors. Chris viewed the bike as a work in progress, so that is why. For those unfamiliar with the bike, it is a replica of a very rare Yoshimura edition motorcycle, of which only 3 originals were built. Serial number's 1 & 2 reside in japan and number three was destroyed/wrecked. Yoshimura USA offered most of the parts to build one, for a very limited time. The problem was that is was quite expensive to do so. The hand crafted aluminum tank with the Yoshimura logo cast into it, alone cost $2500-3000. This bike has one of those tanks. Air-Tech makes a replica tank,  but its made out of fiberglass

You will notice bike has velocity stacks, but has never been run on dirt roads or in dirty/dusty conditions. For that matter, it has never been on a wet road or seen rain. Motor runs very stout. The headlights on this bike are not installed currently, as Chris or I never ran it after dark. The Yosh Tornado's/Bonnevilles used 1st generation headlights, that simply slid into the headlight bucket and velcroed in place. I have a set of headlights for it. Instrument lights, tail light, etc all function.
My reason for selling is I have an ex-Yosh 1987 superbike I'm restoring, which demands my time and money, so it has taken priority over this bike. I had originally planned on repainting the Bonneville to original colors, of which I've compiled many pictures/articles and magazines from Japan showing a great deal of detail from the original bikes, especially the paint scheme.
I would possibly be interested in partial trades, specifically Yosh kit forks from 1987-1989 and/or a Yosh titanium duplex 750 pipe 1986-1992 and Yosh underbraced or top braced swing arms from 1987-1992.
This is a beautiful bike that was put together very nicely. No disappointments.
You'll have to check the auction out for the whole list of upgrades to the bike.  This is one of those bike you need to jump on if you are interested.  The parts list alone makes me drool.  Of course it looses some points for not being the real thing but if you go down the list of Yoshimura parts it has on it, how can you not be interested?  That tank is a work of art alone.  Anyone want to guess where the auction will end up on price?  .
IK