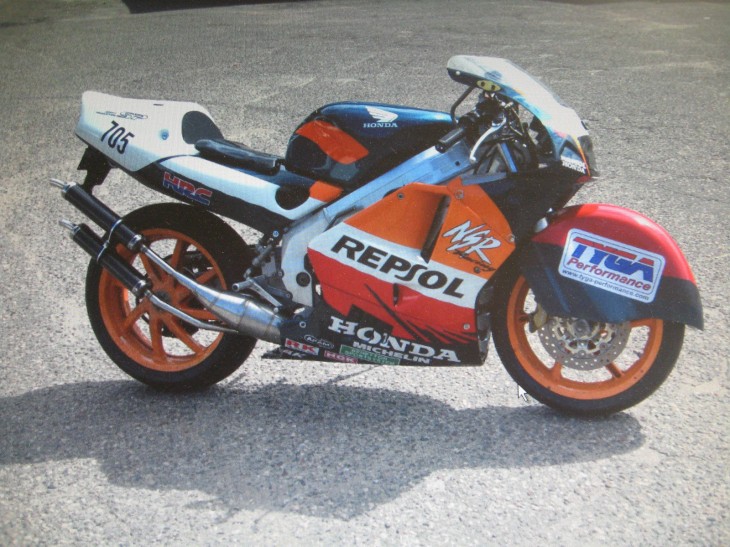 In the world of gray market two strokes, the Honda NSR is known as a sport bike. "Sport" usually refers to turning the occasional corner, be it at the track or favorite canyon. However in this particular case we see a MC28 as the platform for racing Bonneville style, where the mad scientists of speed try to pull big numbers at the far end of a straight line run. If you think that watching bikes run through a measured mile is about as exciting as watching fiberglass epoxy harden, then you are missing the big picture. Known as some of the friendliest competition on the planet, the bikes may run in solo format but they rarely get to the starting line without a lot of camaraderie and assistance. Today's NSR has been modified for the salt, sporting partial streamlining and a capacity boost to 350cc. And while the seller claims to have run out of gearing rather than motor during the 2013 running, do not underestimate the difficulty of making decent power at nearly 1 mile of elevation on a hot day.
From the seller:
NSR MC28. This bike ran at Bonneville in 2013. Altered/Partial Streamline, APS 350.

Engine 250cc with 300cc TYGA top end performance kit including TYGA exhaust system
New pistons and cylinders since Bonneville
Carbs are TB Keihin
Tranny is the stock 6 speed
Chain DID 520
Forks stock
Seat and Radiator stock
Dunlop Race Tires Sport Max GP
Dual Front Discs
Single Rear Disc
Lanyard shut off switch
Bodywork as seen in photos

Stock Honda bodywork also included as well as:
extra crankcase, connecting rods, 250 pistons, heads, exhaust system, primary and final drive gearing.

Runs averaged 124. Ran out of gears, before running out of "engine".
Offered in the 350cc Bonneville configuration and including the stock bodywork and engine internals, this is a dual purpose NSR. Sure we know it makes a great canyon carver and track day bike, but wouldn't it be great fun to truck it out to the local lakebed, add on some gearing, tweak the jetting, and tuck in? I know I would be tempted to give it a go. Check it out here, and let us know if you've got any Bonneville dreams of your own!
MI