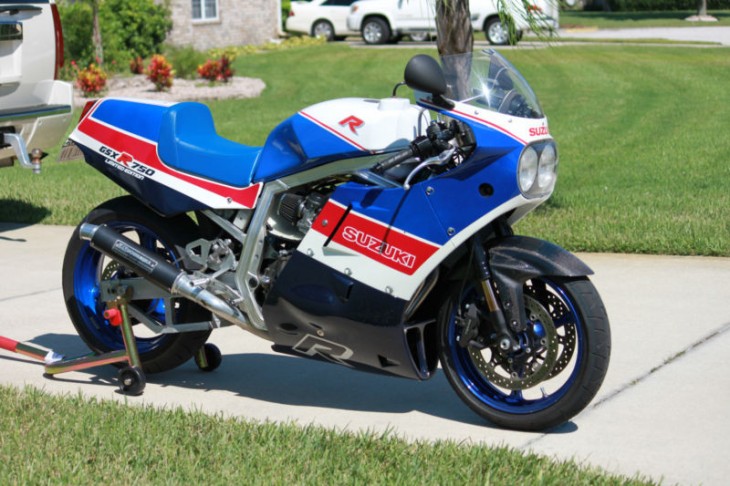 I must admit, it was hard to come back to the RSBFS offices (even though they are as plush as they come) after two weeks of vacation in Montana.  Do we have any readers in Montana?  Well, ennough about my glamourous lifestyle; lets get to bikes.  This LE poppped up on Ebay several months ago and then disappeared just as fast.  Well it's back for another go and it is an interesting one.  Lets call it a LE Evo.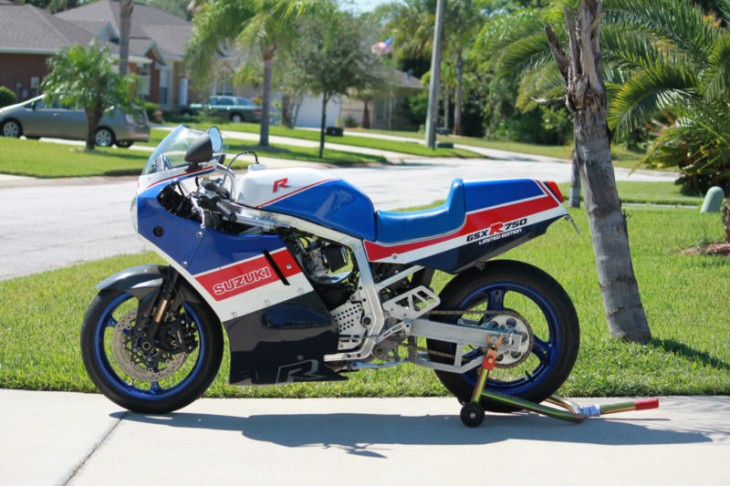 If Suzuki had a brain in their head they would produce this exact bike (yes, Suzuki I'm available for consultant work).  I have no doubt in my mind they would sell evey single one of them.  Take the classic, light weight GSX-R 750 of 1986, keep the dry clutch (mandatory) and put some updated suspension, wheels and brakes on the thing.  Finish it off in either this color scheme or that pretty yellow and blue HB Suzuki scheme.  Now sit back and enjoy the profits.  In my opinion, people rarely get it right when they start modifying bikes but I'm liking what the seller has done.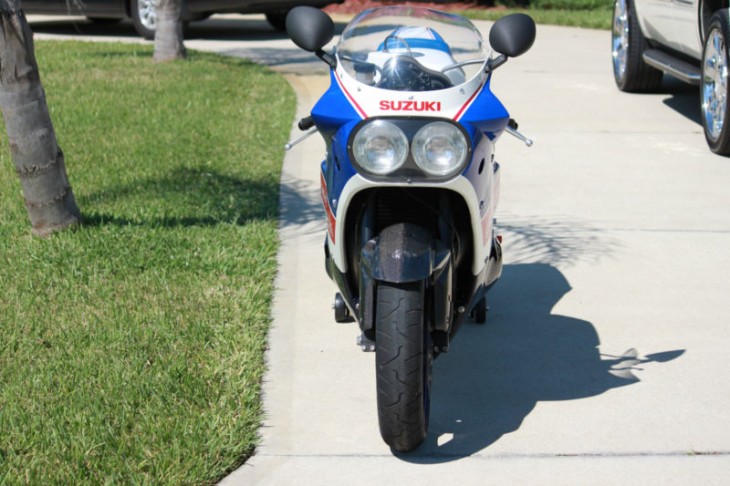 The details:
For sale is a very rare 1986 GSXR 750R limtied edition. This is a Canadian model which I purchased about 5 years ago. It has a clear title in my name. Although the bike is almost 30 years old it still looks and runs great. I drive it regularly, time permitting. Unlike some collectors, I actually enjoy riding my bikes, as opposed to using them as garage art. Full Spectrum racing in Orlando Florida helped with refreshing the top end and tuning the motor. Randy Voth is amazing with these old GSXR's and the only one I have ever let work on the bike. Each cylinder now has 180+ lbs of compression. The bike is currently running a set of new 1100 carbs and dyno'd at 107hp at the rear wheel, on a very conservative dyno. The yosh pipe sounds amazing. In addtion, the bike has a NOS gsxr gas tank which I purchased (no longer available from Suzuki), new coils, Wilber adjustable rear shock, 1995 GSXR 5.5 by 17 rear wheel powdercoated blue, fabrication work by Wyn Belorusky to include swingarm bracing, custom rearsets, rear brake hanger, 2004 GSXR750 complete front end with forks, clipons, brake calipers, master cylinder, rotors, braided lines, and 3.5 by 17 front wheel powdercoated blue. The bike has a carbon fiber front fender to complete the conversion. New clear Zero Gravity windscreen, billet aluminum left and right engine side covers and sprocket cover, period correct yoshimura pipe ceramic coated, new chain and sprockets, Yosh carb heat shield, and ohlins steering dampner. The bodywork is in very good condition for the age. All bodywork is original Suzuki. The lower is a NOS item I purchased (big $). The bike has been to deals gap and made the homepage cover of killboy. It always draws a croud.

Overall its a very nice bike which I have built to ride and enjoy. I have and will include in the auction the aluminum chain guard, rearsets with OEM heel guards, OEM front end, OEM side covers, and factory original limted 18″ wheels which came with the bike when I bought it. I'll also throw in a pit bull rear stand! The bike has a brand new battery, and fresh Castrol synthetic oil/filter less than one month ago. Please feel free to ask questions. Buyer to arrange and pay for shipping if required. I will do what I can on my end as needed.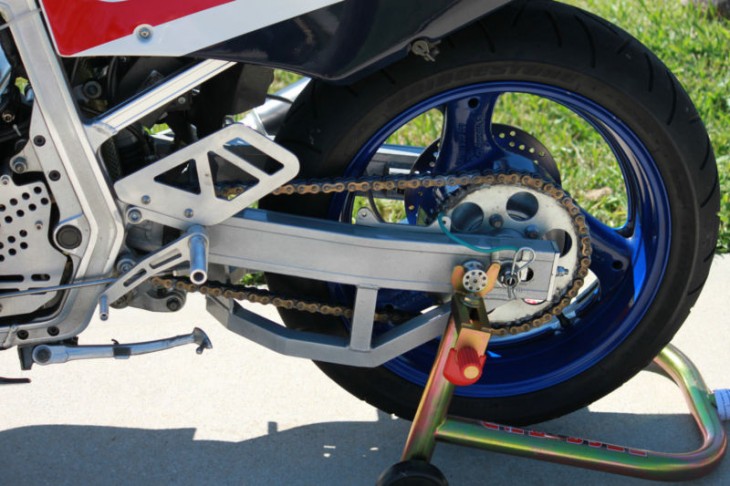 As described, the barced swing arm.  Damn nice job, looks OEM.
Someone obviously loved their Limited.
If only you had those back in 86!
As a rider it seems to have the best of both world: exclusivity and modern updates.  Ah, but what would you pay?  Would you price it close to the stock examples we've seen lately in the $10,000 to $12,000 range? 
Ian