For Sale: 1982 Honda CB 1100 R
---
Update 8.25.2012: Back up on eBay with 2 days to go. Currently at $13.6k reserve not met. Links updated. Thanks for the heads up Jason! -dc
Update 9.25.2011: This bike was originally listed on eBay and is now on Craigslist for $22k. Links updated.
Many thanks to Bret who sent me the updated link. He's deployed in Afghanistan and surfs our site everyday in his downtime. I've recently received several emails from military members and would like to take this opportunity to thank them all for their service! Thank you so much for reading from so far away and be safe!
---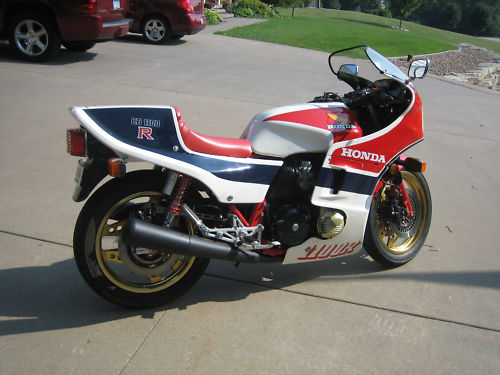 This CB1100R is the perfect bike for RSBFS: As an endurance racing homologation special it is very rare, it is clearly a sport bike (although "sport" was a bit more pudgy back in the 1980s compared to today), and this beauty is for sale right now on eBay. Score!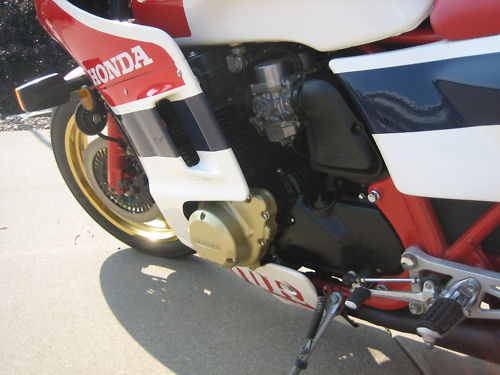 Very clean and sporting less than 3,000 miles on the clock, this CB1100R is an inline four-cylinder. Cooling is done the old fashioned way: with air. The frame is steel, but to save weight the 6.3 gallon (remember, this is an endurance racer) tank is aluminum. With 18″ wheels on both ends, triple disc brakes and the solo seat, this bike was ready for the racetrack right off the showroom floor. Unfortunately, those showrooms were not located in the United States; the CB1100R was never imported into the US.
From the seller:
1982 Honda CB 1100 RC ORIGINAL SURVIVOR with only 46XX KM which is only around 2863 miles. You will not find a nicer original bike then this. It's only been a 2 owner bike and lightly used. The bike runs perfectly with no issues. The bike has had new tires put on but still have the original tires that came on the bike. Feel free to ask any questions and I can email more pics if need. Happy bidding and good luck!
You can see more than a hint of the future VF1000R in that front fairing, as Honda followed its own success by an evolutionary process. Still, this is far more special, and far more rare than the VF-based models that followed. Produced during a brief span of 2-3 years and in very limited numbers, the CB1100R continues to be a sought after model from a collector perspective.
Due to the rarity of these models, estimating a value for these bikes is somewhat spotty. The last one we posted did not sell after a run up to the mid-$7k region (which was certainly low money). This particular bike is much cleaner and with lower miles – and the pricing reflects it. The current bid at the time of this writing is $8,700, with reserve still in place. Although there is no telling where the reserve is set, I would lay a guess at the $10k mark – which is still fair money for a rare, homologation bike from Honda.
To see all of the pictures and detail – or to just to check out the bidding action – click on the link and jump over to the auction. Good luck, and make sure you tell 'em you found it on RSBFS!
MI