Wolf Pup: 1987 Suzuki RG250 Walter Wolf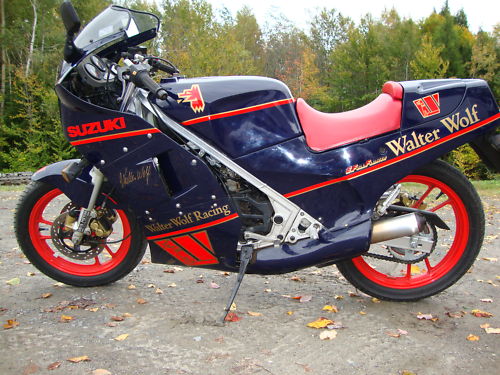 I think we have another collection completing bike here.  Rare model, rare special edition of that model and extremely low miles for the model year.  You may notice the is no "V" at the end of the RG:  back in 87 Suzuki's two stroke 250's were parallel twins.  Claimed power output was the usual 45hp that every Japanese spec 250 from every manufacture seems to magically make.  The Walter Wolf RG250 was actually available in two color schemes (just like it's big brother), the dark blue seen here and also what Suzuki called "silver green".  I really don't know the export history on these bikes but I know the Walter Wolf RG500 experts told me red wheels were a sign of a Japanese home market bike.  
Still has those pesky stickers.  I give people credit who hold on to these bikes and don't change a thing on them.  I don't know if I could excersie that much self control.  You'd have to hide my wallet because I'd be racing to throw a set of pipes on a two stroke.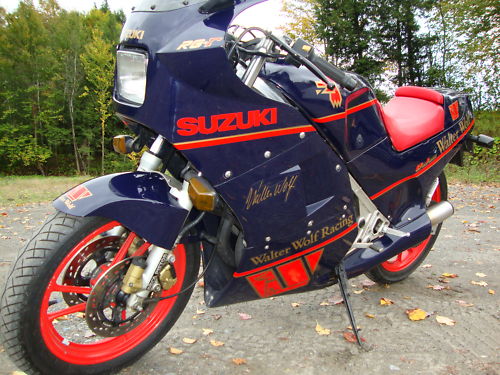 You may notice the full fairing.  Depending on the market, the RG250 commonly came with just a half fairing.  It is a much sharper looking bike with the full fairing in my opinion.  The WW RG250 also came stock with the solo tail.  
From the auction:  
You are looking at a very low mileage pristine example of a Walter Wolf Edition RG 250, the nasty little brother of the legendary king of the hill, the RG 500. This bike is unrestored, original and looks and drives like it was new. The motorcycle had just under 4000 km when I bought it and it now has 4181 km, or under 2600 miles. It has just gotten a fresh tune-up at the dealership, including a complete carburator clean-up and adjustment, new fork seals and oil, brake adjustment and even a little rubber piece that was missing under the tank was ordered from suzuki and replaced. Obviously all parts used were OEM Suzuki. The tires are in very good condition as you can tell by the pictures. Mechanically the bike is perfect, including chain, sprokets, bearings, cables etc, probably all original as far as I can tell. The bodywork is in SUPERB condition with the exception of a crack in the upper right fairing. Close up it is visible, but standing next to the bike it goes unnoticed. Esthetically I would give the bike a solid 9 out of 10 even if there is a major crack in the body work. That's how clean it is. I comes with the original tool kit and original Walter Wolf key. This bike would make an amazing addition to any rare bike collection, and is not pricey enough not to enjoy every other weekend or so without killing yourself with guilt. Obviously it will only go up in value as one of the rarest bikes around, and in such great original condition. The ultimate Christmas gift for a gear head or collector?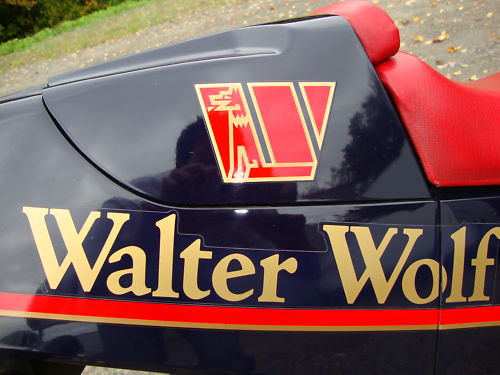 I'm split on the price.  The auction has a buy it now price of $7,900 and an acution starting price of almost $5,000.  I've honestly never seen an RG250 close to either one of those prices.  I understand this is a special edition with extremely low miles but is there much demand for the smaller Walter Wolf?  I think that sort of price shuts out the buyer with casual interest and limits it to just collectors.  Money is money though and all you need is one guy who's got to have it.  If you're that guy, you can .
Maybe I don't know what I'm talking about, here is a home market Walter Wolf RG250 with gold wheels and black seat instead of the red wheels and seat.  You are on your own, I don't know which freakin market these bikes belong in.