Honda offered a few different flavors of the CB1100F, and North America got one of the nicer packages.  No denying the restoration done on this CB1100F, but appears faithful with some rare factory parts.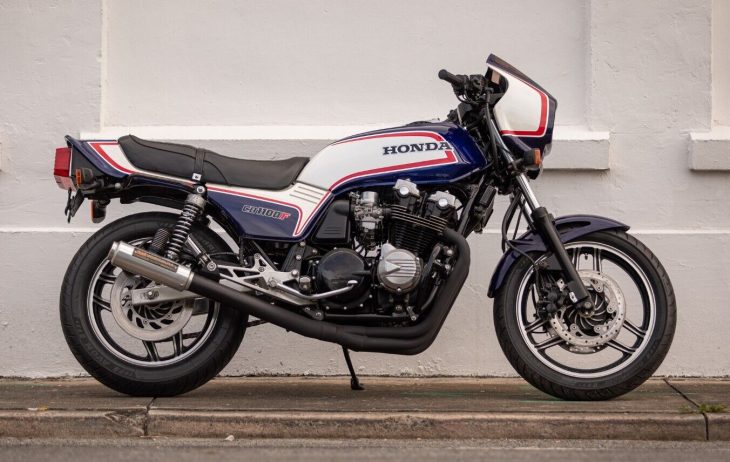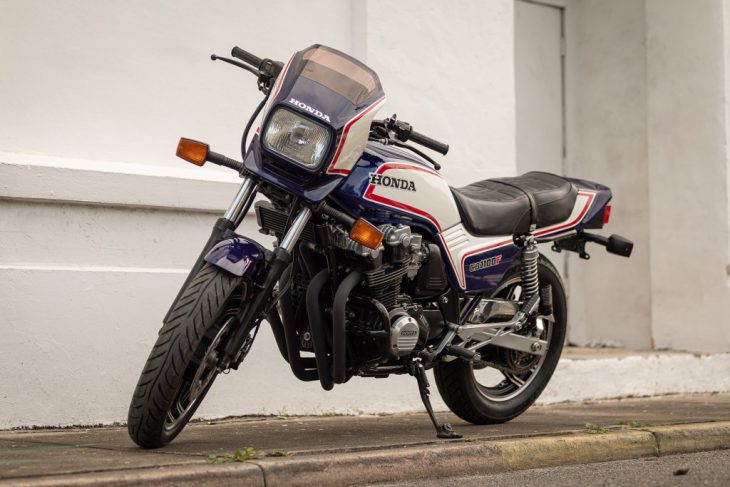 As the ultimate update to the CB750, the 1100 had internal and external updates to let it cope with 108 hp.  Four 34mm Keihin carbs handled the fuel mixing, which required premium gas for the 9.7-to-1 compression ratio.  Dual 296mm disk brakes, TRAC anti-dive forks and needle bearings for the swingarm kept the F's composure under way.  New tubeless alloy wheels were staggered sizes, but the UJM way with – 19 up front and an 18-inch rear.  The handlebars were slightly higher than Euro models, tucked in behind the sharp bikini fairing, and four-into-two exhausts were presented in black chrome.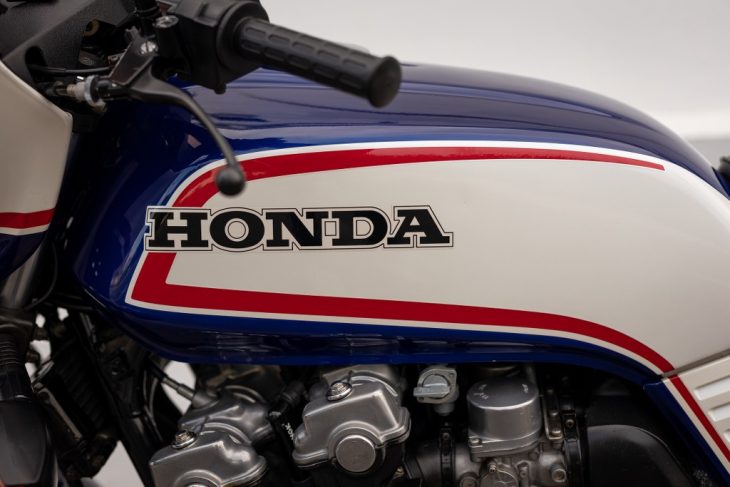 Not sure if the West Palm shop presenting this CB1100F worked on the restoration ( stated to be 12 years ago ), but presently appears to be more of a resto-builder on the scrambler end of things.  The 980 miles showing on the clocks has apparently been since the restoration, when a NOS dash was installed.  A close-up of the right sidecover looks to be in original condition, and shows how well the paint work was done.  The seat might have been plumped up and the tail tidied, but the factory signals are still there.  Maybe that flat black exhaust could go visit the Cera-Kote guys, but there's always time for that in the winter.  A cold start – video – is available, and here's just a bit of the comments from the eBay auction:
EVERYTHING functions as it should, brakes, lighting, engine have been sorted, and came from a previously very loving home (a personal friend of mine). This gorgeous example received a cosmetic restoration about 12 years / 976 miles ago, and received the last known NOS dash in the world, which is in lovely shape and no fading or cracks.
The seat is in wonderful shape, with no cracks or tears. The tank is perfect, and the inside is clean and shiny. Avon Roadrider tires were fitted at the time of restoration and have plenty of meat with 95% tread left. The inside of the gas tank in nice, clean, and shiny.
This model has been fitted with the period correct Yoshimura Exhaust System, and sounds wonderful.

The original exhaust system and center stand are included with sale (see photos). The original mirrors are in very nice shape and included as well.
For all its successes, the CB1100F would soon be retired with the V4 generation taking center stage.  Seems like when things just can't get any better, big changes might be on the way.  No bids on this classic air cooler just yet, but it's such a pleasure to look at I'll be checking occasionally.
-donn