First is a very nice 2006 Honda RS125 located in Morgan Hill, California.  This bike was purchased from Rising Sun Cycles in 2006.  Details as per the sellers listing:
Current configuration:

NEVER been down!
AFM/USGPRU legal.
CNRacing '97 RS125 Motor installed, has 50 miles on both top/bottom.
VHM head with 9.8-10.8 inserts.
Leaded CDI, Non-PJ Carb, Leaded Jet kit.
MFactoryWest Silencer.
Short ratio 1st gear installed.
Extended subframe.
Tire warmers.
All setup notes.
Setup for 160LBs rider with gear.
Very, very fast.

Spares package includes:

2004-2009 Spares.
2006 Motor (approx 800mi on bottom/150 on top)
Full factory jet kit.
CDI/electronics.
Power Jet Carb.
Factory PJ Carb-Cutout modules.
Carbon fiber airbox.
Clutch / Throttle cables.
Stock Silencer.
Exhaust pipe.

1995-1998 Spares
Extra Frame (1995-2009)
Extra transmission gear sets. (1998-2009)
Extra clutch packs (x2) (All years)
Extra levers (x2) (All years)
Extra subframe (x2) (All years)
Forks/Shock (1996-2004)
Cranks/Pistons (x4) (All years)
Cylinders (x3) (1995-1997)
Extra gas tank.
And more stuff I am probably forgetting…..
The ad states that there is enough spares to complete a second bike–less wheels and bodywork.  Bike is listed at $10,500.  If you fit on a RS125 and want to go racing, this would be the perfect way in.  See the thread on South Bay Riders Forum here.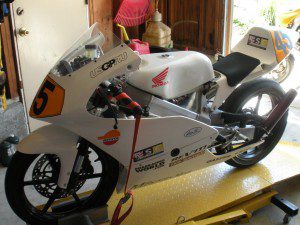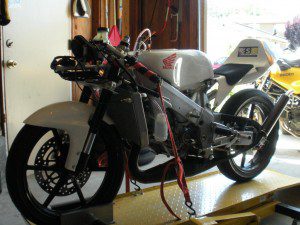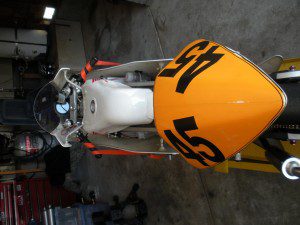 The second bike is a 1998 Aprilia RS250 Aprilia Cup bike located in the bay area of California.  The bike has a clean title but isn't registered and has approximately 3000 miles.  The bike comes with a small spares package of sprockets, jets, and bodywork.  Price seems to be appropriate at $4,000.  See the ad on Bay Area Riders Forum here.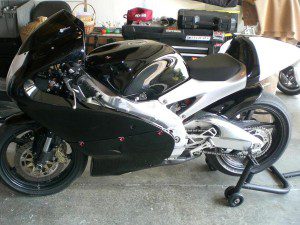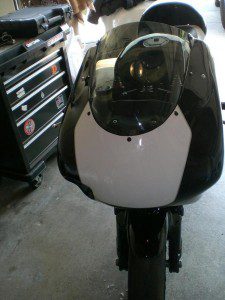 AG