I am willing to bet that a lot of RSBFS readers didn't get into sportbikes until the two-stroke era was pretty much over.  I am also willing to bet a lot of these same people now have a 250cc racer on their personal motorcycle "bucket list".  While most of the bikes posted here on RSBFS are OEM examples of exotica, I think this nicely done Aprilia RS250 is a nice potential addition to someone's collection.
Despite its displacement, the Aprilia RS 250 is a proper sports bike. The two stroke Aprilia powerplant is 90 degree v-twin and horsepower officially lists at a max of 72 horsepower.  Like most two strokes, at low speed the engine will just putter along but once the needle swings up past 8000rpm you get a thrilling experience.   This is largely due to the little Aprilia's dry weight of only 140 kilograms together with a race bred chassis and amazing brakes (floating disks mated with Brembo twin-piston callipers).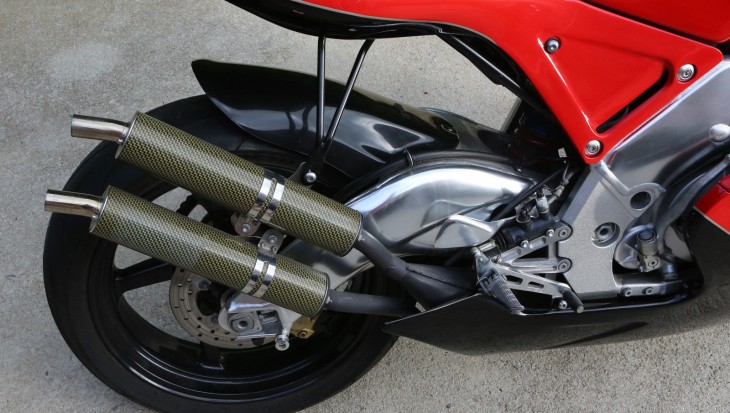 Sound good?  Wait..don't answer…there's more.   According to the seller this one is one of the "cup bikes" originally designated for the track.  Current bodywork is by Tyga and looks great and the seller indicates the original bodywork is available as well, although the original bodywork also appears to have been painted.
I have to admit, two strokes that have the dual/twin pipes together on a single side just seem right to me.   These seem to be Tyga or Arrow or perhaps another brand; the identifying brand plate/decal has been removed (note the residue on the lower exhaust canister).   But damn this bike looks good, I especially like the cleanly integrated handlebar turn signals.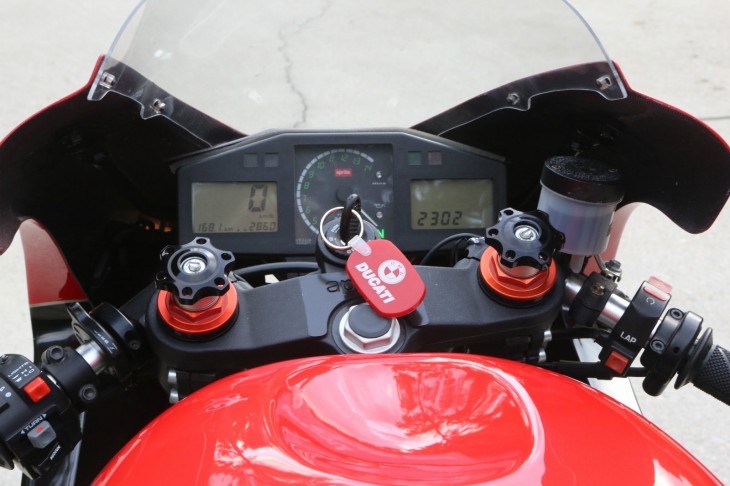 Now while this bike certainly looks lovely, there are a few scuffs and fluids and rubber might need to be updated.  Also while mileage looks to be low at about 1780 miles (dash is in kilometers) the RS250 is a two stroke so maintenance is required, including recommended ring changes at 3000, pistons at 6000 and crank at 15000 miles respectively.
There are lots of reviews and posts about what riding a Aprila 250 RS on the street is like.   There are numerous YouTube videos from professional reviews (including Richard Hammond of Top Gear UK fame). There are also lots of posts on numerous websites from owners of these bikes, including Apriliaforum and adventure rider website, a sample of which is posted below.
"First you need to let it warm up properly before you can expect to even ride it reasonably. Usually about 10 minutes on mine. Next, you have to keep the revs over 6k as often as possible to keep the exhaust clear. It will sludge up if you don't, foul the plugs, and be extra smokey. My gearing is such that I have to pretty much slip the clutch and keep blipping the throttle until I reach 15mph. In downtown traffic I want to shoot myself most times. And if you have a friend with you, let them go ahead of you or they'll be getting choked out on your exhaust in slow traffic."
So its a two-stroke track bike that has been setup for use on the street and looks great.   Is it worth the asking price of $9500 USD, even with the extra bodywork?  Well we post a fair amount of these on RSBFS and the asking price seems kind of high to me but the seller does indicate a willingness to listen to offers.   Perhaps this one will go to an already experienced two-stroke owner who understands what it takes to maintain and enjoy one of these beasties.
-Marty/Dallaslavowner