Warning!
This post is in our archives. Links in this post have been updated to point to similar bikes available to bid on eBay.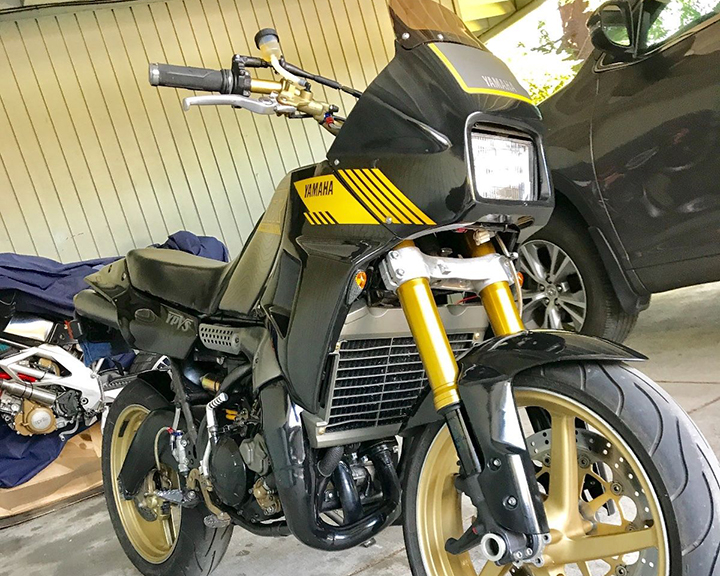 This bike got me excited because Practical Sportbikes has been doing a project Yamaha TDR250 over the past few months, and up until I saw it, I had no idea the bike even existed. You say it's not a sportbike? I say if it's in Practical Sportbikes, it qualifies! So what exactly is a TDR250? Well basically it's the parallel-twin from the TZR250 in a supermoto-style machine, with different tuning to suit the bike's new mission.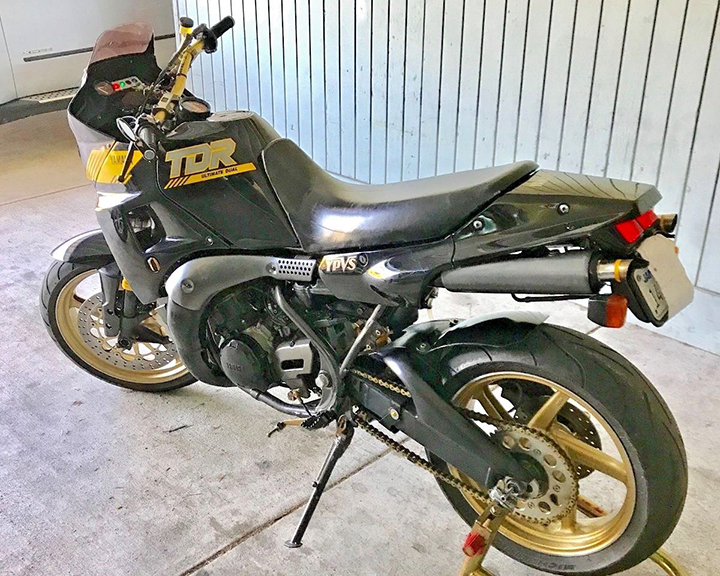 Weight was right in line with the TZR at just a shade north of 300lbs dry, and the claimed 50hp is pretty close as well, helped by the same Yamaha Power Valve System. The supermoto set up means you'd probably lose out to a TZR on track, but the TDR would probably be faster just about everywhere else. Certainly, the riding position would be a damn sight more comfortable than the racer-crouch required for the TZR…
This particular example has obviously been enthusiast-owned, and the listing includes details of recent engine work, updates to the suspension, wheels and brakes, although he doesn't mention where he got that banana swingarm. It's not really necessary here with the undertail pipes but it does look pretty cool. Maybe it came from the RS250 that donated the rear wheel? This TDR is not perfectly original or in pristine cosmetic condition, so it won't be of much interest to anyone looking for a museum-quality collectible, but these really aren't all that valuable yet anyway in the rest of the world. The main thing driving the price for this one is likely the novelty and that very desirable California title.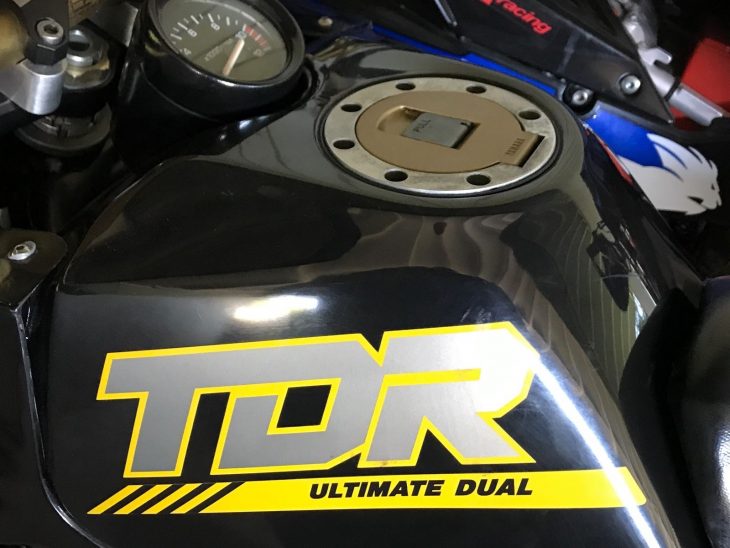 From the original eBay listing: Cali-titled 1989 Yamaha TDR250 for Sale
Engine is parallel twin TDR250 (TZ250)case induction 2-stroke 50+ hp.6-speed

Low mile bottom end (under 5k mi) pressure tested, excellent condition.
New pistons, rings, clutch plates, petcock, YPVS bushings, gaskets.
RZ500 cylinder barrels-standard bore (newly run in, just over 50 miles presently on new hone).
Relocated YPVS actuator to center RZ500 position with stock housing/adjustment.
RZ500 kick start arm
TDR250 head tuned by Stan Stephens in the UK.
Standard exhaust with black chrome powder coated guards and custom spigot covers.
Pre-mix injector pump installed,adjusted and in good working order,but currently 40:1 Motul racing synthetic, premixed as a personal preference.Easy to mix in and good insurance.

Chassis

Aprilia RS250 road racer front and rear wheels and complete rear Brembo brake caliper/mount.
GSX-R K6″limited" UD forks with black nitrided sliders/anodized caps and tuned springs
Machined and heat powder coated K6 Radial front brake caliper.
Custom Goodridge steel braided brake lines front and rear.
New non O-Ring gold chain (less drag).
New front and rear sealed wheel bearings.
New Michelin Pilots
Vintage Pro -Taper bars
Brembo front master cylinder.
NC30 tail light and rear fascia.
Extensive powder costing.
New yellow stock seat cover with Yamaha labeling included.
2 spare rear sprockets (1 aluminum,1 stock steel) included.
Full work shop manual (copy) with original sales brochure included.

Body is standard in good condition as shown, showing minor decal issues (pictured) and some repairs on interiors from an older repaint. Rider quality. Bicycle speedometer is only fairly accurate but legal. Turn signals aren't blinking. (I think the led fronts need bulb style) Finger actuation only for now! Suspension mods have stabilized high speed handling without sacrificing all important "flick ability".

Bikes cylinders are freshly broken in, first kick every time, running great and ever improving, very strong pull with improved head by Stan Stephens.Perfect stock jetting, no plug fouling ever and runs cool, never past just center of coolant gauge even when in powerbaband getting flogged, clutch plates and synthetic oil for perfect "butter"shifting with no slippage. Quiet stock exhaust allows you to rev it with out to much undesirable attention. NO DISAPPOINTMENTS!

Bike is for sale locally, so l reserve option to end at anytime BEFORE reserve is met. Super Rare and desirable model in the U.S.Very collectible and appreciating. Please ask any and all questions, answered ASAP! Japanese and Canadian market bikes, never imported to the states, a lot have ended up in the United Kingdom where new parts and spares are readily available.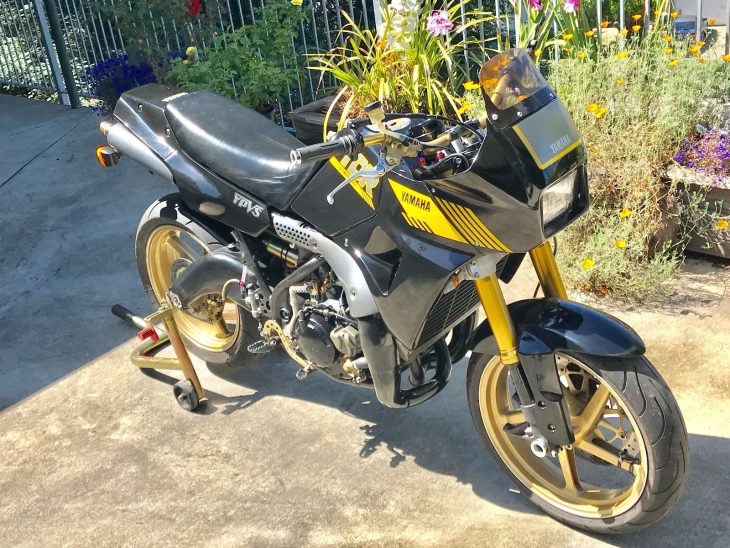 Bidding is up north of $5,000 with just about 48 hours left on the auction. In one of its home markets, I doubt it'd ever make near what it looks like it will sell for here, but I bet two-stroke junkies are leaping at the opportunity to pick up this very funky little machine, especially in California where little smokers have a pretty rabid following and road-legal grey market bikes from this era are hard to come by.
-tad