Warning!
This post is in our archives. Links in this post have been updated to point to similar bikes available to bid on eBay.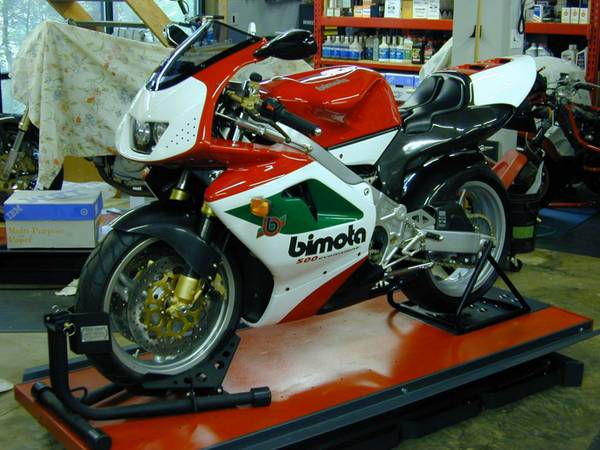 The Bimota VDue was an ambitious project from the start. Of course it incorporated Bimota's usual jaw-dropping bodwork draped over a stiff, lightweight frame and top-spec suspension components. A 300lb, carbon-fiber dream-machine in patriotic red, white, and green paint. But the real centerpiece was a direct-injected, 500cc two-stroke v-twin of Bimota's own design, a clean-burning engine that was supposed to save the two-stroke sportbike from extinction.
Instead, it sank the company.
On paper it was the perfect sportbike: featherweight construction, cassette six-speed gearbox, and GP handling. The sophisticated engine management was supposed to allow the normally very smoky two-stroke engine to meet emissions requirements while punching out 110hp and a racebike soundtrack. But that engine is where the trouble began. The bike delivered in the handling department, as you'd expect, but the first batch of bikes was nearly impossible to ride at anything less than full throttle. They were jerky, they hunted, they wouldn't run smoothly. They seized. Some even ran just fine.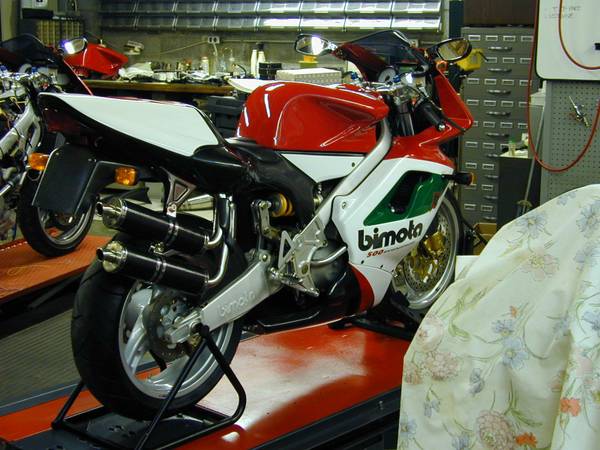 And for a long time, Bimota couldn't even figure out what was going on: at first, it was thought that there were problems with the new ignition. So bikes went back to the factory to be remapped. Which worked great on individual bikes, but maps wouldn't work when used on different bikes. Then it was thought that manufacturing differences were causing issues with the port-heights. So the barrels were then replaced, but that didn't really sort the problem either. And by then, it was all over for Bimota…
The potential was obviously still there, and Piero Caronni, one of the engineers originally involved with the bike, continued to develop the VDue after the company folded, fitting a set of carburetors to replace the injection system and selling the bike as a track-only machine. This was obviously not an ideal fix, but his Evoluzione at least ran, even if it wasn't road-legal.
The problem was traced, years later to something completely unrelated to either the ignition or the barrels: aluminum porosity and casting issues in the engine cases were ultimately determined to be the root of the poor performance, and new castings are available, if you want to turn your display-piece into a runner.
From the original Craigslist post: 2004 Bimota VDue for Sale
It is time for me to let go one of my V-Due Evoluzione II. Still NEW with only 10 manufactured test miles, No gas in the tank, Battery not hooked up but will prep for the buyer. Not a single imperfection. Comes with new US MSO! You will be the first owner!

This bike is not like any other V-Due that bankrupted Bimota for its defect. You can ride this bike reliably. Not more than 22 2004 Evoluzione 04 and only one is still NEW. The new release of new and improved V-Due were not plan to be street legal, this one is.

The Evo 04 is equipped with much improved DFI (Direct Fuel Injection) and not the cheap carburetor version. Exoticness

Cost me big bucks to bring one here especially that US MSO. Looking to get $32K or trade for something mint and rare.
Less than 500 of these little jewels exist and the seller's asking price for what he claims is a rideable motorcycle seems pretty much par for the course. I'd like to say that this 10-mile example is unusual, but many have spent more time on display than on the road. That's a tragedy, but at least they make very nice display pieces: the VDue really is a gorgeous motorcycle, one of the best-looking bikes of the era. Fortunately, with a bit of work, it could also be one of the best-riding bikes of any era…
-tad