Update 12.18.2014: The seller has added more information on this bike, enough to refresh our post. The listing ends, coincidentally, on Christmas day. Happy Holidays to buyers and seller! -dc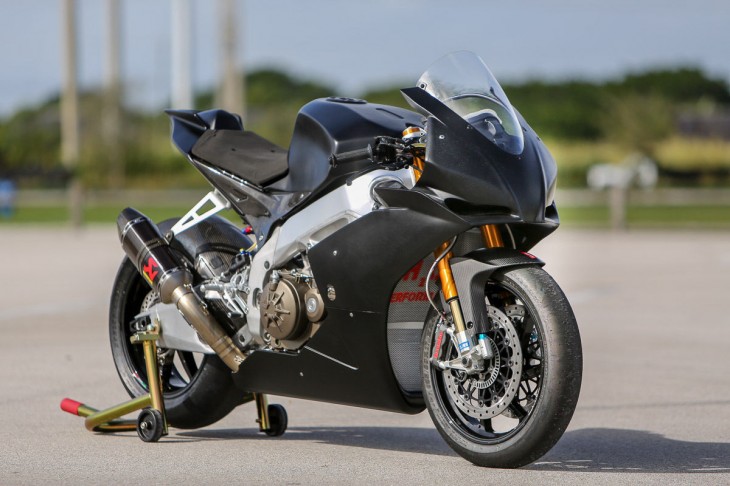 Wow. Well, I'm not even sure where to begin with this one: a full-factory Aprilia RSV4 Superbike. From the specification, to the upgrades, to the asking price, this is all well into jaw-dropping territory.
Introduced in 2008 and powered by a 65° V4 engine that just squeaks in under the 1000cc mark, the bike has won more races than hearts: in spite of very positive reviews from the start, the RSV4's sales haven't exactly set the world on fire, in spite of continual improvements. While the Aprilia RSV4 may not be the sexed-up media darling the Panigale is, it's a hugely competent motorcycle on both road and track, winning Fast Bikes Magazine's Sport Bike of the Year award the past three years running.
On paper, the RSV4 doesn't necessarily impress: it doesn't make the most power, it isn't the lightest in its class, and doesn't have the highest top speed. But a complete package that includes compact dimensions and an emotional, flexible engine combines with Aprilia's cutting-edge APRC electronics suite to make a good machine even better, and put nearly race-spec electronics and traction control in the hands of ordinary riders.
But of course, the price gap between "nearly race-spec" and "race-spec" is huge…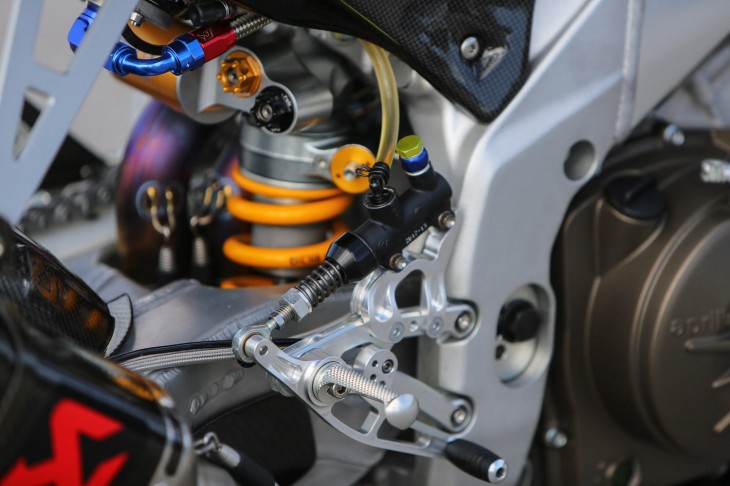 The list of specifications for this machine is incredible, and reads like the cost-no-object checklist. Probably because it is a cost-no-object checklist. From the original eBay listing: 2013 Aprilia RSV4 Factory APX SBK for sale
About Aprilia Racing (Noale, Italy)
On the 22nd February 2008, Aprilia unveiled the RSV4 'Race Machine'. With 4 cylinders, a displacement of 1000cc and over 200 bhp. The excellent work done at the Noale based racing department has enabled Aprilia to win seven world championship titles in six years. It's not by chance that, in just ten years, Aprilia has won 28 of its 54 world titles and the Piaggio Group has taken a total of 32 world titles in just a decade. This makes it one of the most victorious brands on a global level in motorcycle racing. Many recent prominent racers have raced and won with Aprilia such as Biaggi, Capirossi, Rossi, Melandri, Simoncelli, Stoner and Lorenzo. Aprilia's 54 world titles, hundreds of wins on tracks worldwide are proof of the technical skills and winning attitude at the racing department that deserve the public attention of the premier motorcycle racing World Championship (MotoGP), which Aprilia will enter next year. This premier eighteen-race series visits fourteen countries, four continents and includes pan-global television coverage.

APRILIA RSV4 FACTORY APX SBK
100% RACE READY

Engine Configuration
Aprilia SBK-R EVO 1.1 Race engine designed in compliance with FIM SBK race regulations.
Tuned by Aprilia Racing, including test bench activities for engine validation.
Engine and components designed to be used for race track competition only.
*All documentation, chassis/engine number(s) available to verify authenticity*

Vehicle Management
Possibility of fast parameter modification with Aprilia Racing Palm system and handlebar switches.
Vehicle management strategies via APX2 control unit include:

MAX engine speed limiter which can be configured for each individual gear
Pit lane speed limiter (programmable)
ETC (Electronic Throttle Control)
VTP (Variable inlet Trumpet Position)
TCS (Traction Control System)
Adaptative TCS (Adaptive Traction Control System)
Distance Based (parameters configuration system based on distance)
Engine Braking (gear by gear programmable engine brake)
Power Reduction (gear by gear power reduction system)
Wheelie Ctrl (wheelie control system)
Launch Ctrl (assisted starting system)
Backlash Ctrl (backlash control system)
Quick gearshift (assisted quick shift system)
Lap time detection (with the use of an optional finish line on the bike)

Data Management
Acquisition of engine and vehicle working parameters for optimized vehicle management and strategies.
The FIM 7-channels data acquisition system includes:

Gas (OEM sensor)
RPM (OEM sensor)
Water temperature (OEM sensor)
Front brake pressure (optional sensor)
Front suspension (optional sensor)
Rear suspension (optional sensor)
Lambda (optional sensor)

APRILIA RSV4 FACTORY APX | SBK Specifications
(S) = Standard equipment installed at Aprilia Racing Factory-Noale
(U) = Upgraded equipment installed in the U.S

Aprilia V4 SBK-R EVO 1.1 Race Engine (S)
APX2 ECU with 7 Channel Data Recording & ABM Base Software (S)
Aprilia Racing Engine Setup Palmtop Computer (S)
Aprilia Racing Dashboard (S)
WSBK Aprilia Left Handlebar Push-Buttons (S)
WSBK Aprilia Handlebar Grips (S)
SBK Billet CNC Ergal 7075 Adjustable Clip-Ons (U)
Billet Ergal T6 PTFE Coated Race 1/4 Turn Throttle (U)
SBK Plexiglass Windscreen (S)
WSBK Aprilia Carbon Upper + Lower Fairings (S)
WSBK Aprilia Carbon Rear Hugger (S)
SSTK Aprilia Carbon Rear Fairing (S)
SBK Carbon Air-Intake Ducts (S)
SBK Carbon LH Heel Guard (S)
SBK Crash Pads (S)
WSBK CRT Ohlins 110mm Steering Damper (S)
23L SBK Aluminum Racing Fuel Tank (U)
Aluminum Race Subframe (U)
H2O Performance SBK Racing Radiator + Oil Cooler (U)
Akrapovic Full Titanium 4:2:1 Exhaust System with SBK Carbon-Titanium Silencer (S)
WSBK Swingarm from the Official APRILIA RSV4 World Superbike (S)
WSBK Swingarm Linkage (S)
WSBK Swingarm Chain Tensioner (S)
Ohlins Racing Upside-Down Adjustable Forks equipped with TTX25 Pressurized Ohlins Racing Cartridges (U)
Ohlins Racing TTX36 Rear Shock (U)
Brembo Racing GP Billet Radial Brake Master Cylinder 19×18 (U)
Brembo Racing SBK Front Brake Discs 320x6mm Narrowband (U)
Brembo Racing GP Billet Monobloc Narrowband Front Brake Calipers with Titanium Pistons (U)
Brembo Z04 Racing Compound Brake Pads (U)
SBK SS Front Brake Lines (U)
WSBK Brembo Billet Rear Brake Caliper (S)
SBK Brembo Narrowband Rear Brake Rotor (S)
WSBK Brembo Rear Brake Master Cylinder + SS Brake Line (S)
Aprilia Racing Rear Wheel Speed Encoder (S)
Aprilia Racing Gear Shift Sensor (S)
WSBK Aprilia Footrests/Rearsets + Shift-rod Linkage (S)
Pulse P2 Race Battery (U)
STM Slipper Race Clutch (S)
Regina Racing 520 SBK Drive Chain (S)
AFAM SBK Rear Sprocket (S)
Marchesini Forged Aluminum 7-Spoke Wheels (S)
Dunlop N-TEC Superbike Slicks (U)

Note: **New N-TEC SBK Slicks or other race tire of your choice will ship with the bike**
Honestly, I want to like the RSV4 more than I do: it's fast, exotic, and has maybe the best-sounding exhaust note available at any price. But the styling bugs me: in typical Aprilia style, the details are overwrought and fussy. The stubby tail is very cool and minimal, but what are those little blades on the top for? And why three headlights? But the simplified fairing of the race bike looks much better, and in Alitalia replica colors, even the roadbike looks good…
The asking price is $149,000 and that's a huge amount of money to pay for a motorcycle. But this represents a rare opportunity to buy a full factory Superbike and, for the price of a nice Mercedes, you can live out your late-career Max Biaggi fantasies. Just add race fuel, and skill.
-tad