Update 2.8.2023: This bike has SOLD! Congratulations to buyer and seller! -dc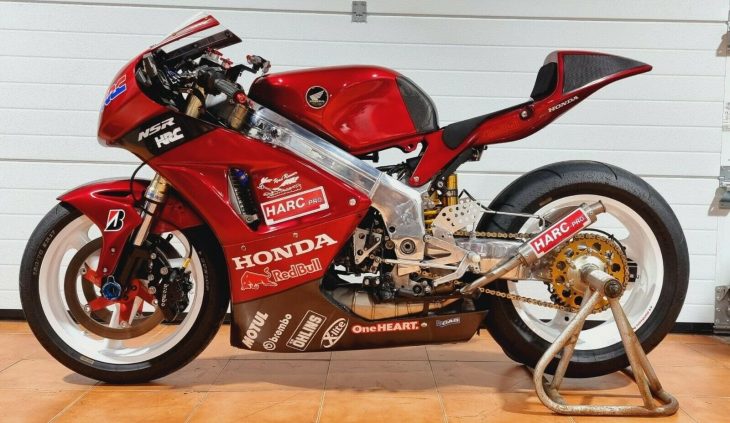 Though a rarity on the road, smaller two-strokes are still a great track day solution, and the Honda MC28 is a great starting point.  A European builder started with a premium SP model, and went hurtling down the slippery slope from there !
1994 Honda NSR250 SP / MC28 ( Portugal ) for sale on eBay
Most elsewhere, the NSR250 had a long run and the MC28 was the last generation.  Tech and styling kept pace with racebike developments, though the powerplant was a fairly constant 249cc V-twin with a carbs and a legislated 45 hp.  Electronic PGM ignition and air controls kept exhaust as clean as could be and thwarted most tinkerers attempting to de-restrict.  All NSR250's had a robust twin-beam alloy chassis, and the MC28 had the latest ELF-designed single-sided swingarm.  Big brakes reflected the track orientation rather than the light weight, and wheel sizes were both 17's.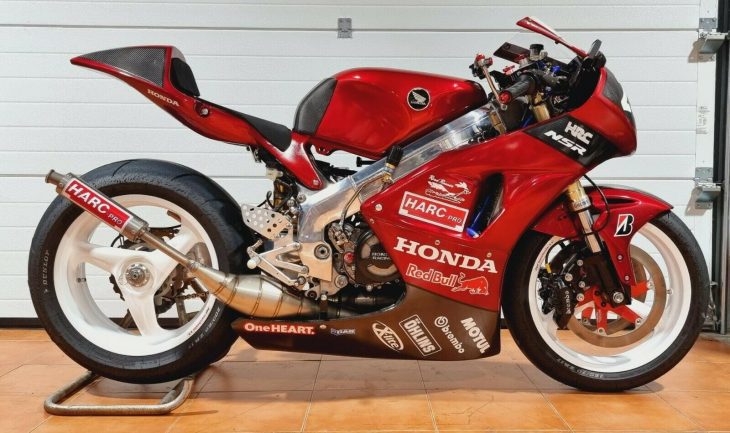 This MC28 looks wicked racey but so nicely finished and complete, it's hard to believe it's ever turned a lap.  Alloy pressings are polished and the race fairings fit well.  Premium components stick their logos out everywhere.  The PGM-IV hardware appears to be on the dash if not defeated, though information on the ignition system and a dyno sheet might be questions for the owner.  Notes from the eBay auction:
With only 4,375 miles or 7,000 km and year production 1995.

Originally a SP model, converted to a custom racing MC28.

Engine is 300cc, with VHM heads, Tyga 300cc cylinders, Wiseco pistons, HARC-Pro complete exhaust, modified carbs, Marchesini rims, Rear and front Ohlins suspension, big Brembo calipers, and a lot of Tyga parts. It has 2 keys.
Right up there with spending a Powerball jackpot, taking a newly commissioned lightweight racebike out is something many would like to try.  This owner has a couple of other excellent classics for sale, also at premium prices.  The builder wasn't named in this auction, but the choice of donor bike, engine upgrade, and exotic parts look very professional indeed.  Will be interested to hear from the new owner if and when this NSR250SP sells.
-donn