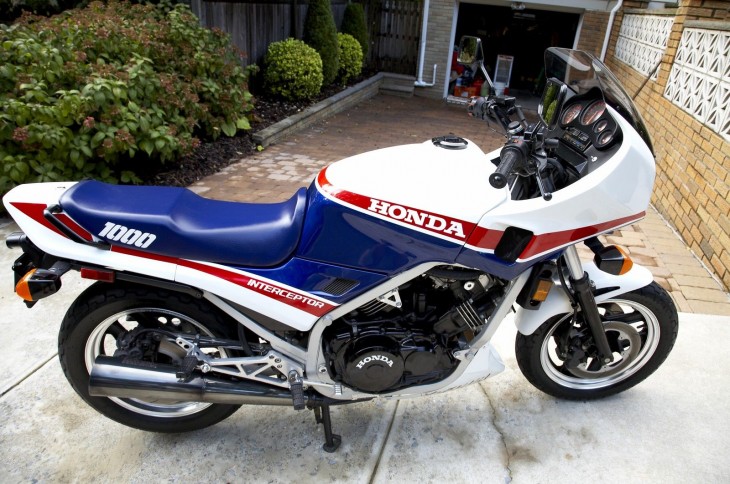 When the original "V45" Interceptor was launched, it created quite a storm. Moving the sport bike world from air-cooled, two valve per cylinder stone age technology, Honda's revolutionary VF lineup offered v-four sophistication, including four valve technology and liquid cooling. Following the introduction of the original 750cc model, Honda released the mini-ceptor (500cc) and the VF1000. With rampant changes in technology over the coming years, the VF1000F was relatively short lived. The replacement – the VF1000R – had a foundation in the 1000F but with full fairing it celebrated Honda's endurance racing success. The more naked 1000F showcased the motor as centerpiece, and still looks great today. This bike has fewer than 1,100 miles on the odometer.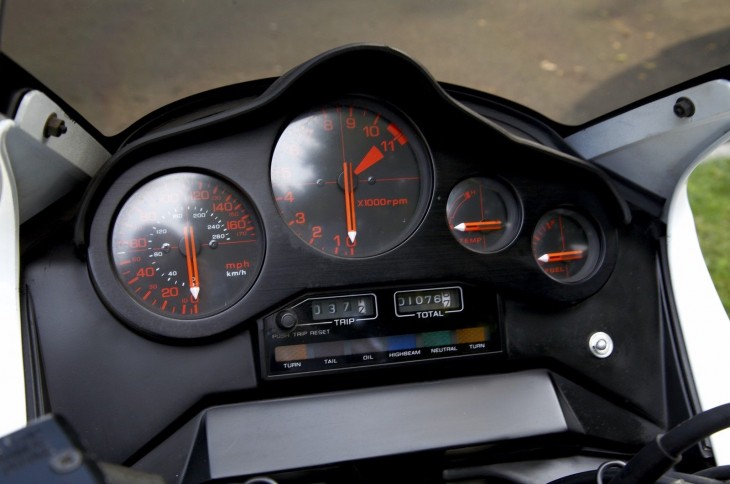 From the seller:
This motorcycle was purchased from the original owner in July of 1986. It had a little over 1000 miles on it, and to date has 1092 miles. Its been kept in my home in a heated garage and has been extremely cared for.

The motorcycle is in showroom condition, has no oil leaks, rust in the tank or carburetor issues. It not only looks brand new, it runs like new. If your a serious collector and you want the BEST 1984 1000 Interceptor, This is it!
The 1980s were a golden age for sport bikes. Yes, performance progress continues to this day (at a dizzying rate!), but the new wave decade brought more two-wheeled diversity and experimentation than any other before or since. Honda was leading the technology battle, and probably introduced more innovation during this period than any other manufacturer. This particular example is a time capsule of the breed, and deserves to find a good home. If you are looking for a neo-classic collectible, this might be up your alley. Just bring your wallet; prices have changed a bit in 30 years. Check it out here. Good Luck!
MI