Update 11.28.2019: This bike is SOLD! Congratulations to buyer and seller! -dc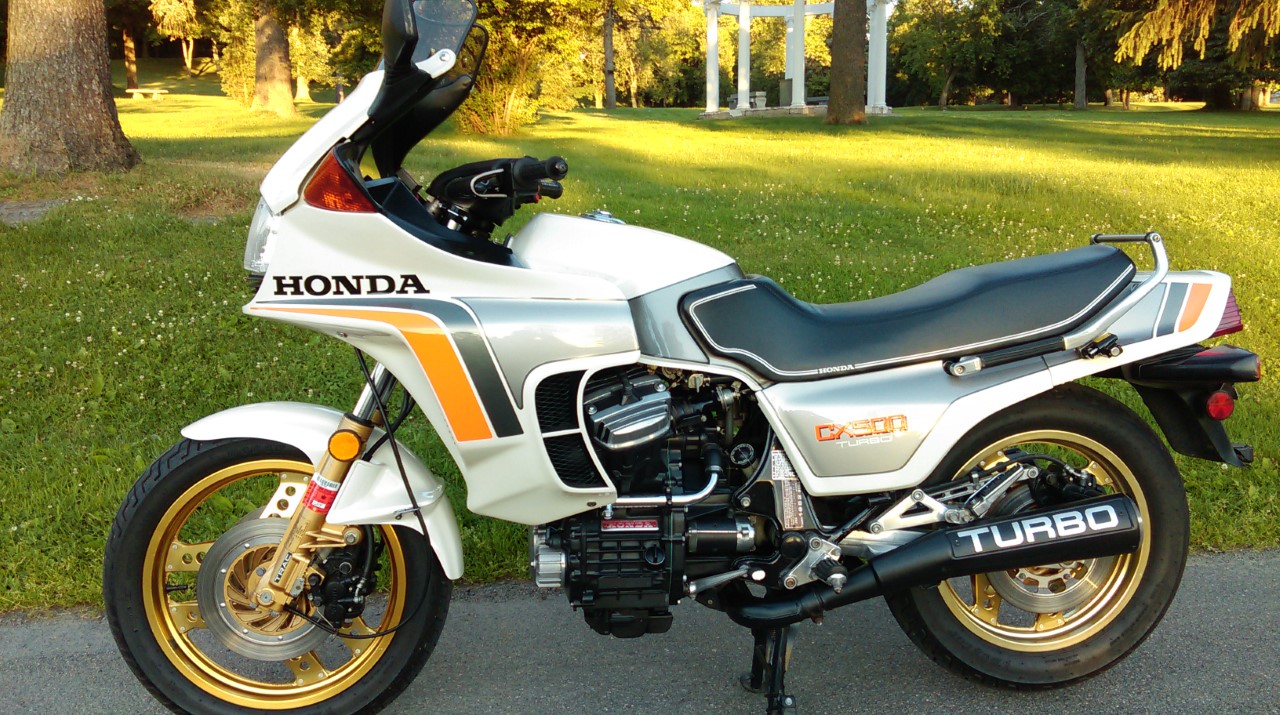 In 1982 Honda fired a technological missile, the implications which were heard and felt around the world. Overnight Honda had changed the game (again), offering the promise of liter power in a mid-sized package with the first full factory Turbo motorcycle. With futuristic styling, wild colors and TURBO emblems screaming mystical propulsion methods, the CX500 Turbo made a bold statement before the key was even turned. Once the bike fired up, there became an interesting dichotomy between the low boost tractability and comfort of the Dr. Jekyll side around town, and the wild Mr. Hyde nature of the bike on boost. In 1982 this was the most technically advanced motorcycle you could purchase, and despite the performance it was built with typical Honda quality and reliability.
Featured Listing: 1982 Honda CX500 Turbo!
Starting with the rather pedestrian CX500 standard/cruiser power plant, Honda introduce forged pistons into the the Moto-Guzzi like transverse vee. Unlike most vee configurations, this one splayed 80 degrees rather than the usual 90. This engine already had liquid cooling and four valve heads (operated by pushrods), and was already at that time known for being overbuilt. The chassis was sturdy and equipped with shaft drive and monoshock rear suspension. It was an easy – if not overly inspired – choice to be the foundation for something much, much greater. The basic engine package was beefed up, Honda bumped the compression slightly, and then bolted on an IHI turbocharger built to Honda specifications. At it's peak, the turbocharger pumps out 19 psi before the wastegate opens to slow the party down.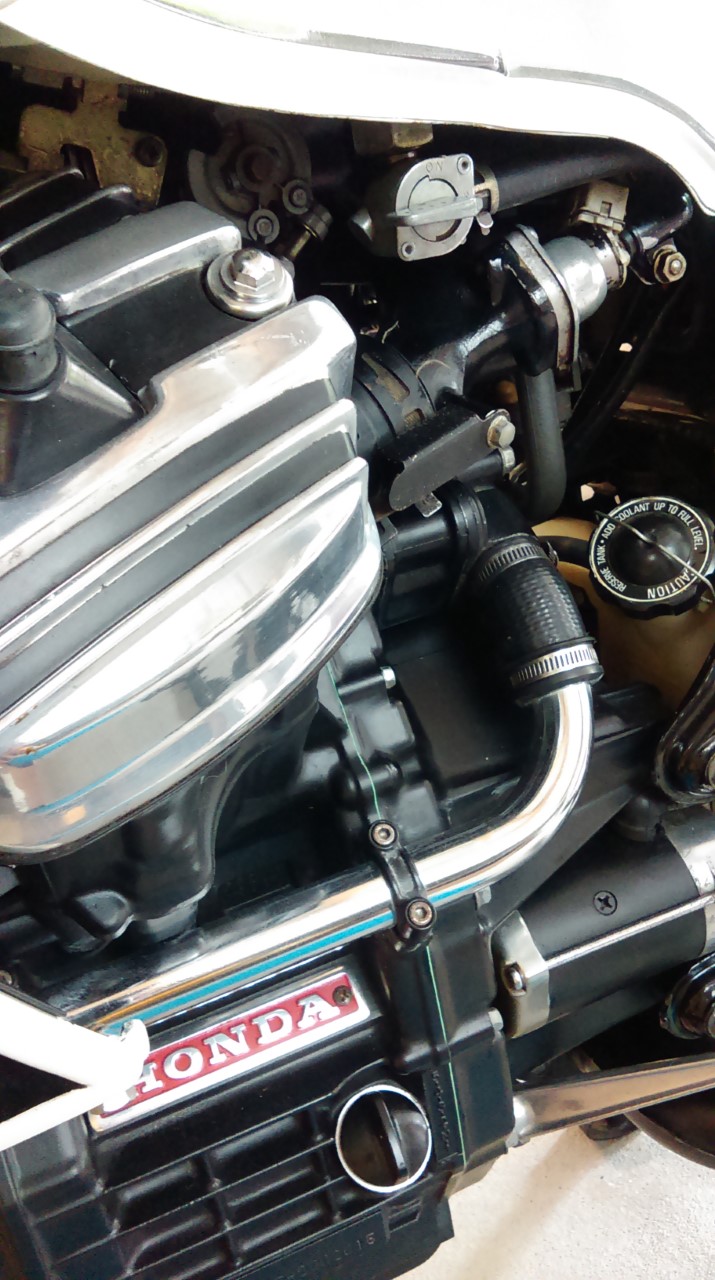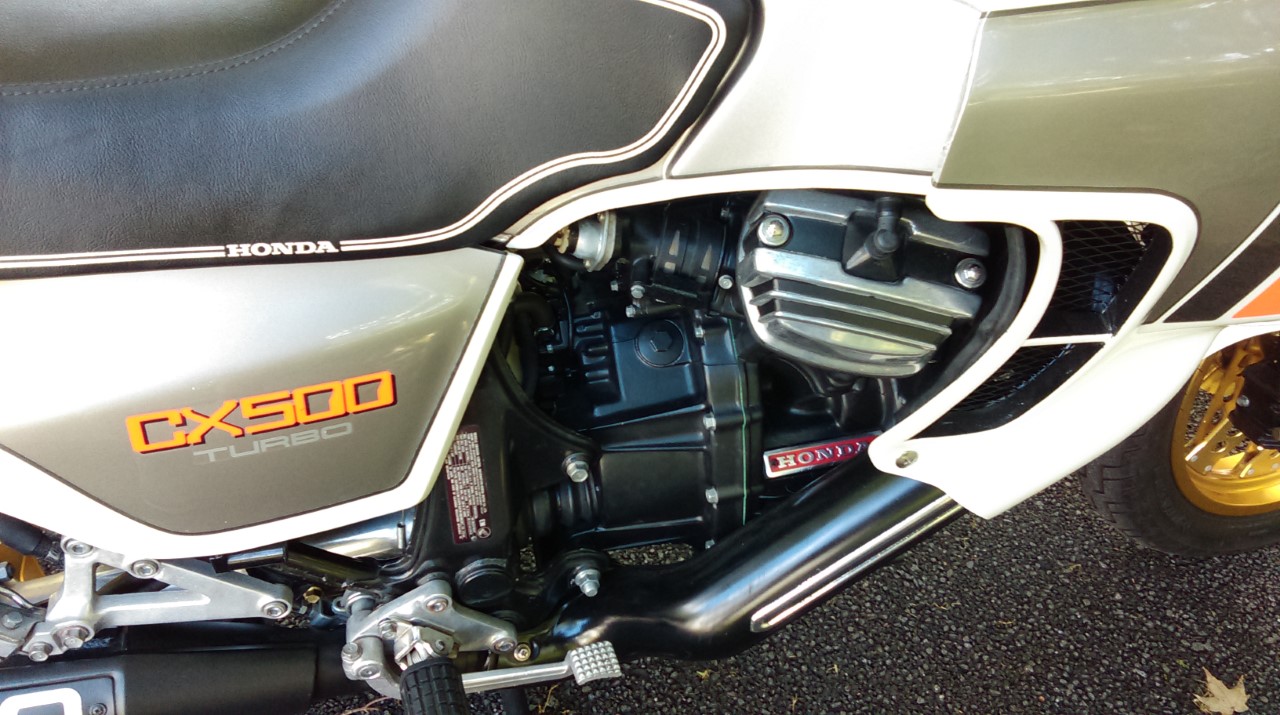 Simply bolting on a Turbo is not enough to engineer a working, reliable motorcycle. So Honda introduced digital (programmed) fuel injection – a world's first for motorcycles. This system contained redundancy to protect the engine; fail safe circuits ensured fuel delivery while a separate ignition system protected the more highly stressed engine from potential meltdown. Rarely utilized or needed, these fail safe measures show the level of planning that Honda put into the CX500 Turbo. Management of these redundant systems was completely automatic, the rider being made aware of any potential failures via a comprehensive and well-laid out instrument panel. "Cockpit" might be a better description for the gauge cluster, as in addition to the usual tach, speedo, fuel and temp gauges there also exist a number of warning lights, a fuel system failure warning light, and of course a centrally located TURBO BOOST indicator.
From the seller:
In 1977 Honda began their Turbo powered motorcycle project…which would become the world's 1st ever, from the ground up…purposeful built, turbocharged motorcycle and Honda's 1st fuel injected bike. When finally released in 1982 it was described as "a technological tour de force"…"a milestone in motorcycle history"…"one of the most futuristic motorcycles of it's time"…"one of the most influential motorcycles of the decade". Now some 37 years later all that still rings true!

The project was a combined effort of Honda's R&D folks, IHI Turbo America and Italian automotive stylist, Giovanni Michelotti, one of the most prolific & influential designers of the 20th century. Michelotti created the innovative and curvaceous fairing and body work.

Two years pre-production, in 1980… Honda in a bold and unprecedented move…put their CX500TC/Turbo on display at the Cologne International Motorcycle Show. This was probably no more than a "finger wag" at Yamaha…as the 2 giants, from the Land of the Rising Sun, were in a fierce battle for market supremacy. "Turbo Wars" soon followed.

Honda's platform would be their tried and true…bullet-proof V-Twin / 4-Valve / CX500 motor. Every aspect of the bike was considered. Not only designing a motor that would be capable of handling the rigors of turbocharging but a frame to work with the stresses and a suspension to complement it all. Block castings were made thicker. A stronger crankshaft, connecting rods and clutch were employed. Honda's first specific forged pistons were used. Larger end & main bearings installed. Over 200 new patents were created to build this motorcycle.

An improved futuristic liquid-cooled / digitally fuel injected motor…pushing those (up to) 82 ponies through a modern shaft drive to the rear wheel…with TRAC Anti-Dive forks up front and a Pro-Link rear suspension handling duties at the rear…twin piston brake calipers in place to haul it down…beautiful redesigned gold Comstar wheels fore & aft…a comprehensive dashboard…all that wrapped in a wind tunnel designed Michelotti fairing & body panels. A motorcycle with superb ergonomics & smoothness. A rolling piece of art!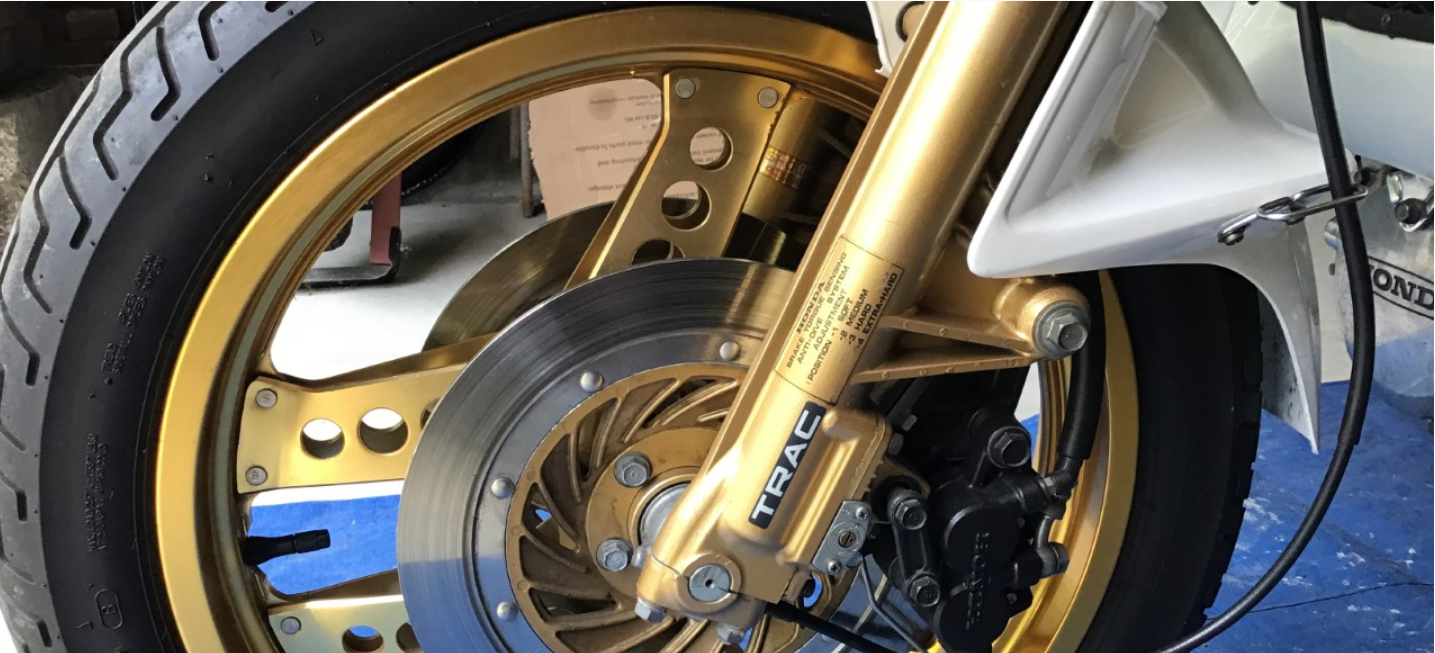 More from the seller:
This example has been well cared for with only 16,904 miles. A fine example of this rare, 1 year only production, motorcycle at this price point. Three known owners…with the last 2 being in their late 60's. Private collection offering. All pictures are recent and more are available as needed. I do have quite a number of pictures showing the cleanliness of the undercarriage.

A new stator & stator connector had been installed along with cam seals & water pump seals and all associated O-rings, seals & gaskets (previous owner). All this is called a "Triple Bypass". An excellent factory spec re-spray of the body and motor was done also at that time. This bike shows quite well! Runs and shifts as it should. Turnkey bike w/no known issues.

> Matching Dunlop D404T tires are in excellent condition
> Battery was replaced and is excellent
> Seat was recovered to factory spec
> A "Visual Instruments Inc" voltmeter has been added
> Brakes are excellent
> Coolant flushed & replaced
> Castrol 4T/Full synthetic oil & WIX filter done @ 16,830 miles
> Rear shaft spline & ring gear correctly lubricated
> Stock tool kit & owner's manual with bike
> Factory Shop Manual with bike
> Extra set of keys

Your chance to own a rare example of "Motorcycle History"! These rarely come up for sale. Be the only person w/one of these at your local cycle rally or cruise-in! Located near Binghamton NY


Asking Price: $6,350
Nestled between some truly interesting hardware in the Honda showroom – including the CB1100R, the GL1100 GoldWing, the CBX, the VF750 and the simple FT500 Ascot – the CX500T was competing for attention and customer wallet share. And it required a bigger share of the customer's wallet than most of the bikes on the floor (MSRP $4,898). As a result, not many of these one year only models were sold. With sportish-touring bodywork, a wide seat and higher bars, the CX500T is a comfortable place to rack up the miles. Roll on torque – the real strong suit of the Honda Turbos – fits nicely into the highway cruiser persona. At 550+ pounds these were never destined to be racers, however they are fabulous riders and far more reliable than a 37 year old technological wonder has a right to be.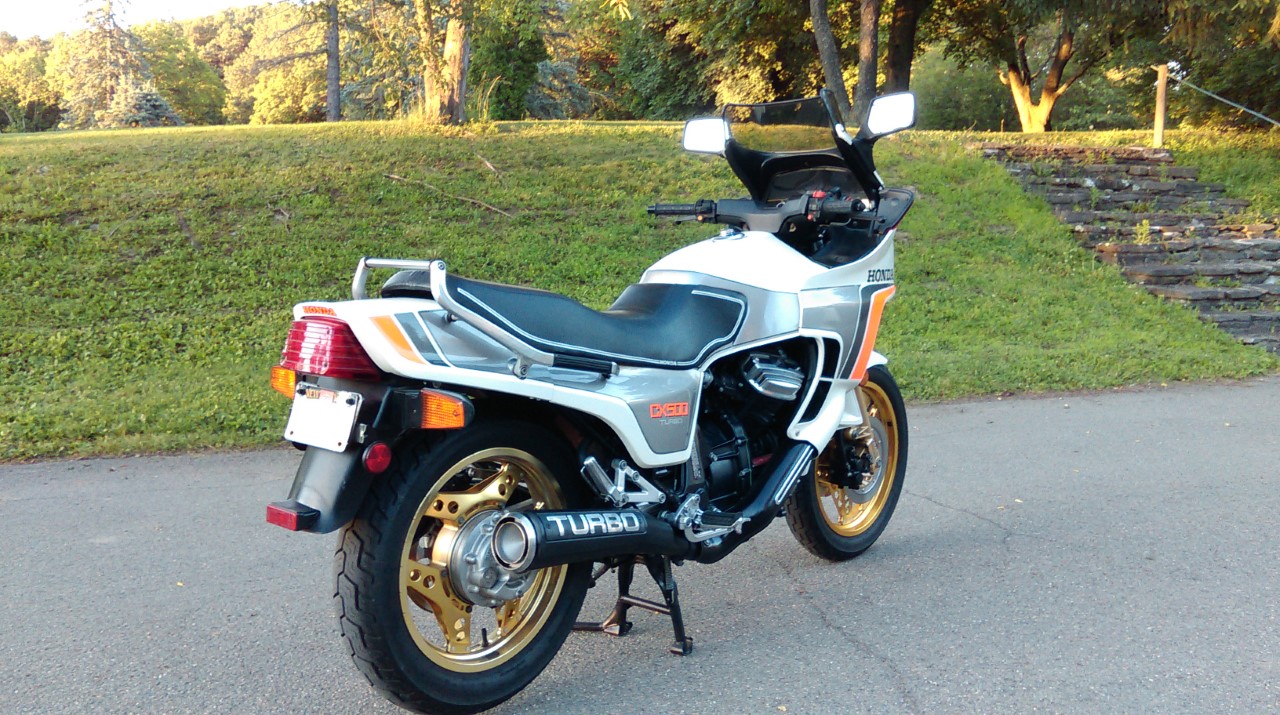 This bike looks to be absolutely gorgeous. With 16,000+ miles on the clock it has been ridden, but we all know that nothing deteriorates faster than a hangar queen. Regular use is positive for the mechanicals, the seals, the electrics and the turbo system. This one has the right number of miles to be carefully used, without being beaten up or at the end of its service life. History has proven that these Honda Turbo bikes have very few weaknesses – the key being the stator. The fact that this one has been changed is a real plus, as there are another estimated 20k-25k miles to be enjoyed before this should become a concern. Otherwise all of the pieces are here, and the general handling shows the care that went into the stewardship of this rare factory Turbo; it is not often that we see such a clean first-year example. Located in New York, this one is going for a very reasonable asking price. It only takes one experience on boost to know that Turbo ownership is worth everything that was promised. Good Luck!!
MI