Warning!
This post is in our archives. Links in this post have been updated to point to similar bikes available to bid on eBay.
Everybody sits around bemoaning the bikes they coulda-woulda-shoulda bought (or shouldn't have sold) before they dramatically increased in value. So here's your chance, if you missed out on dirt-cheap Slabbies or for-peanuts VF1000Rs or a price-of-a-cup-of-coffee Ducati 900SS, here's a nice clean Honda CB900F Super Sport with what is claimed to be a factory option fairing. This bike is from the very last generation of superbikes before the GSX-R and its ilk transformed the motorcycling landscape. It's big and relatively heavy, a hot-rod UJM with an air-cooled inline four, roomy ergonomics, and a twin-shock rear end. The bike was only available for a couple years here in the USA, before being replaced in 1983 by the CB1100F.
Powered by an undersquare 901cc inline four that produced 95 claimed horses and was backed by a five-speed gearbox, the 570lb (wet) CB900F isn't a particularly fast bike by today's standards, but it was a good handler and very well-received at the time. The styling is very much of the era, with little ducktail flip a the back and very 1970s graphics. Overall, it looks a bit like a Ducati Darmah if you squint just a little. They straddle that era between classic and modern sportbikes and may be heavy and slow by today's standards, but also pretty useable real-world motorcycles.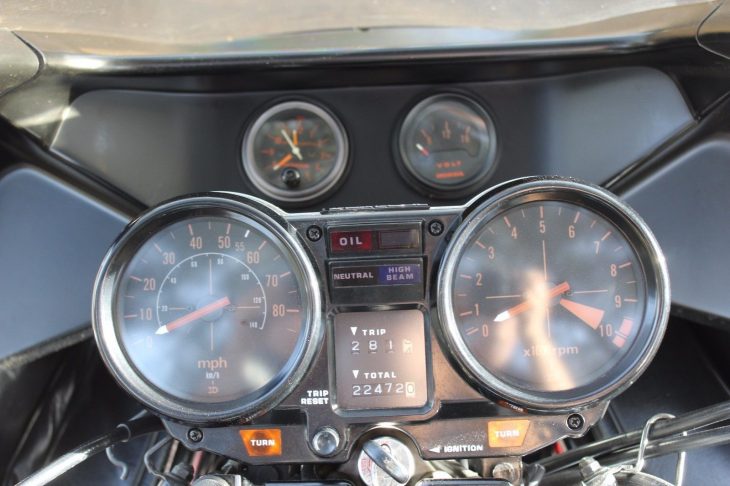 Most examples of the CB900F are big, burly nakeds, but this one has what is claimed to be a factory option fairing that gives the bike a bit of an endurance-racer look and should make it a great mile-eater in the event your local bike gathering spot isn't so local…
From the original eBay listing: 1982 Honda CB900F Super Sport for Sale
SPECIFIC DETAILS:  This BEAUTIFUL bike is a very nice survivor.  The condition is ORIGINAL except where noted. I am the SECOND OWNER.  The original owner had Honda install the Sport Fairing and the Continental (European) kit.  This kit included the Super Bike handlebars and the rear set of foot controls.  I have the original handlebars and foot controls.  The exhaust is a 4 INTO 1 Yoshimura.  I have the original exhaust which is in good condition.  I recently invested over $3,000.00 on the KEIHIN CR31 Carbs, K&N Filters, Dyna 6000 Ignition system and coils, OHLIN rear shocks and Progressive springs.  I have not installed the Progressive springs.  The brake pads were recently replaced.  The tires are in good (fairly new) condition.  I have all of the original parts to this bike (carbs, shocks, ignition, etc.)  I have the factory Honda service manual.  I also have the factory Honda protection cover. (All of the original items that I have noted above are included in this auction).

This bike is a little cold blooded, but once it's warmed up, it runs strong.  If the bike sits for more than three or four weeks, the battery will need a charge.  Not sure if it is something with the battery or something else.  This bike does have the Honda clock and AMP gauge.

The fairing has a small crack by the left mirror.  The right side lower fairing has a small crack.  There is a small dent on the lower left side of the gas tank.  There are a few other chips, scratches and scuffs, very normal for the age.

I would rate the condition of this bike as VERY GOOD (8.5 to 9 out of a 10) considering that it is a 35 year old survivor.

This bike is a vintage super bike that is a thrill to ride and definitely turns heads where ever I go.  Don't miss out on this rare piece of motorcycle history.
These are currently not very expensive to buy for the most part, but if you're planning on jumping in here to make a killing when the market for early 80s superbikes explodes, you may want to look elsewhere: the seller is asking an eye-watering $9,500 for this one, although bidding hasn't quite caught up to that ambitious goal. Mileage is reasonable, it looks to be in excellent cosmetic condition, it's been updated with a set of Keihn carbs that should improve performance and reliability, and it's fitted with that unusual bodywork. Is all that worth the premium the seller is asking?
-tad