Location: Branford, United States
Mileage: 2,326
Price: Auction, BIN $5,500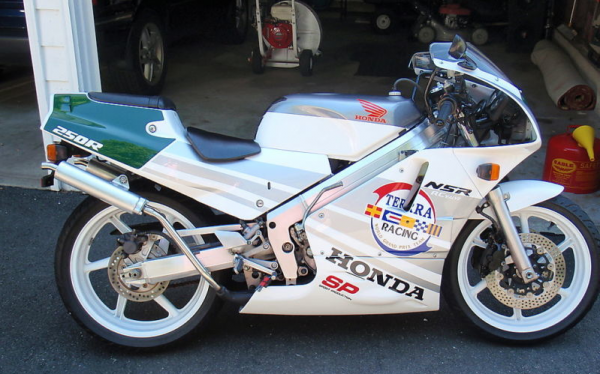 Here we have one good looking NSR 250R two-stroke. I know that many of these have been posted here on RSBFS and these bikes are a great combination of power and agility. This one looks to be clean and low mileage, however, not titled. Here's another shot of this stunner-
The seller explains that the bike was originally SEED colors and has been redone in Terra SP. To get a visual on those graphics and get more detail on the NSR, go here. Or read up on this fine post from Mike. I find both paint schemes very good looking, so I guess it would be a matter of choice as to what you like. The seller says the other fairing and tank will be up for sale in another auction, but you may be able to work something out if you want the originals.
Here's some more pics-
From the seller-
Up for auction is a two-stroke 1989 Honda NSR 250 originally only available in Japan.  This bike was originally done in seed colors.  I have re-done it with after-market white Terra SP colors.  As seen in the photos this bike is completely restored to 100% and in MINT condition.  Starts first or second kick everytime. Runs and looks excellent. The fairings are aftermarket. The tank and everything else on the bike is OEM Honda. The only thing that needs to be replaced is the shifter lever which is coming in from Japan.  If I don't receive it before the end of the auction, I will send it to the buyer at my expense. (Check my 100% feedback for my honesty and follow through)

This is a BILL OF SALE ONLY. I do not have the title.

I will be listing the original OEM HONDA seed fairings with tank in a later auction (also excellent condition).

SERIOUS INQUIRIES AND BIDDERS ONLY PLEASE!!!  

DO NOT WASTE YOUR TIME OR MY TIME. DO NOT BID UNLESS YOU PLAN ON PURCHASING THE BIKE.  NON PAYMENT WILL RESULT IN NEGATIVE FEEDBACK BEING LEFT.
The seller points out that the bike also needs a shift lever that is coming from Japan and that it will be shipped at the seller's expense if it arrives after the bike is sold. So, the seller says the bike restored and doesn't comment on the bike ever being laid down, something that you may want to get confirmation on. The front brake caliper also doesn't say Nissin on it, and I couldn't find a good visual confirmation as to whether the caliper is stock.
With the changes made, the bike looks good to me, even if it's not the original Terra SP. And it does look to be very clean. Checking other listings, the BIN price seems to be a little high considering that it's not titled, but not outrageous.
If big power in a light, good looking package speaks to you, then make the jump!
-RN