Perhaps a little older than most of the bikes we post, this 19977 Moto Guzzi 851 LeMans has but 2,049 miles and represents a fantastic opportunity to own an unmolested and unmodified version of the iconic high-speed hauler. From the tiny bikini fairing with period round headlight, to the the traverse cylinder layout, to the exterior crankcase webbing, the LeMans strikes a pose from almost any angle. Performance is adequate by 40-something year old standards, but with 71 horsepower pushing you along with a relaxed urgency be prepared to be blown off by the current crop of 250s and 300s. This bike has an interesting story to tell, so I'll turn it over to the seller to filling some of the details:
From the seller:
History, I bought this Moto Guzzi LeMans 1 with less than 400 miles on it from the Bank/Receiver of a closed Indiana Moto Guzzi Dealership in January 1979. It has been covered and stored since 1982. Yes, the total Mileage is 2049 and it has never been titled. At the time I drove it with a dealer plate from a good friend also a Guzzi Dealer. Because of Military, College, and extensive travel I rode it very little for 2 Summers. I then moved to Florida and had the Guzzi shipped here in 1982, got married and raised a family.

ID on frame plate states manufactured 1977. Inquires to eBay recommended to use "the year of manufacture". Picture of plate in listing states MFG year 1977 and Model 1978. I made further inquiries with several DMV's in Florida and other states as what year they would assign to this M/C and all replied "either year of manufacture or the year it was first titled or registered". It has never been registered or titled. It will be up to the buyer to decide this.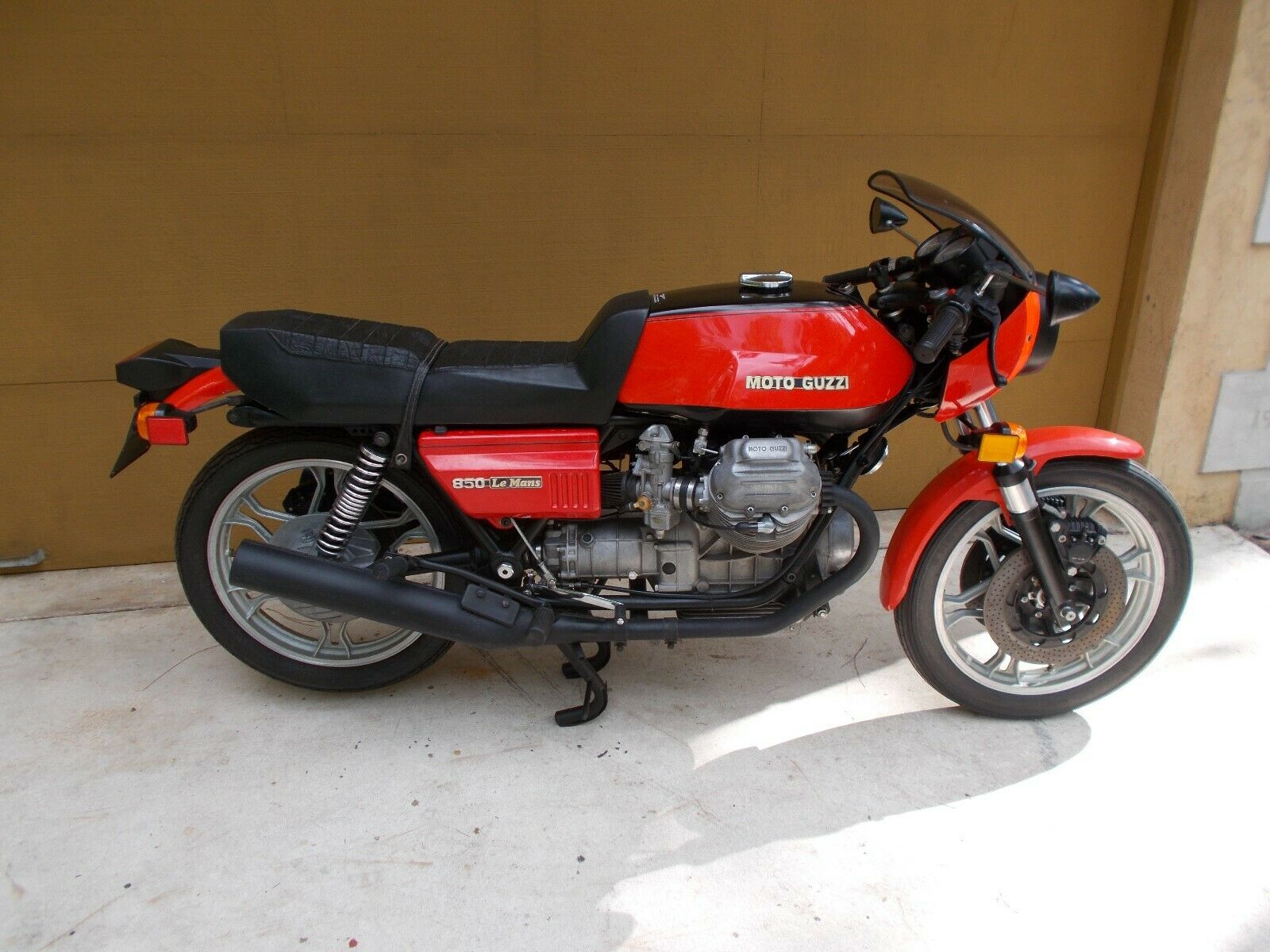 More from the seller:
Stored since 1982, Rode it into my garage and Covered up. never down or ridden hard. Drained Tank,removed the battery and Oiled Cylinders yearly, then turned over engine by rotating rear wheel while in gear. Never Titled, Have Original Notarized Importers and Mfg's Statement of Origin, see pictures. Never painted or touched up. Original tires etc. No modifications, it is as it left the dealer. Some blemishes and minor imperfections, typical Guzzi thin paint on frame and mufflers. Note that the Dayglo paint on fairing is Original and Not Faded. Due to the long inside covered storage it will need "waking up" as they say. All systems ,hoses, etc will need to be checked out and serviced before operating. The cover on the light switch came off during storage, switch works,, cover, spring etc., are pictured, should be an easy fix. I Encourage personal inspection and/or calls with any Questions…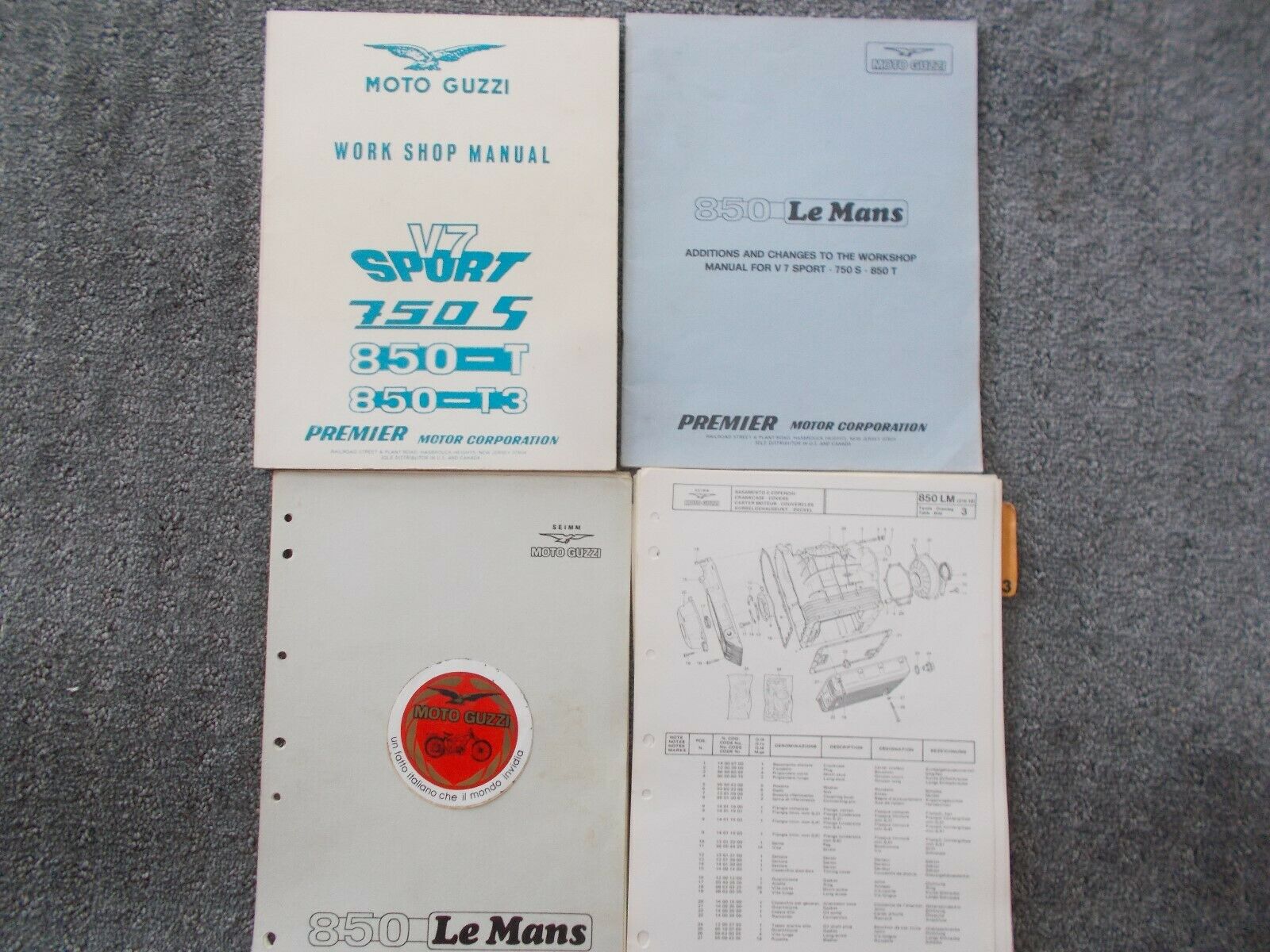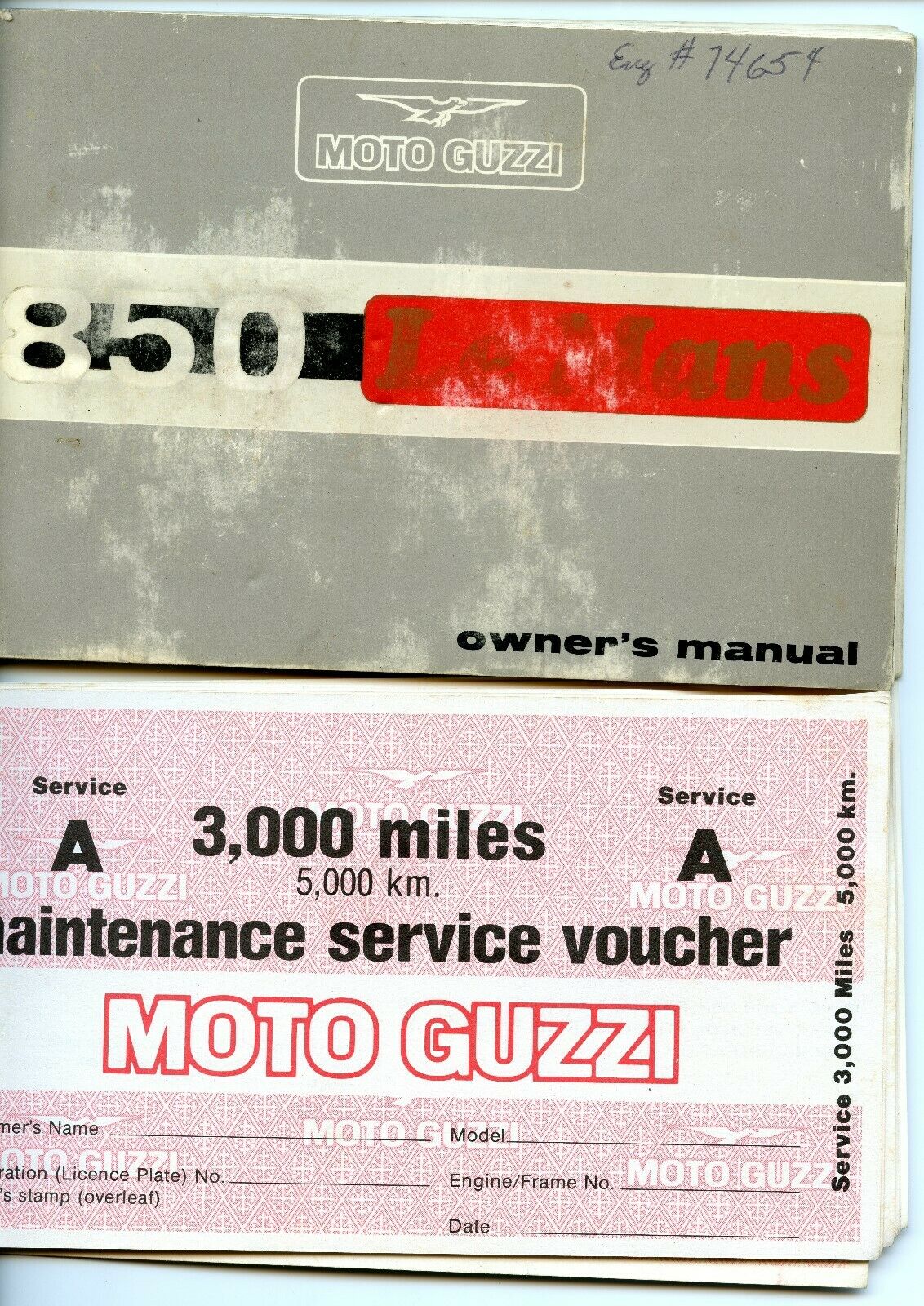 More from the seller:
Engine has good compression. Original battery was bad, I bought a replacement, the dry charged one pictured was never charged, given to me in 1979 under the Guzzi Warranty. I was allowed to remove all LeMans items from the closed dealership, see pictures including the Complete Workshop and Parts Manuals, Unopened Original Tool Kit, Etc. It would be hard find a lower mileage, fully documented LeMans 1 with all that is included with this bike, anywhere. LeMans Clock was a later purchase.

Note** Both sets of Original Keys and Carb Stacks, Dealer had installed air filters as shown and I never removed them.
Reason for Selling, I have other projects I want to devote my time to. My son wanted it, he lives in Manhattan and has no way of keeping it so it's "Sell it Dad" My health is excellent, I have plenty of storage space and selling it is not going to change my lifestyle so, I will not entertain any offers.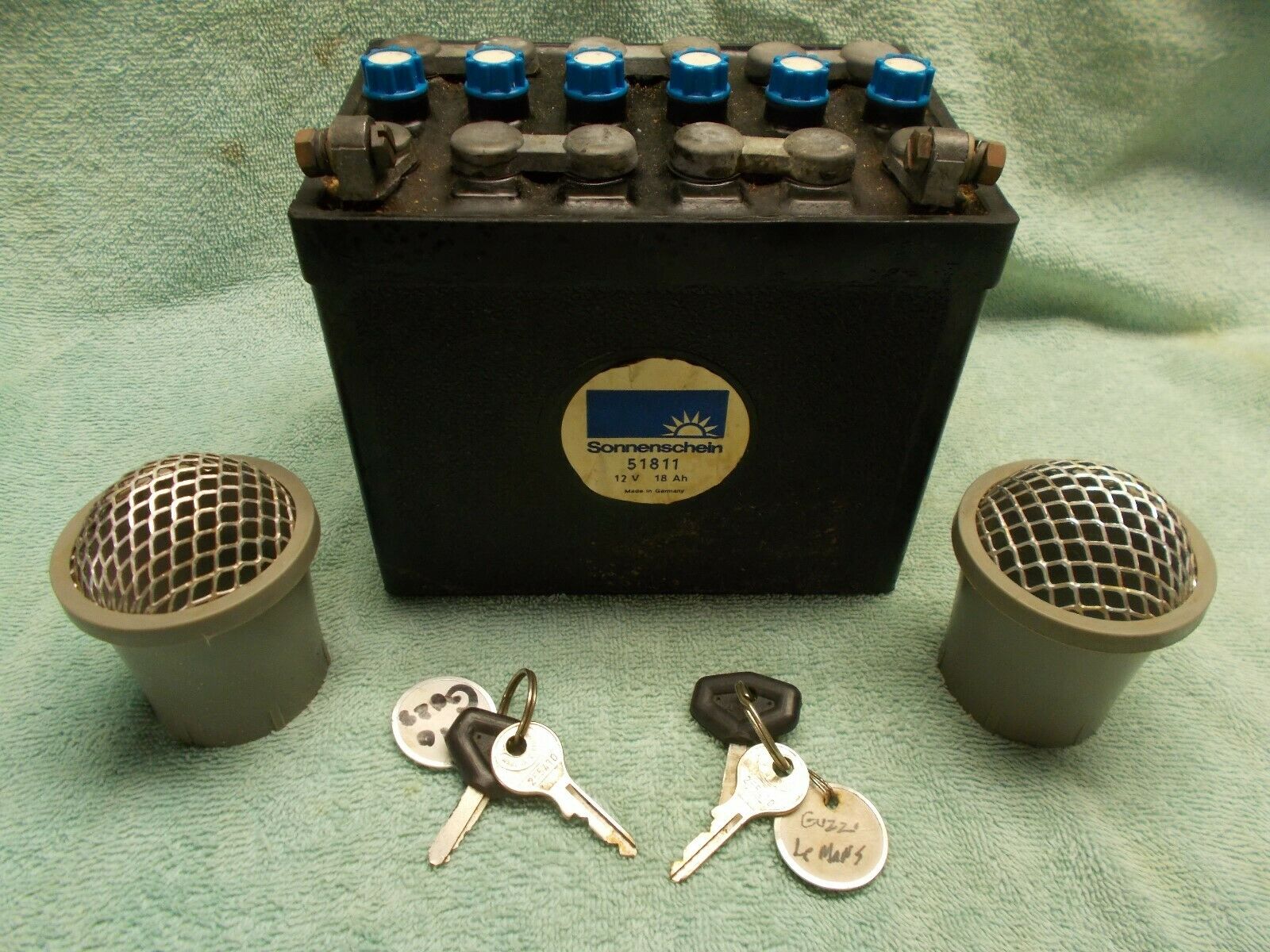 This 850 LeMans looks to be a true period piece, with the bike in clean and complete condition, as well as full set of documentation, manuals and tool kit. There is a lot of nice stuff in here that is difficult to find today. Guzzi enthusiasts will point out that this is not the most desirable of the Mark I 850 machines, given that the rectangular tail light identifies it as a second generation example – but it is still a magnificent piece of kit to find. Recommissioning may not be a simple affair of battery and tires given that it has been sitting for so long, but it seems like it would be worth the effort to hear this bike fire in anger again. Bidding starts at just under ten grand with zero takers at the time of writing (although the fence sitters and watchers are gathering). Check it out here, as it is pretty rare to come across the first iteration of the Moto Guzzi 851 LeMans with this kind of interesting history. Good Luck!!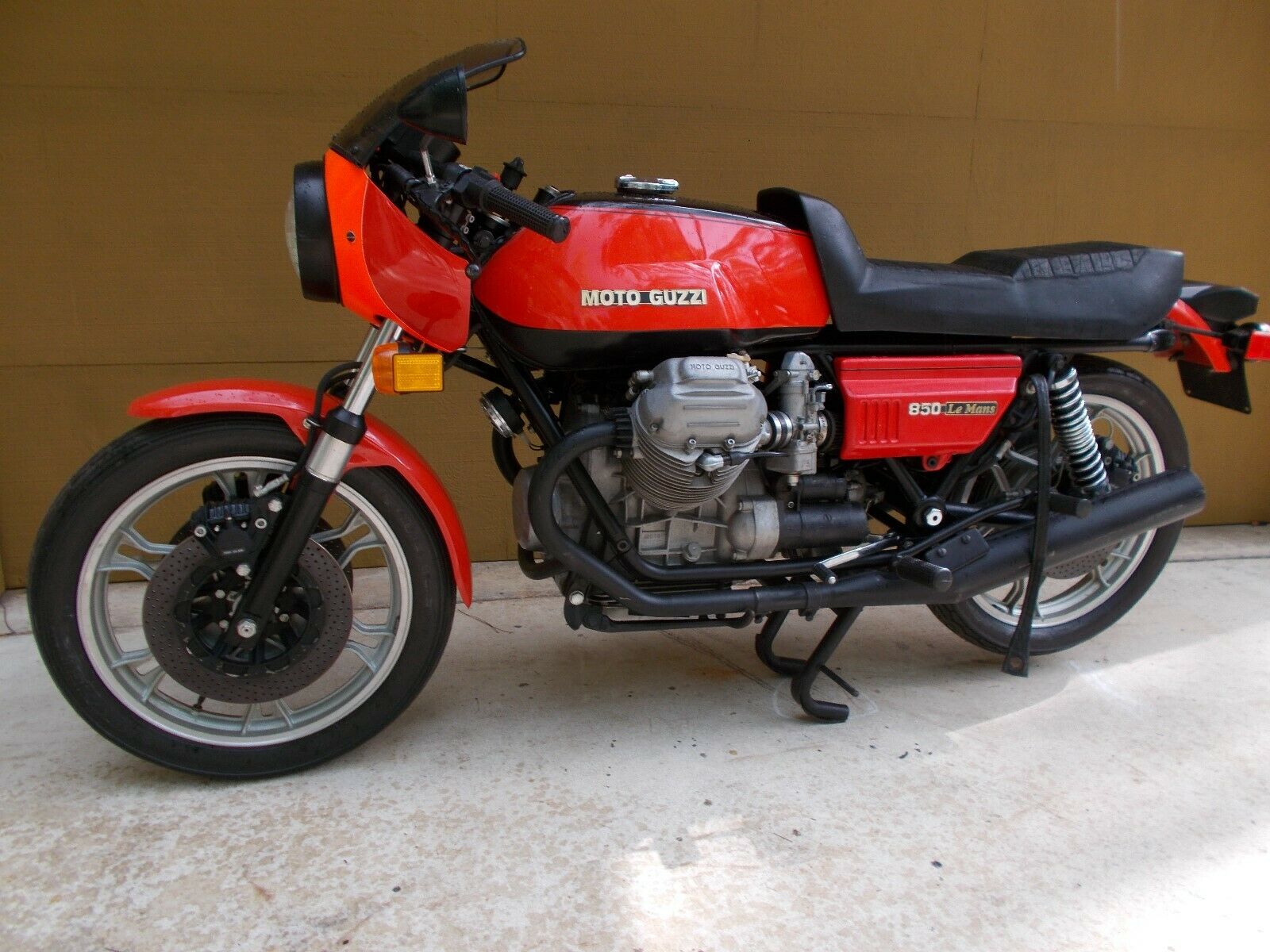 MI