I co-opted Jaguar's old motto for that headline, but it does seem to apply to the short-lived Yamaha YZF1000. Known in some markets as the "Thunderace," the YZF1000 was quickly superseded by the class-breaking R1, but it was an open-class motorcycle in the GSX-R1100 and ZX-11 mold, offering handling, reasonable comfort, and real-world performance. Weight and power figures aren't attention-grabbing by today's standards, but these days you can pick up this handsome and versatile motorcycle for very little cash.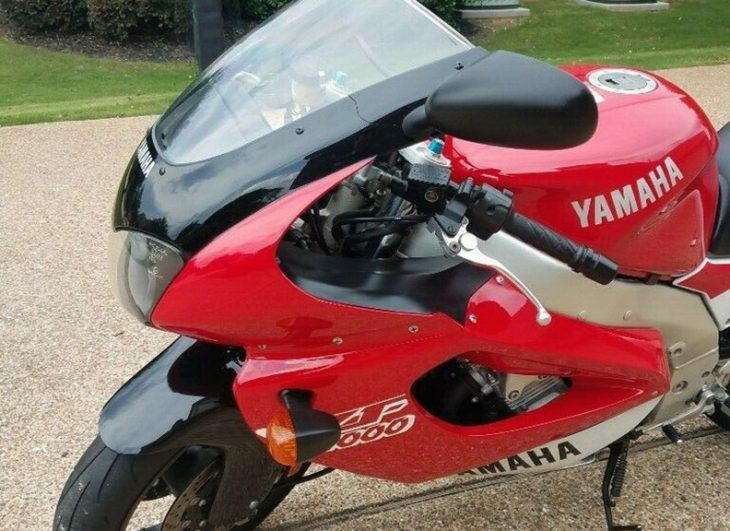 The "Genesis" inline four engine had Yamaha's distinctive, forward-canted design and an odd 1002cc displacement. It was packed with their signature performance-enhancing technology, including five-valve heads and an EXUP Exhaust Ultimate Power Valve that helped with midrange performance. Pretty much every modern sportbike has some kind of exhaust valve now, but Yamaha were the first to apply the concept to four-stroke engines. The package was good for 145hp and 164mph, which is plenty fast for any roadbike, unless your weekends involve illicit drag races top-gear roll-ons against modern superbikes with extended-swingarms and nitrous on deserted stretches of freeway…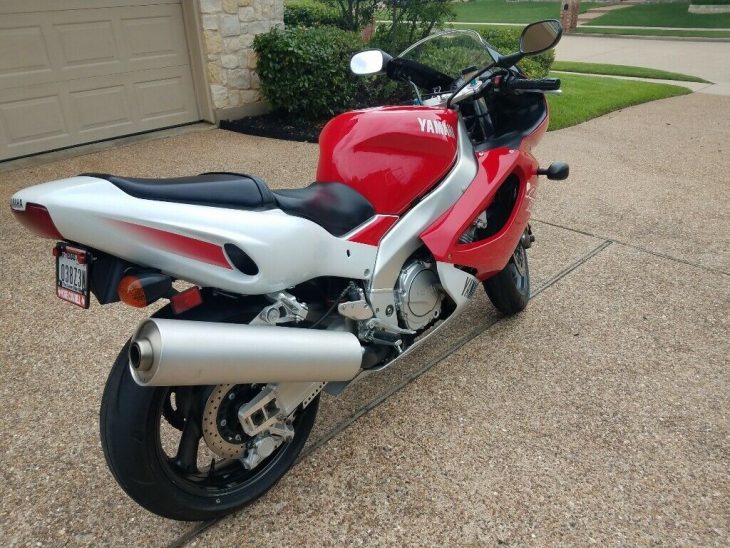 As with some other open-class sportbikes of the era, the "Thunderace" had a five-speed gearbox, since the engine had an ample spread of torque, but the six-speed from a YZF750R apparently will fit into the cases. So you can always bolt that in, if you happen to have one lying around. An updated Deltabox frame from the YZF750R was wrapped around the engine and gearbox, and the Thunderace saw one of the first applications of Yamaha's famous "blue-spot" calipers that saw use on the original R1.
Today's example is exceptionally clean, even considering the low miles. As the seller indicates, there are a couple of very minor flaws in the bodywork, but that can be easily overlooked if you just plan to ride it, or corrected if you plan to squirrel it away deep underground in your private, climate-controlled collection.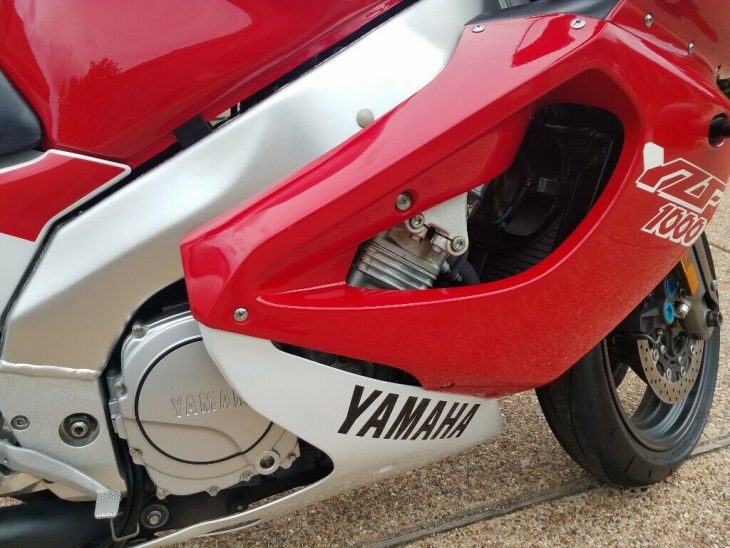 From the original eBay listing: 1997 Yamaha YZF1000 Thunderace for Sale
1997 Yamaha YZF1000R "Thunderace" 1003cc motorcycle with 8,980 original 2-owner miles with all original plastics and paint. I purchased from the original owner in early 2018. The YZF1000R was last year Yamaha used its bulletproof FZR1000 EXUP engine, stuffing it into a 600cc superbike frame – and this bike was only imported to the U.S. for one year (sold in Europe from 1996-2003). The YZF1000R is the bridge between the FZR1000 and R1 models. 

Perfect addition for ANY collection or to ride for the next 100k miles if you'd like. This bike starts/runs like a sewing machine, dives into corners like a champion, stops on an absolute dime, and rides/feels/looks like a nearly new bike. Maintains operating temperature as she should, pulling hard toward to redline from any RPM and in any gear. The only non-original item I can find on this bike are the installed Helibars, which have completely improved the riding position.

Bike was recently serviced by a former Yamaha mechanic and FZR/YZF1000R expert. New fork seals and oil, carbs cleaned and tuned/adjusted, new spark plugs, EXUP valve serviced, new valve cover gasket, new thermostat, o-ring and coolant. Also, installed new NOS cleaner element, rebuilt clutch using only OEM Yamaha frictions, springs and clutch springs, new OEM Yamaha front and rear brake pads, new OEM Yamaha oil filter, new OEM Yamaha fuel tank petcock (under tank), fresh oil, coolant, brake and clutch fluid. New NOS radiator cap installed, new NOS windscreen recently installed. Tires are nearly new with less than 800 easy miles on them. I'd estimate with the shop rates and parts costs, I've got $2000.00+ in the bike over the past year. With that said, she needs nothing else mechanically done to her.

Zero issues with this bike (e.g., does not pop out of gear on hard acceleration, strong clutch lever and grip, does not use or drip oil, etc.). Cooling fan come up when bike reaches proper temperature; she does not overheat in the Texas summers. Has only been fed non-ethanol fuel for the past year + Sta-bill additive = zero carb. issues (I don't run ethanol-blended fuel in either of my bikes). Two original ignition keys come with the bike.

Winner of the bike will get all the original paperwork from the original owner, including the original sales invoice and other documents. Incredible documented history!

The only cosmetic flaws (see photos) came from shipping the bike. Note the left cowl where it meets the fairing is cracked (repaired inside the cowl – repair is not visible), note the cowl is cracked under/behind the LH mirror, note the fuel tank has a small ding in the top. Also note the original exhaust can has a dent underneath/to the outside (photographed) and scome scratching near the head pipe where your RH boot would be.  
The seller also includes additional pictures here, and a video of the bike running here, along with a video of Richard Hammond's review. With a starting bid of $4,500 I think the seller might be aiming a bit high with this one, in spite of the low miles and condition. The Thunderace was a bit of a lame-duck bike for Yamaha: with the class-redefining R1 on the horizon, the YZF was soon very obsolete and the bike was only in production a short while, especially here in the US where it was only available for one year. That makes them pretty rare, but rarity doesn't always equal value. Personally, I really like them, but I think the seller is overestimating its value at the moment.
-tad