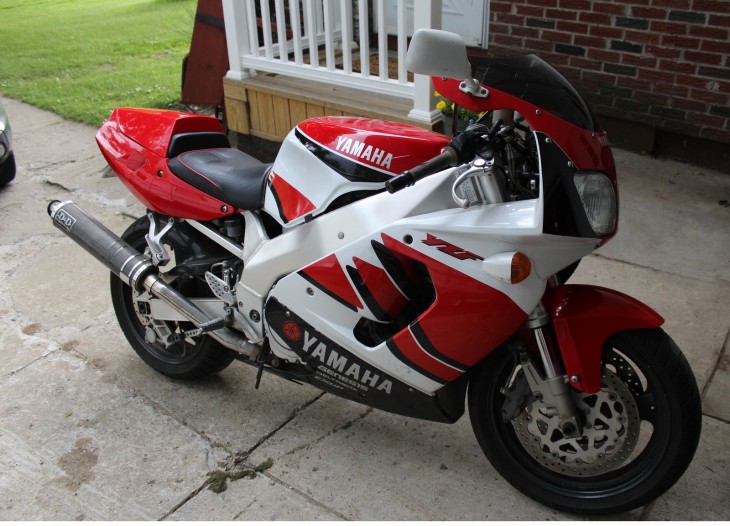 As a YZF-750R owner myself, I'm always looking for them and at them.  They don't turn up very often.  Unfortunately the YZF-750R will always be overlooked as it comes in between the legendary FZR-750 OW-01 and the drop dead sexy Yamaha R7 and also the revolutionary Yamaha R1.  However, it really is a great motorcycle that performed admirably on the track (in SP trim) having propelled the likes of Scott Russell, Noriyuki Haga and Colin Edwards to wins in both AMA Superbike and World Superbike races.  It was also a dominant force in British Superbike Racing, with Niall Mackenzie taking three straight BSB Championships on the YZF-750R.
This one looks like it's in pretty nice shape with only a few minor stress cracks in the plastics.  That might be an issues for somebody looking to restore it 100% though, as fairings are very hard to come by.  So, I guess the only solution would be to not worry about it ride the thing!  You might actually enjoy it!
Here's a few details from the seller and you can check out the auction and more pictures here: 1997 Yamaha YZF-750R on eBay
Here is a chance to get a rare and very low mileage classic sport bike.  Read up on the history of these bikes……they are really starting to go up in value.  It won the bike of the decade………pretty impressive with the bikes that were being pumped out in the 90's.  You can easily push these to 160 HP with a few mods.  This one is 100% stock other than a Stage 1 jet kit that was installed by the dealer to help with a flat spot on the curve.

The bike does have a few small stress cracks in the fairings at the typical locations.  This bike has never been laid down and overall shows very well for its age.  Also I cracked the windshield last fall when I was putting the bike away for the winter putting the cover on.  The cover comes with the bike.