Last Of The Line: 1982 Yamaha TZ500J
Update 5.23.2012: This bike is back on eBay and at a significant discount compared to it's $100k buy-it-now when listed in late March. Now listed for nearly half the original asking, it seemed an appropriate time to bump this post with Mike's post on the TZ750 OW31 for sale today. Links updated. -dc
1982 was the end: the end of the customer Yamaha TZ500. The TZ500 was a direct response to RGB500's lining up on grand prix grids. From what I can gather the TZ500 did not enjoy quite the success of other TZ models. I did see comments such as "ill handling" and "under powered". That was back in the day though, now everything from that era could be considered ill handling. Owning a bike like the TZ500 now is about either relieving the era on the track or enjoying it in a collection.
You have carbs coming and going. The two outside cylinders are positioned in the opposite direction of the inner two. The seller states the cylinders aren't the originals. Are any RSBFS readers knowledgeable enough to know what the new cylinders are: Yamaha kit, aftermarket? Stock, it pumped out approximately 110+HP. Note the mechanically operated power valves. That had to be new tech back in 82.
The money shot.
The info:
1982 YAMAHA TZ500 J OW48R . THIS IS A ONE OWNER BIKE FROM NEW. IT WAS IMPORTED IN 4/83 FROM THE YAMAHA AMSTERDAM DISTRIBUTORS. IT WAS ORIGINALLY ORDERED FOR SON AUTO OF FRANCE, BUT THEY DID NOT TAKE DELIVERY.IT IS COMPLETELY STOCK AND ORIGINAL EXCEPT FOR THE LECTRON HI-VELOCITY POWER JET 38MM CARBS. AS WELL AS THE FRONT BRAKE MASTER CYLINDER IS NOT ORIGINAL. ALL BODY PANELS ARE ORIGINAL. INCLUDED WITH BIKE IS THE ORIGINAL SPARES KIT WHICH INCLUDES CRANKS, PISTONS , CYLINDERS, GEAR SETS. SPOCKETS,BEARINGS,ETC. SOME PARTS ARE USED SOME ARE NEW.ALSO WILL INCLUDE AN ORIGINAL OWNERS MANUAL AND PARTS MANUAL.. THIS IS A LOW MILE EXAMPLE WITH ONLY 1200 MILES ON BIKE AND ONLY 200 MILES ON FRESH ENGINE.THIS BIKE WAS ONE OF ONLY 4 BROUGHT INTO USA IN 1983, EXTREMELY RARE. THE OW48R FACTORY RACER WAS KENNY ROBERTS FAVORITE RACE BIKE!THIS BIKE IS FASTER AND BETTER HANDLING THAN A TZ750!THIS WAS THE LAST MODEL PRODUCTION 500CC RACER AVAILABLE TO THE PUBLIC FROM YAMAHA! IT HAS NEVER BEEN CRASHED OR ABUSED.THERE IS ONE SMALL DENT IN TOP OF TANK, COULD BE DENT BUSTEDOR FILLED.BUYER WILL PAY FOR ALL SHIPPING AND HANDLING CHARGES. I WILL ASSIST IN GETTING BIKE SHIPPED. $1000 DEPOSIT TO PAYPAL WITHIN 24 HOURS OF END OF AUCTION BALANCE BY WIRE TRANSFER FROM USA BANK WITHIN 5 BUSINESS DAYS. ANY OVERSEAS BIDDERS MUST CONTACT ME BEFORE BIDDING PLEASE.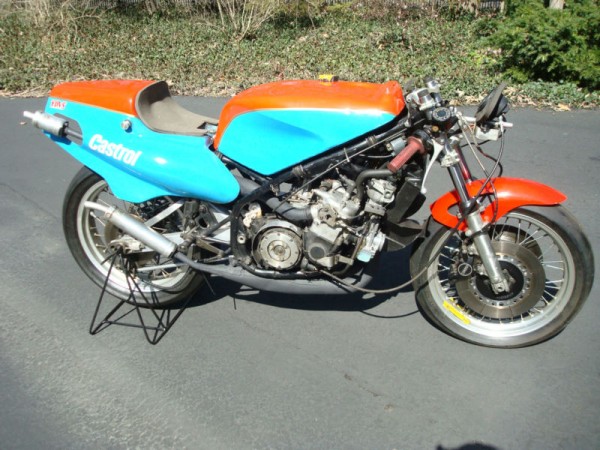 Since a true OW works YZR stroker isn't in the cards for us mere mortals the TZ500 is about as close as you can get. Price? Well, it is up there: the seller is asking $99,999.99 OBO. I almost forgot the 99 cents. I can't seem to find the source again but I believe they originally sold for $14,000 and that was considered pricey back in the early 80's. Feel free to comment if I'm off on that number. For a price comparison, I've seen a collector quality 1981 TZ500 go for 37,400 British Pounds. That is roughly $60,000. It is nice that the bike is mostly stock and the spares kit would be cool but I think the seller is reaching a bit on the price. He is open to offers though so don't be shy.
http://www.classic-auctions.com/Auctions/22-10-2010-HaynesInternationalMotorMuseum-1274/1981YamahaTZ500-32048.aspx