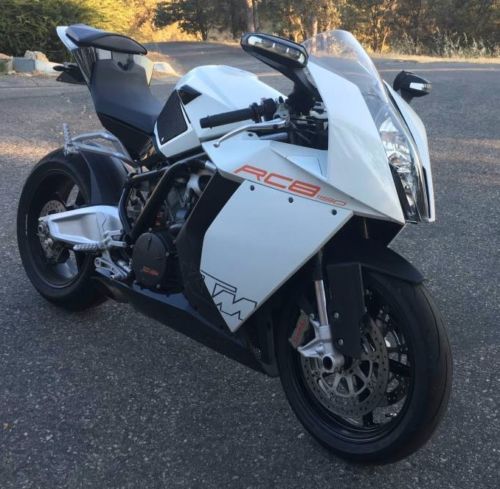 Origami, if you're not familiar, is the Japanese art of paper folding, and the resulting creations look like angular, abstract animals. KTM's RC8R takes folded paper style to extremes, with elemental shapes and broad, flat panels that would look more at home on a concept bike than a production machine, like an origami Ducati 916. There are no random graphics, fake vents or weirdly-sculpted surfaces. It looks almost like a papercraft model, a cartoon rendition of a superbike, especially in the plain white seen here on today's RC8, with only the black tailpiece and belly-pan to break up the factory-fresh racebike look.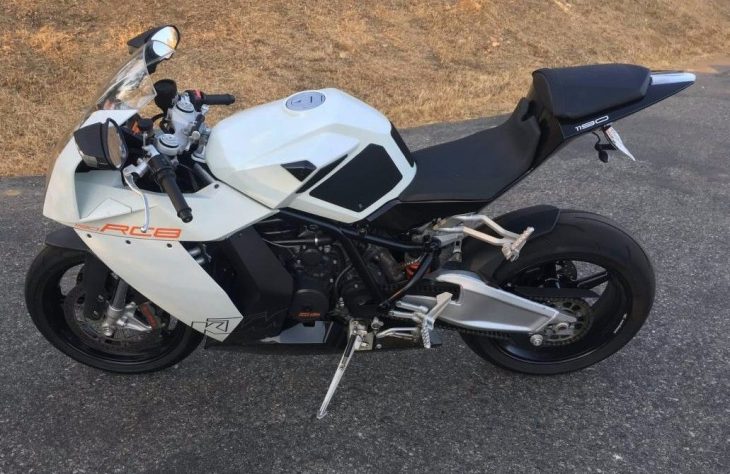 The RC8 was a surprisingly thoughtful machine, considering its brash looks and high-performance. The bike features highly adjustable ergonomics, and appears to have been designed for taller riders, instead of 5'8", 140lb moto jockeys. The 75° v-twin displaced 1148cc and featured four-valves and chain-driven cams, along with twin spark plugs per cylinder, although it was later bumped to 1195cc for the 2010 model, for an output of 175hp and an arm-stretching 90 ft-lbs of torque.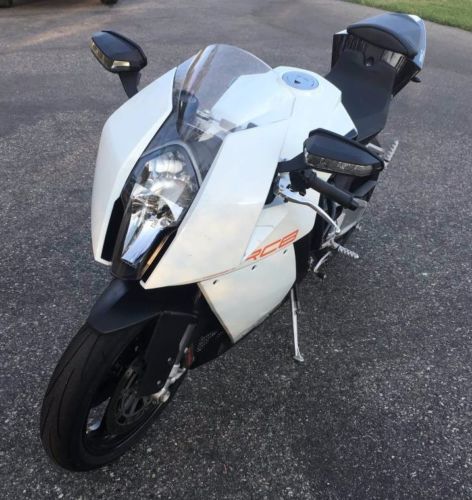 I really love KTM's brash approach to styling: their bikes are love-it-or-hate-it affairs, with bright colors and futuristic designs that seem to age well. From an aesthetic point of view, my favorite RC8 scheme is the orange-and-white but, when you see them in person, they're almost too much, too in-your-face. So for myself, I think I might prefer a bike with this, much more elegant style. KTM RC8s don't come up for sale too often, at least not without outrageous price tags approaching their MSRP. You want what for a seven year old motorcycle that was a tough sell, even when new? Fortunately, today's isn't in perfect showroom condition, but miles are still low and the price is much more reasonable.
From the original eBay listing: 2010 KTM RC8R for Sale
Clean title in hand
Low mileage (7,100 miles)
Full Akrapovic Exhaust with Secondary Air System Delete (tuned accordingly)
R&G Tidy Tail fender eliminator
LED headlight bulbs
Tech Spec tank grippers
Brand new Q3 tires front and rear
Shorai Lithium battery

Very Minor scuffing of front left fairing
Yellowing found on tank from old tank protector adhesive
Typical burning of headlight housing from halogen bulbs (replaced to led, heat is no longer an issue)
All services up to date. 
The Buy It Now price for this example is just $8,999 which is very appealing, considering the solid condition, relatively low miles, and the inclusion of the desirable Akrapovič exhaust. When bikes are new, accessories are often available from companies at the higher end of the retail spectrum. But ten years on, you might end up fitting your exotic sportbike with a TwoBros pipe if it doesn't already have something like this.
-tad