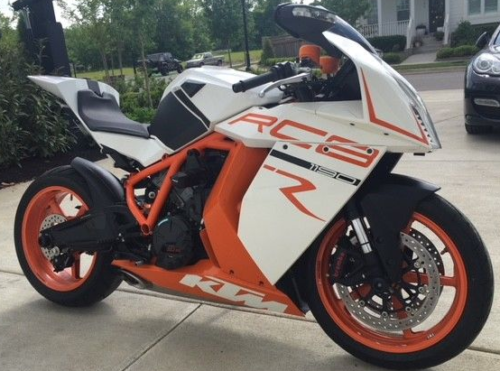 First of all, a big shout out to all of the RareSportbikesforSale fans I met at Laguna Seca over the weekend while working with the guys at the Iconic Motorbikes booth! Was really great to meet you and hear your stories. Also, I apologize profusely for any financial difficulties or domestic drama our little blog may have caused…
The KTM RC8R was introduced in 2008, making the design ten years old now, but honestly, it's unlikely that anyone unfamiliar with the bike would ever realize it's been around that long. Pretty much every available color combination was : from the planar stealth-fighter look of the all-black version to the origami white-and-black design, they all make the bike look like a pre-production concept or a design student's digital rendering.
My favorite though is the orange-and-white scheme seen here. I have no idea what anyone else calls it, but I refer to this color combination as "Creamsicle." Apparently, KTM owners recognize the cartoonish quality because I've seen a SoCal RC8R in these colors with a large "ORANGE CRUSH" bottlecap sticker on the fairing… But the upside to KTM's concept-bike styling made flesh is that it still looks fresh nearly a decade on.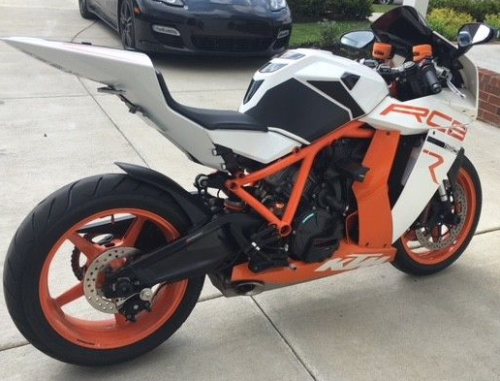 Under the brash looks was surprising practicality: ergonomics were highly adjustable, and the bike was designed for ease of maintenance. The 75° v-twin originally displaced 1148cc although it was later increased to 1195cc for the 2010 model, with an output of 175hp and a stump-pulling 90 ft-lbs of torque, right on par with other twins of the period. Of course the liquid-cooled lump featured four-valves and chain-driven cams, along with twin spark plugs per cylinder. Unfortunately, the early models were plagued by a clunky gearbox and high prices, although the second-generation bikes with the larger engine were much improved.
From the original eBay listing: 2012 KTM RC8R for Sale
Excellent condition, garage kept 2,200 miles. Tons of tasteful upgrades. Around 2,200 miles and may go up a little as I still ride her some.
Clear title in hand. Only 1 of 250 imported from 2012 and 2011 in US.
Tons of extras as you can see including matte carbon fiber front and rear fenders.
Next service not due for over 3k miles.
Never wrecked, never down, no scratches and no surprises.
My favorite sport bike on the planet, fully-adjustable for all size riders, and that twin!
Why am I selling? Scaling back and slowing down. At least for now…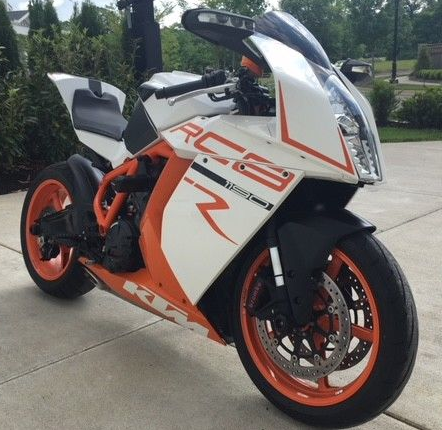 The listed price for this RC8R is $10,400 which seems very reasonable, considering what sellers are typically asking, the very low miles, extras, and general condition. It obviously doesn't have the top end power of a Panigale, but that's not necessarily a problem, considering the fact that the Pani already seems to be a bit of a handful. And a lack of electronic aids might also appeal to experienced riders who want a relatively analog experience in an increasingly digital landscape. The distinctive looks are aging particularly well, I'm just never sure that, as much as I love this particular color combination, I'd have the nerve to actually ride one: subtle, it is not. Especially with the accessory Akrapovic exhaust I'd want fitted…
-tad