There's no doubt about it- Aprilia was the little Italian company that could from 1994 to 2007. Undersized and well under funded, Aprilia built a near perfect MotoGP racer and landed the best of the best to put the RS250 on top of the box for the majority of a 14 year span.
1994 Max Biaggi Aprilia
1995 Max Biaggi Aprilia
1996 Max Biaggi Aprilia
1997 Max Biaggi Honda
1998 Loris Capirossi Aprilia
1999 Valentino Rossi Aprilia
2000 Olivier Jacque Yamaha
2001 Daijiro Kato Honda
2002 Marco Melandri Aprilia
2003 Manuel Poggiali Aprilia
2004 Dani Pedrosa Honda
2005 Dani Pedrosa Honda
2006 Jorge Lorenzo Aprilia
2007 Jorge Lorenzo Aprilia
It's not uncommon to hear the RS frame and banana swing arm to be perfect in every way. The RS motor was also said to be near perfect-cranking out around 60hp while producing around 30 pound feet of torque. This combination propelled the the RS to a top speed of about 130mph and was a strong enough package to lure in the hottest of young European talent. As previously mentioned, Aprilia won 9 our of 14 championships starting in 1994 and ending in 2007. Granted, I don't think us mere mortals can compare to the likes of Biaggi, Capirossi, Rossi, Melandri, Poggiali or Lorenzo, but we can sure dream- right?
The seller of this Challenge Cup machine has some serious advice for any would be buyer. I feel it's my duty to cover it before moving on to all things pictures, fantasy and drool.
The sellers warning
Don't consider buying this if:
– The only 2-stroke you have ever started is a weed-whacker. This bike is the real deal.
– You have no idea what a carburetor does
– You want to ride it on the road. (This is only for the track). Has a 15 digit VIN (ZD4LDA5004S0043)
– You need electronic aids (ABS, traction control etc). There aren't any.
Thanks to my buddy, Jay- former RSBFS.com writer and guru of all things Aprilia, I used to own one of these and I'd always park it next to my trusty Stihl FS85 line trimmer as a reminder that I wasn't a worthy candidate for RS250 ownership.
Now that I've covered the disclaimer lets check it out-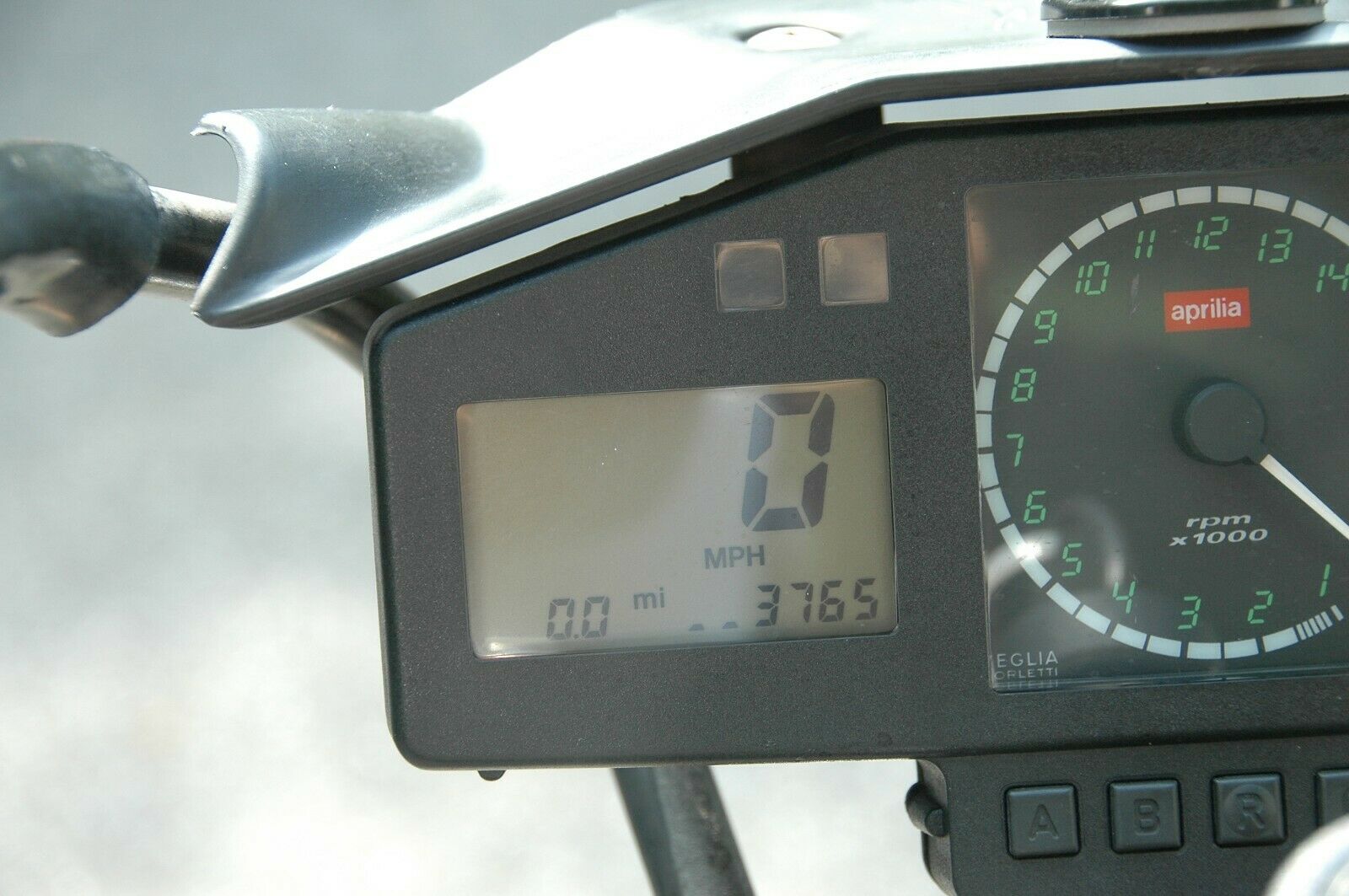 Low mileage: Check!

---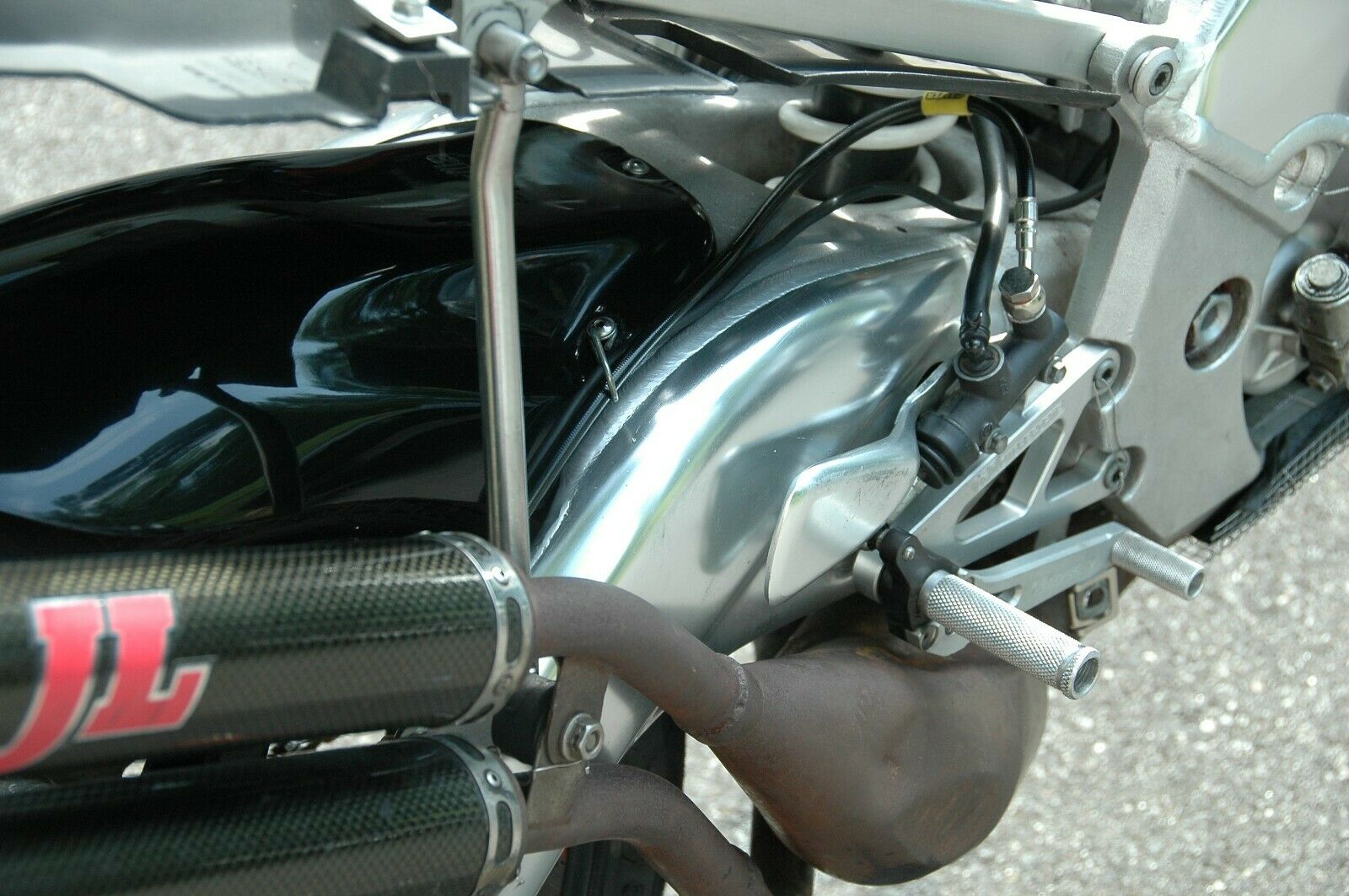 Shiny bits and true Racer Boy exhaust: Check!
---

 
It has a motor: Check!
 
---
More from the seller
2004 Aprilia RS250 Challenge. (The last year this track-only bike was made)

Legendary frame and handling with huge Brembo brakes and nearly 60 BHP from its Suzuki 250cc engine
This machine is small and agile enough to teach you great track craft without ludicrous speeds. You'll out-handle and out-brake almost anything on the track and still be able to reach 115mph on the straightaway

Never raced. Only used for track days by mid-level rider. I believe I am the second owner.
Used a few times a year, it now has only 3,765 miles

Run on 100% pure gas (no ethanol) 91 Octane with Motul 2-stroke oil. Has an oil pump so no need to premix.
Gas tank has been treated with epoxy
Original body work including tank and panels
Front and rear stand included

Owned by motorcycle enthusiast with 40 years of 2-stroke experience. I rebuilt the top end of the engine with advice and spares from TheTuningWorks (UK) who are renown experts in these engines. Used Evans coolant to prevent corrosion.
Nearly new Pirelli Diablo SuperCorsa tires with about four track days of wear.

There are pictures of the naked frame and subframe to show you that everything is straight, clean and undamaged.

The Aprilia forums reckon this is worth $9,000!

THIS BIKE IS THE REAL DEAL! TRACK-ONLY! NO REGISTRATION, NO PLATES, NO TITLE. Bill of sale only (as is always the case with track bikes).
And there you have it folks! If you fancy being like Rossi and kicking ass at your next track day- I'd highly suggest you skip the clapped out 2015 GSX-R and pick up this extremely nice RS250. I guarantee you'll have more fun, track side conversation and a much higher resale value when you've had enough. Oh!, but let's not forget, you must be pre-qualified in chainsaw or higher to purchase this machine.
Check out this track weapon here!
Ciao!
dd
10 Responses.