Update 3.31.2022: This bike has SOLD and been delivered. Congratulations to buyer and seller! -dc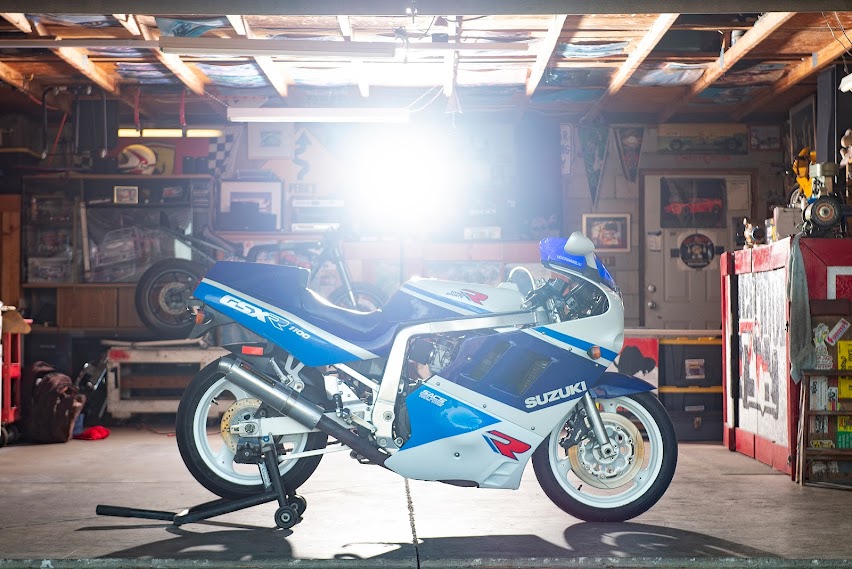 The RSBFS faithful will undoubtedly know Chris Perkins from GSXRonly.com. Chris has listed some amazing builds on this site, complete with the requisite photography and honest descriptions. And today's bike is no exception, except that instead of a perfect resto or a mod-rod hammer style big bore build up it is more of a very clean survivor / rider example of the classic liter bike monster, the GSX-R 1100 in beautiful blue & white.
The GSX-R line should require no introductions on these pages, as Suzuki's revolutionary race bike for the street bowed as a 750 in 1985, introducing light weight and race-spec components that redefined performance for the 750cc class. The 1100 model followed the next year, and similarly made existing liter bikes obsolete. But nothing remains static in the competitive arena of competitive motorcycles, and by 1988 the original 750 had already been upgraded in several areas, including a more robust frame. 1989 introduced similar changes to the 1100 (including a bump in displacement), resulting in the best handling and fastest big Suzuki to date. The 1127cc inline four – still cooled via a combination of air and 2 high-flow oil pumps – churned out 143 HP when new, could rip a quarter mile in the very low 10s, and nudged 170 mph flat out on the top end. Heady stuff for the 1980s.
From the seller:
1989 Suzuki GSX-R1100

15,600 miles
New Michelin tires
Yoshimura Duplex Exhaust
Repainted Rear Wheel
Great brakes, clutch and chain/sprocket
Cleaned and rebuilt carbs, new needle valves, 'O" rings fuel lines and seals for the fuel delivery to the bowls
Lowers have been repainted due to tip over cracks and scuffs. Plastic welded and repainted with PPG products
Rear tail panels have had a few of the mounting nipples repaired.
Small crack left ear near the mirror on the upper fairing
Small crack (repaired from inside to stabilize) on right rear tail,
Small crack on left rear tail
Small crack on front fender
Scratches on the tank
Original white pearl paint is yellowing, as is typical for these bikes.
Metal is very nice, small scratch on right side of swing arm behind pipe
OEM reflectors, rear fender , rear tire hugger
OEM directional's and mirrors

Running bike, Add fuel. Very fast, somewhat loud, but a lot of fun. If you are looking to have the rest of the bodywork painted, we can make that happen. I have the complete decal kit in hand. Otherwise, ride it as it is.

I try very hard to advise of all known defects so there is no confusion as to the condition, many times I am overly critical, but I have made a trip myself to get bikes, and have been disappointed at the description.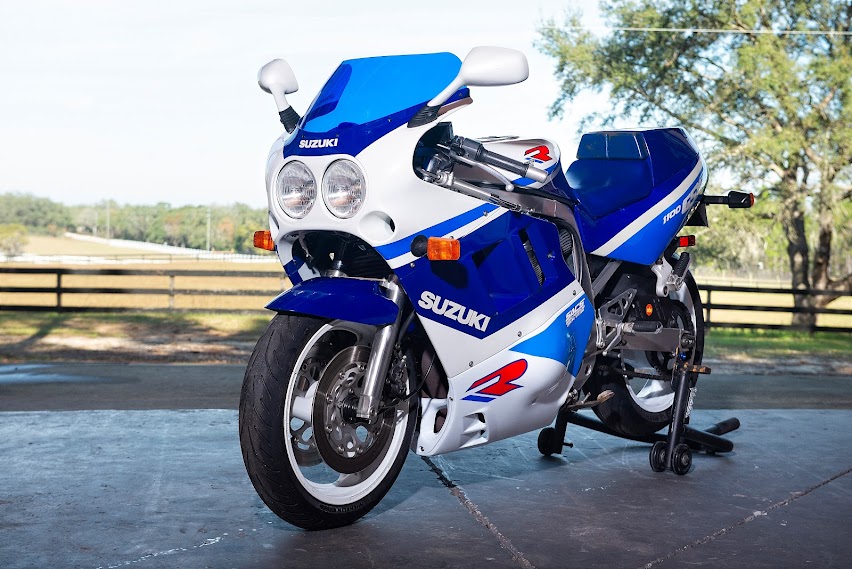 More from the seller:
This 1989 Suzuki GSX-R 1100 is a really nice, mostly original example of a survivor /rider that is in need of a new pilot. Clean Florida title in my name. Ready to assist in shipping, but it is the buyers responsible for making arrangements. Any question or offers, please call.

Asking price: $11,500

Contact information: Chris Perkins 407-492-5854 gsxronly.com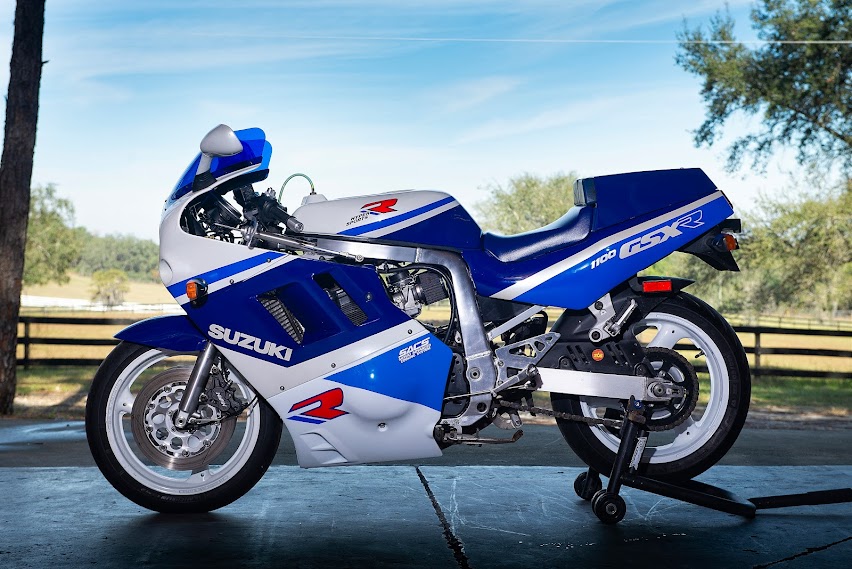 Today we are seeing earlier generation GSX-Rs evolve into true collector bikes. Time has been kind to the style and the legend that is the Gixxer, but so many of these models were not treated kindly in return. Therefore simply finding a serviceable example of one these bikes from the 1980s is a feat unto itself. And when you find one, you have work to do. Potentially a lot of work, depending upon the condition and how recently it was used. Today's Featured Listing 1989 Suzuki GSX-R 1100 has already had a pretty thorough going over by the sounds of things, and Chris is very open as to the overall mechanical and cosmetic shape of the machine – in both pictures and words. The period correct Yoshimura exhaust and Lockhart tinted screen is just icing on the cake! If you have lusted after a classic GSX-R and are looking for a rider or if you seek a platform to build the bike of your dreams, check out all of the great pictures and then give Chris a shout and strike a deal. Good Luck!!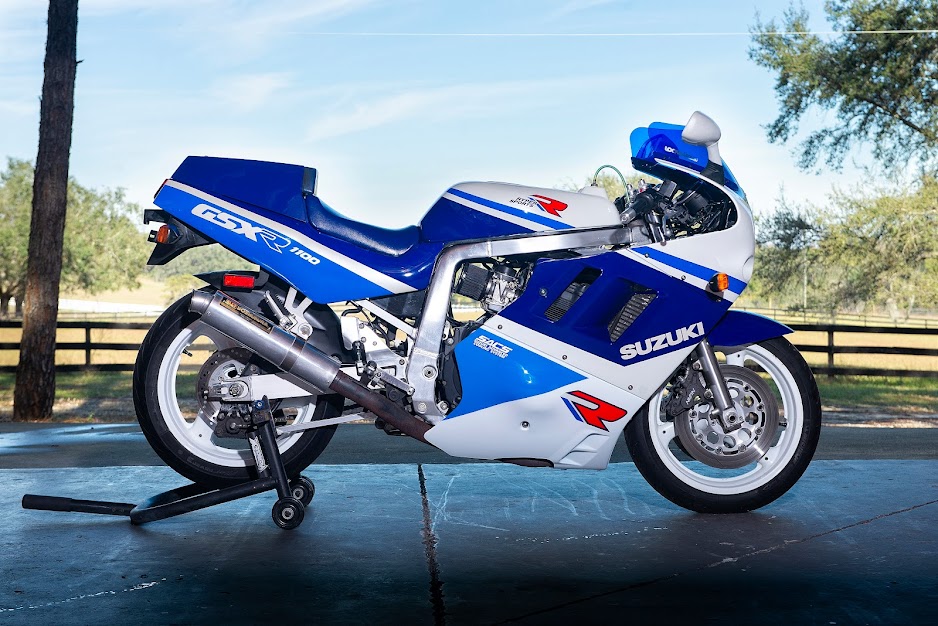 MI