Warning!
This post is in our archives. Links in this post have been updated to point to similar bikes available to bid on eBay.

Update 6.18.2020: This bike is SOLD! Congratulations to buyer and seller! -dc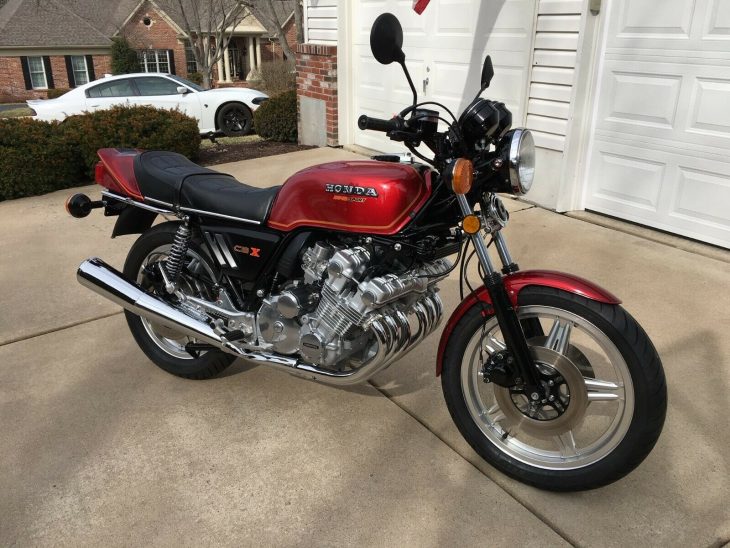 What's cooler than a steel-framed classic motorcycle powered by an air-cooled inline six? In the literal sense, almost anything, as no matter how many fins you cast into the block, six 166-cc pistons slamming up and down at 9,000 rpm produce rather a lot of heat. In the figurative sense, though, damn near nothing comes anywhere close.
The Honda CBX only lasted from 1978 to 1982, but when it bowed in '78 it was the fastest production bike there was, and reviewers raved about how much better it went than the next-best CB900F. One reviewer said that even though the CBX was more expensive, it represented the better bargain as the dynamics were good enough to outweigh the cost difference. With 105 horsepower from the big six and a 140-mph top end, the numbers were absolutely eye watering, at a time when 80 horsepower was considered just fine. Even with a 600lb wet weight — gargantuan by today's values, and unthinkable for anything sporting — the bike wasn't that much heavier than its four-cylinder competition.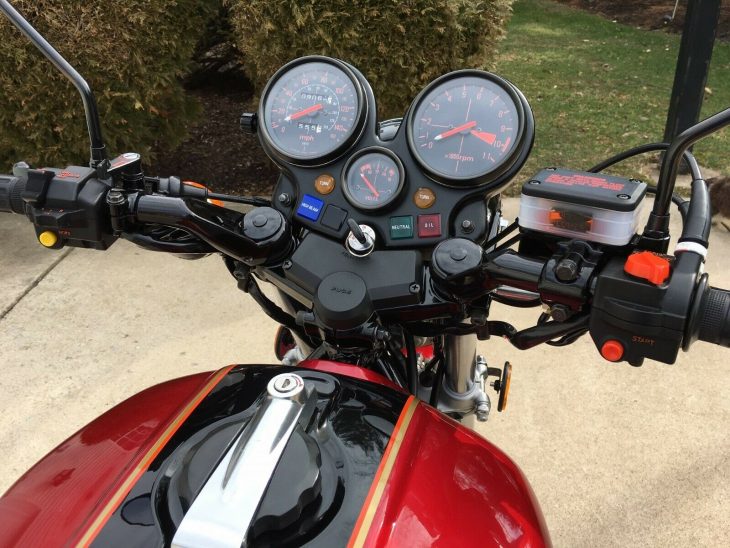 This 1979 Honda CBX is in better-than-showroom condition, having only covered 9,000 miles over the last 41 years. It has been owned by a Honda dealer, and two fastidious owners in the last 20 years, who kept it immaculately clean. The seller went through it thoroughly, but says he only refinished a few small parts. The gorgeous shine you see everywhere else is factory original.
From the eBay listing:
1979CBX: As close to new as possible with no "patina". The original owner was a Honda Dealership owner. The owner passed away after putting 8,533 miles on it in 5 years. It took 20 years for his estate to be settled and the bike was auctioned in 2005. The second owner had it for 15 years (mostly sat in his living room) and put about 500 miles on it before selling it to me in July 2019.

I disassembled the bike and performed the following: Replaced the wheel bearings and seals, replaced the steering head bearings and dust seals, rebuilt the brake calipers and master cylinders using all Honda NOS parts. Replaced all of the brake lines with Spiegler stainless steel lines. Replaced the 630 drive chain with Honda NOS chain (continuous with no mater link) in a sealed bag with instructions and a new chain wear decal. Replaced the tires with Avon Roadriders. Replaced the shocks with Hagon adjustables. Rebuilt the forks with Honda NOS seals, o'rings and Race-Tech springs. The carburetors were restored by Old School Carbs. Replaced the fuel petcock with Honda NOS assembly.

There were only four parts that I refinished-side stand, center stand, brake master cylinder and battery side bracket. The only part that I re-chromed was the rear axle nut. The front fender, fuel tank, tailpiece, side covers and chain guard are original. The seat is original. All of the electrics except the battery are original.

Included is the original operator's manual velcro'd to the right side cover. Also the complete original tool kit is in its bag next to the battery box.

I had planned to ride the bike after I completed my work. I have changed my mind as it is too nice for me to risk it. Please call if you have any questions or need pictures of specific areas. Paul 314-600-0197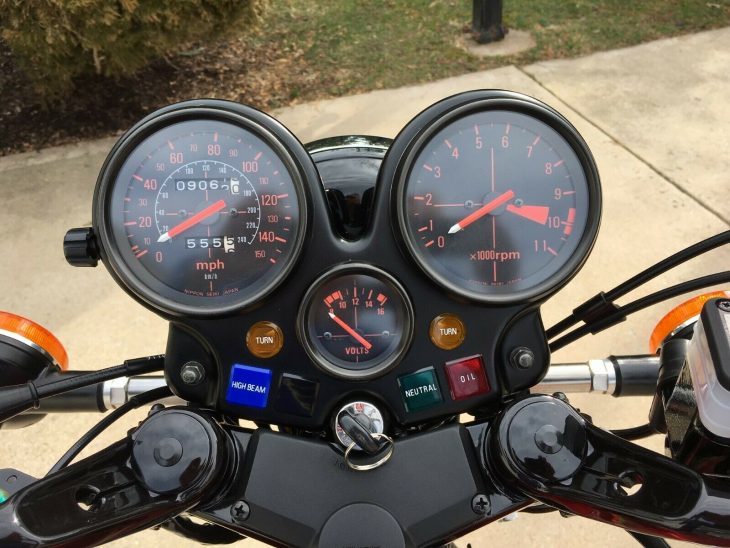 As the specter of inline six motorcycles fades further into history, bikes like the CBX are moving up in the world with collectors. Apart from the alarming speeds they can achieve, they sound like a Formula 1 car at full chat, and cut a wide swath in person. Finding one even close to this nice is going to be increasingly hard.