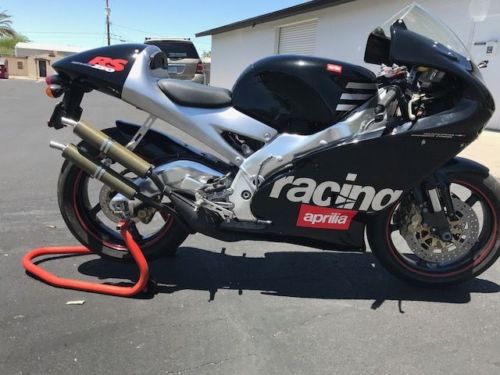 "A man's got to know his limitations," Clint Eastwood's Dirty Harry famously deadpans in Magnum Force, a film which happens to feature several Italian motorcycles, none of which are an Aprilia RS250 like this Cup Challenge bike. The decision-makers at Aprilia must have been fans of Clint Eastwood though, as they took that advice to heart: when they were planning the RS250, they stuck with what they knew and kept the frame design and styling in-house, while leaving the engine and transmission to an established manufacturer with vastly greater resources and expertise.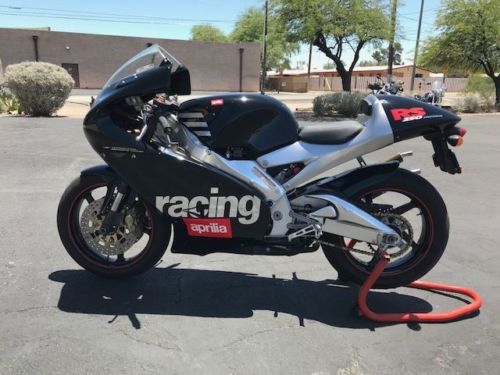 Instead, they used the 249cc v-twin from Suzuki's RGV250. Power for the RGV was listed at just 45hp, so the RS250's claimed 70 horses made it seem like the Aprilia version must have been outrageously modified, tuned to the absolute hilt. The reality was that Japanese restrictions meant all the home-market two-strokes were officially limited to 45hp, and were all capable of similar outputs when properly tuned and de-restricted. In fact, those in-the-know claim that Aprilia's modifications  pretty much amounted to a set of engine cases with "Aprilia" cast into them, and that 55hp at the rear wheel is a much more realistic expectation.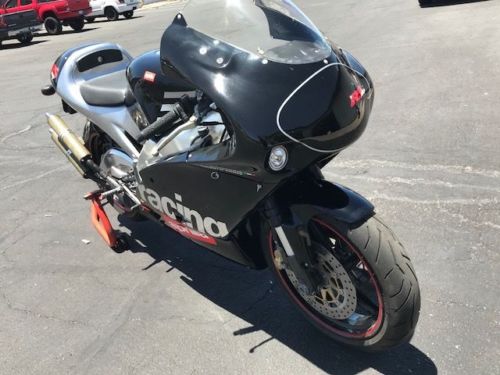 No problem: the Suzuki twin was plenty powerful and tuneable, with good parts availability and a high-strung character that complimented Aprilia's masterpiece of a frame, an aluminum beam unit that looked great and worked even better: reviewers then and now often refer to the RS250 as being one of the best-handling motorcycles of all time. Weight was pared to the bone and the bike was kick-start only. With about 300 pounds to stop, the triple Goldline Brembos were almost overkill, considering the same setup was used to effectively halt the much heavier Ducati 916 and the massive Moto Guzzi Sport 1100…
So the bike fit the standard quarter-liter mold: aluminum frame, asymmetrical "banana" swingarm to clear the expansion chambers, kick-start, and agility instead of brute strength. But where the Japanese bikes were often decorated with wild graphics and bold colors, the Aprilia kept things classy in elegant, basic black. Some of the earlier models featured race-replica graphics and colors, but even those were pretty understated, compared to other bikes in the class.
The Aprilia RS250 Cup Challenge version was created to compete in a one-make race series late in the model's life. It was never really intended to be a roadbike, but did come with an actual VIN so some have been converted, as you can see here: this example does the bare minimum to make it road-legal and looks that much cooler for it.
From the original eBay listing: 2000 Aprilia RS250 Cup Challenge for Sale
2000 Aprilia RS250 Cup Challenge Edition. Original owner. Titled and registered here in AZ since new. Street legal and plated. 2 stroke twin. 6 Speed. Never damaged or raced. Some track days over the last 18 years. 5400 miles since new. RS50 taillight and rear turn signals. Small Piaa headlight with switch and brake light switch to keep the DMV happy. New battery, oil service and fork service. Fresh coolant and brake fluid as well. Carburetors and power valves were also cleaned and synched. Factory service manual and some gearing go with. If you want to show up at bike night and be a bit different here's your ride. The smell of castor smells like victory. Mechanically and aesthetically in excellent condition.
Well, this might have a couple nods to streetability that will "keep the DMV happy" but your mileage, as they say, may vary, depending on where you live. Honestly, all RS250s here in the US are "grey market" bikes and only quasi-legal at best here in California. That's part of what makes CA titles so valuable for bikes like these: if your RS250 doesn't already have one, it's unlikely you'll be able to get one. Then you're forced to register your bike in your Arizona-living buddy's name, and end up riding around hoping the CHP doesn't give you a hard time when they pull you over… This one has clearly been enthusiast-owned and miles are very low. Although it's really a converted race bike, the "road legal" equipment installation is pretty slick and unobtrusive. And reversible! Bidding is pretty active over on eBay and there's plenty of time left to get a bid in, so head on over and take a look!
-tad