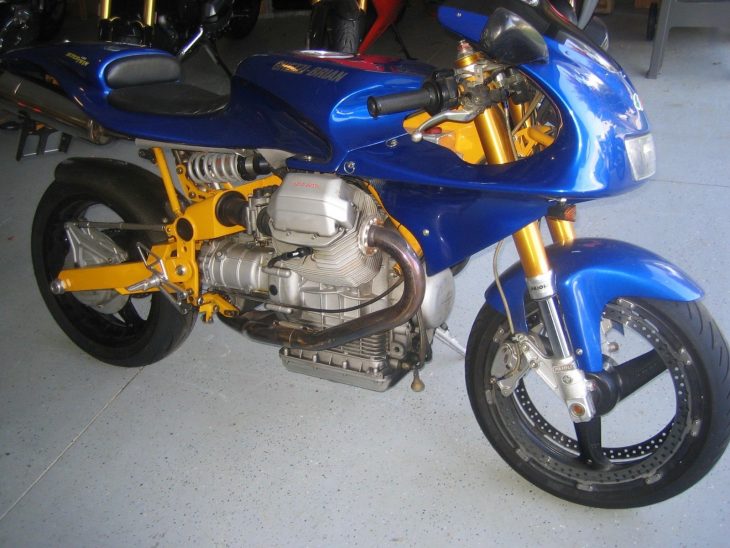 Considering just how few Ghezzi-Brian Supertwin 1100s there are running around anywhere, let alone North America, I'll forgive the "WTF" face your computer or phone's built-in camera is secretly recording because of an undetected malware infection. You're looking at what is functionally a Moto Guzzi sportbike, the company's pushrod, two-valve twin and shaft-drive and dropped into a lightweight, better-handling package. Long associated with a slightly stodgy, "Italian BMW" image, Moto Guzzi got a kick in the pants in the 1980s when dentist and weekend warrior Dr John Wittner decided to base his racebike on Le Mans IV and reminded the world that the venerable Italian company had racing in its DNA, although the production bikes like the Daytona and Sport 1100 inspired by his efforts were still banking on their character, not their raw performance, to sell them.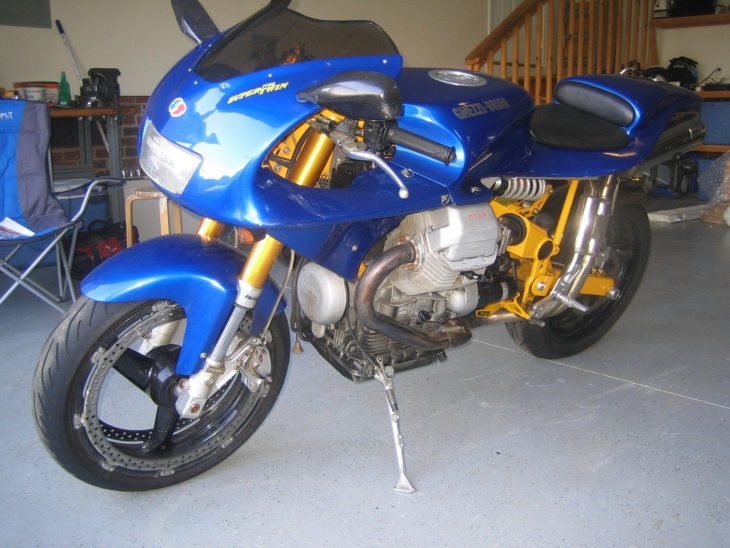 Giuseppe Ghezzi and Bruno Saturno, two halves of the Ghezzi-Brian team, decided to follow Dr John's muse and build highly-spec'ed, boutique sportbikes and even racers around Moto Guzzi's characterful, but relatively antiquated powertrain. It's a shame their MGS-01 didn't see anything like mass production, but you can still pick up a legitimate Moto Guzzi sportbike like this Supertwin that could be considered a test bed for the ideas later used on the MGS-01 that was also Ghezzi's brainchild.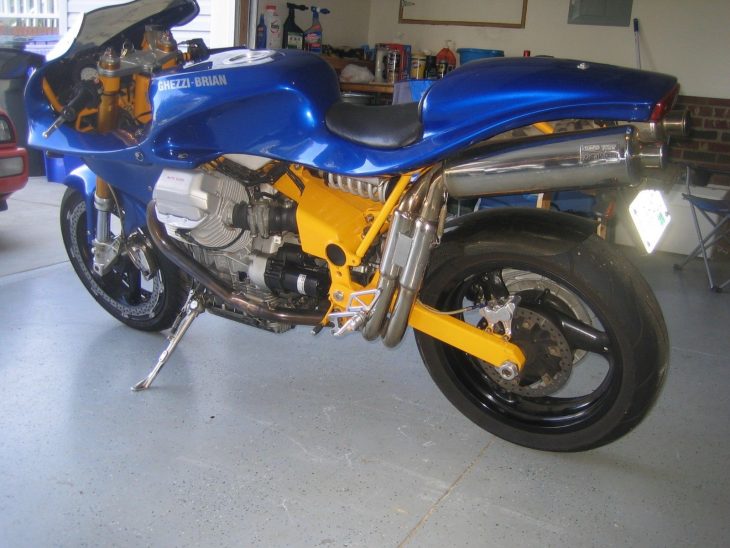 Based on their successful racebike, the Supertwin 1100 took its name from the Italian Supertwins series, where it won 9 out of 32 races in the 1996 season. The main performance increase came from a significant reduction in weight: overall, the Supertwin tipped the scales at 427lbs dry, 55lbs less than the unfaired V11 Sport. Handling and braking were upgraded with an adjustable Paioli 41mm fork and a Bitubo shock out back, with distinctive perimeter disc brakes mount to the rim of the front wheel, instead of the hub, to further reduce weight and more evenly distribute braking forces. The concept never really took off for mass-produced motorcycles, excepting the ever-contrarian Buell, but they work well in practice.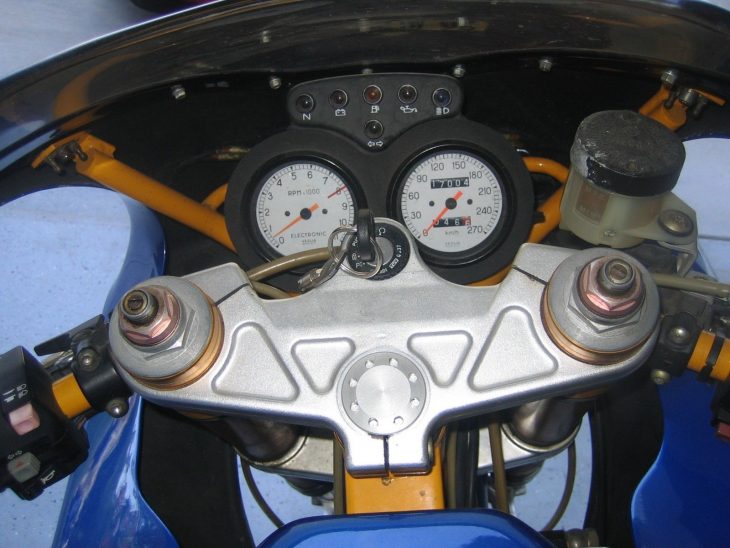 The Supertwin makes do with the earlier five-speed box which is a shame as the torquey engine doesn't really need a sixth cog, but the newer unit shifts much more smoothly. Luckily, the boutique nature of the Supertwin allows for a lightened flywheel that helps minimize the usual Guzzi torque reaction: the longitudinal crankshaft, flywheel, and shaft drive all conspire to give anything powered by a Guzzi twin its characteristic torque reaction that makes handling slightly asymmetrical, but you really do get used to it pretty quickly.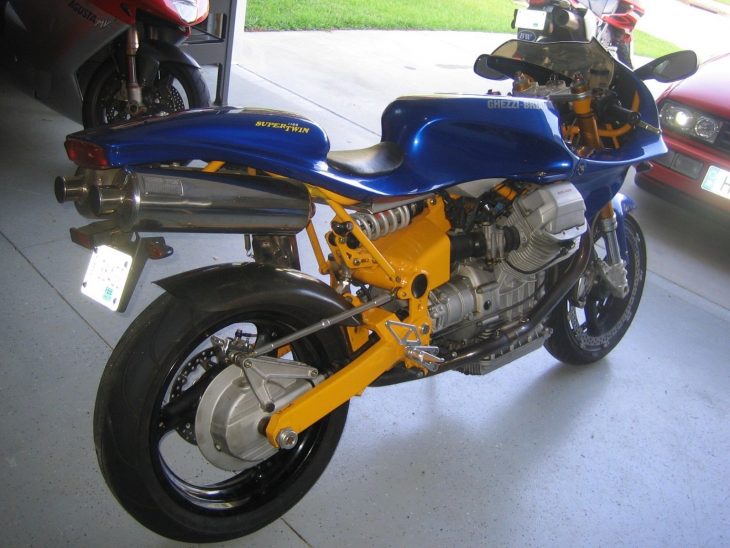 From the original eBay listing: 2001 Ghezzi-Brian Supertwin for Sale
Rare opportunity to own a little known piece of Italian motorcycle history. Believed to be only 5 examples in the US, one of which can be seen at the Barber Motorsports Museum in Leeds, Alabama. Selling for a friend who has owned it for almost 10 years and is now thinning out his collection. For any questions, or if you'd like the owner to contact you directly, please reply through the listing.

Bike is in good original condition and ready to ride

Shorai lithium battery 

Recently re-surfaced front brake rotors

Known to have been down at low speed on left side and at a stand-still on right side

Left rear cowling has been cracked and re-enforced from underneath 

Various scuffs and scratches from normal use

Note: Odometer reading is in kilometers. Actual "mileage" calculates to around 10,600

Clear South Carolina title

Located near downtown Greenville, 29601
The seller also includes a nice video of the bike starting and running. These were pretty expensive when new: $15,000 in 2001 dollars, and the wild colors and abbreviated, curving bodywork suggest that Britten's racebikes were an inspiration for the styling. It's not cosmetically perfect, but miles are still pretty low and the bike is ready to run, and minor issues shouldn't detract from the riding experience: reviews were very positive and the striking looks should get plenty of attention!
-tad