Update 10.3.2018: This bike has SOLD! Congratulations to buyer and seller! -dc
Introduced in 1989 today's Featured Listing Yamaha FZR600R slotted neatly into an entire range of four-cylinder sportbikes, bracketed by the FZR400 and the FZR750, with the FZR1000 at the top of the range. But you might be surprised to learn that the smaller FZR400 is actually a bit more sophisticated than the FZR600, and had an aluminum frame instead of the steel "Deltabox" frame used on the 600. So what's going on here?
Well the 600 class was originally more of a big deal here in the US than it was elsewhere: in Japan, the 400cc class filled the "supersport" niche, and all the major players had smaller versions of their popular sportbikes, hence the 600's relatively late arrival on the scene, compared to the 400 that was introduced in 1986. There was a GSX-R, a VFR, and a ZXR to give the FZR400 a run for its money. And they obviously all had 750cc sportbikes as well to scratch that "superbike" itch. But the US market was always very lucrative, and 600s were popular in the UK as well.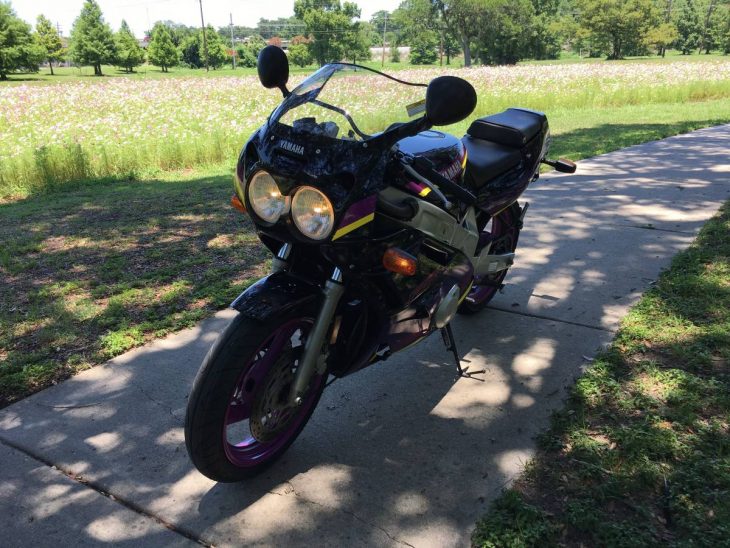 The FZR600 otherwise featured Yamaha's typical tech, including their EXUP exhaust valve and steeply canted Genesis engine block designed to lower the center of gravity. Unlike the 750 and 1000cc Yamahas, the 600 used a four-valve head, and the later R version seen here had a claimed 98hp. Constant evolution meant that, by 1994, the bike had four-piston brakes, revised frame geometry, and the swingarm was wider, although it retained the 18″ rear wheel. Sure, the revised frame was still made from steel, instead of the lighter, more trick aluminum units Deltabox units. But the Honda CBR600, the FZR's direct competitor, used a steel frame as well, and that bike was considered an incredibly competent all-rounder!
This example is also featured over on Craigslist: 1994 Yamaha FZR600R for Sale
Are you ready for this nostalgic collectors dream?

This 1994 FZR600R is one of the classic bikes from the beginning of Sportbikes. The 1994 FZR600R was more radical, lighter and faster than previous years with new looks. The second generation of middleclass SuperSport was clearly targeted towards the feeling of track and competition. Many parts were derived from the YZF 750R, being the base for Yamaha superbike racing. The classic Yamaha dual headlights captures the nostalgic feeling of early 90's Sport Bikes.

With new chassis and completely new engine for 1994, a shorter stroke and increased power (96hp /11500rpm) the FZR 600 R qualified again for least compromise SuperSport in its class.

I purchased this FZR from the wife of a motorcycle collector in New Jersey who had sadly passed away leaving this bike and many others in storage for many years. I went through the bike from top to bottom and performed the following to get this collectors dream back on the road. New chain, battery, master cylinders, Bridgestone BT090 tires, fork seals and had the carburetors rebuilt and tuned by legendary Brad Matteis holder of 50+ national racing records with #2 National Championships in the IDBA.

This bike has only 4,386 original miles and was a garage queen for most of her life. If you have ever ridden an early 90's FZR you know how much fun these are to ride especially through the twisties on a sun day. This is the closest thing you will find to showroom condition. There are very few minor nicks or scratches from it being put into storage but the bike will come with a set of right side OEM full decals should you ever need them. All of the plastics are original to the bike which has never been laid down or even dropped in a parking lot. You can see in the pictures all original warning decals on the swing-arm, windscreen etc. are all still there from new and in great condition.

You must see this bike in person to appreciate this bike for what she is. Please feel free to call, text or email with any questions or comments. I do not need any help selling the bike, I am in no rush to sell her so please do not waste my time or yours with low ball offers.

Thank you…
Certainly, if you're looking for an affordable classic sportbike, you could probably find an FZR600 for less than the $4,250 the seller is asking. But most you'll find have been… well-used, to put it mildly: they've been pretty cheap for a long time and are likely to have been thoroughly trashed by now, so finding one as low-mileage and immaculate as this one could prove to be pretty difficult. The later R model seen here did feature some revisions to the aging platform that helped to keep it competitive, including a lighter, redesigned frame and revised tuning to the engine, so it's not your run-of-the-mill FZR, a bike that was already considered one of the best 600s of the era.
-tad