Update 11.2.2021: Last see in August of 2020 from the same seller, this one is back on eBay with a buy-it-now of $7,150. -dc
For a while in the 1990's, sponsorship from Marlboro led Yamaha down a red-liveried path, and the torn paper graphics on this 1996 YZF-750R makes reference without saying it too loud.  It's a low-mileage example with a recent major service, and looks smashing.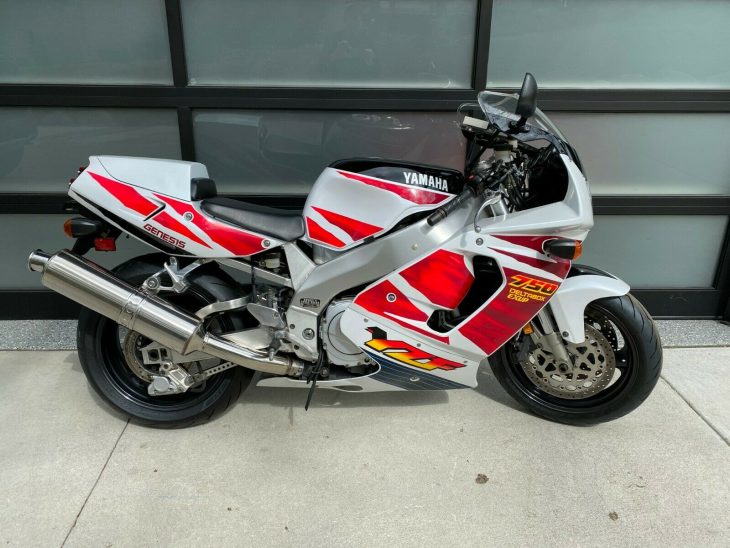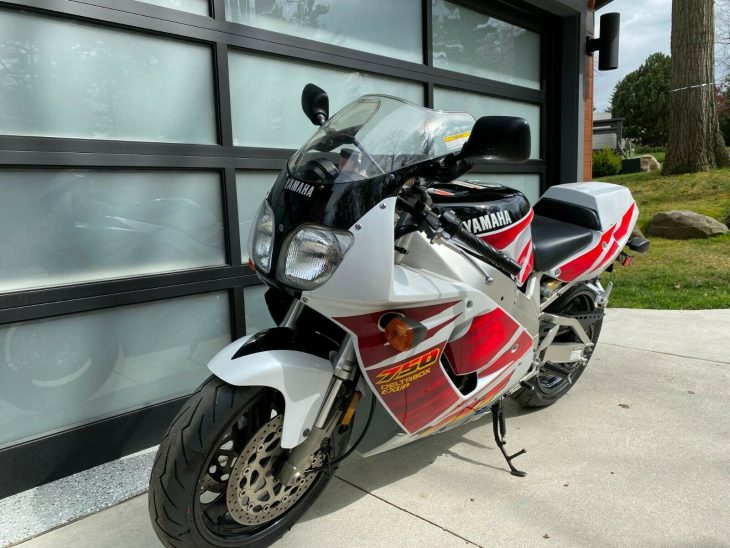 Yamaha took the successes of their late -80's World Superbike mounts and ran them by production engineering, preserving as much of the good stuff while bringing the cost out of the stratosphere.  Kept was the forward canted inline Genesis, with the EXUP exhaust tuning system – in road trim worth 125hp.  The aluminum Deltabox chassis evolved with re-designed frame connectors.  New brakes were 320mm disks with 6-piston calipers.  The fox-eye headlights look a little less drop-dead serious than those on the OW-01, but the painted pillion cover passes for a single-seater under way.
The seller's other auctions seem to indicate a dealer rather than motorcyclist owner, but either way, this YZF is in special shape for its age.  Hard to find fault with the presentation, except maybe to pine for an SP homologation special.  The last service call made everything ready for the new owner.  From the eBay auction:
Parts:

Float bowl gaskets             

Needle and seat                

Fuel line                            

Oil (semi/syn)                     

Battery                             

Rear brake caliper kit         

Rear pads                           

Front pads                        

Fork seals                          

Pirelli Rosso Tires              

 

Labor:

Service carbs                   

Oil change                          

Install tires                         

Fork seals                           

Rebuild rear caliper            

Front pads                         

Complete degrease/clean  

 

This bike is very special to me as you can see with all the investments made . 

A cleaner example for sale will be very difficult to find today .

The bike is ready to ride . 
The YZF750R sold better across the pond than here, but trailed the 916 and CBR900RR and gave way to the R1 in 1998.  The race version did well in endurance events where Yamaha's quality shown.  This one is right on the edge of too nice to ride too much, but the classic mid-size package and recent maintenance call for at least an occasional back road afternoon.
-donn