Warning!
This post is in our archives. Links in this post have been updated to point to similar bikes available to bid on eBay.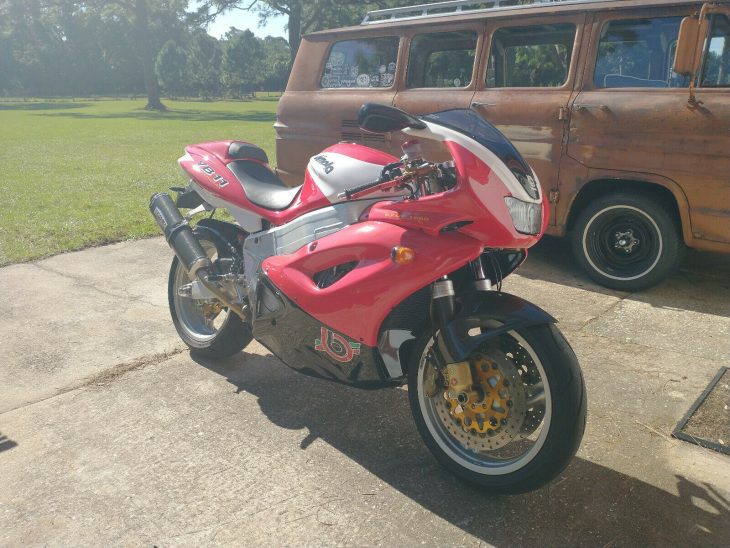 If you don't mind the typical Italian quirks, the Bimota YB11 currently offers tremendous bang for the buck. It's as rare as hen's teeth, with just 650 made worldwide, packs a Yamaha YZF1000R motor and gearbox, is clothed in lightweight bodywork, and generally trade at $10,000 or less. It doesn't get much rarer or more exclusive than that and the styling, while obviously not modern, makes the bike striking enough to display in your living room.
That 1002cc Thunderace motor puts out a stout 145hp and 80 ft/lbs of torque, enough to propel this Italian missile to nearly 170mph, a heady number in 1997 and still nothing to sneeze at today. Reliability for the engine is excellent as well, although accessing the bike to service it can prove difficult with the engine in the frame… Luckily the super leggera ["very lightweight"] bodywork is easily removed, with the tank shroud and entire tail section formed from a single piece!
The rest of the bike is every bit as exotic as you'd expect, with stout 51mm right-way up Paioli forks that feature carbon fiber tubes, Brembo gold line brakes, lots of carbon fiber, and even a pillion pad and pegs! You have to admit: passenger accommodations on a limited-production Italian superbike are exceptionally rare…
From the original eBay listing: 1997 Bimota YB11 for Sale
I am selling my 1997 Bimota YB11 Superleggera (and two other bikes – please see my profile) located in Cocoa, Florida. These bikes are always parked indoors and kept on battery tenders when not being ridden. I am not a dealer; I am a motorcycle collector/enthusiast selling my personal bikes due to an unforeseen health matter.

1997 Bimota YB11 Superleggera, 1 of 87 imported into USA in '97 (650 worldwide)
-Biposto model (OEM passenger seat and NOS passenger pegs included with sale)
-Low 5,598 miles!
-YB11 is the last Yamaha-powered Bimota model produced (unlikely to see another Yamaha model in the future, as Bimota has been acquired by Kawasaki), powered by a 145hp Yamaha Thunderace engine (1,002cc). A robust inline-4, carbureted Yamaha engine that has a great track record and parts availability. Considered to be one of the most well-mannered, reliable, and sport touring-friendly Bimotas available.
-Original owner was a collector (this bike was ~$30,000 new and many went to collectors). Owner prior to me was an enthusiast and regular on Bimota Forums; they completed a functional/riding restoration prior to my possession to refresh the bike after minimal riding in its early years.
-Service/updates include: 51mm Paoli fork seals were replaced with NOS set, brake rotors/pads replaced, Arrow exhaust system with appropriate jetting to match (sounds tremendous), all fluids changed, adjustable anodized clutch and brake levers, good tires with plenty of tread remaining, fasteners on bodywork upgraded to stainless pieces, carbon fiber reinforcement on backside of bodywork mounting points to prevent cracking in the future, low profile rear signals, upgraded brake/clutch fluid reservoirs.
-Runs smoothly, very powerful, Yamaha EXUP system functions as it should
-Headlight, taillight, turn signals, gauge cluster, digital temp/odometer readout all function correctly
-Title is clear, no liens, ready to be signed over
-Extras: I am including some parts, ephemera, and spares for new owner, to include: NOS passenger pegs with locking mechanism, passenger seat in good condition, lightly used radiator obtained from previous owner(not needed but kept as a spare), "Bimota: 25 Years Of Excellence" by Giorgio Sarti (rare, out of print, $300-400 on eBay when found, best Bimota resource in print, IMHO)

PLEASE READ CONDITION NOTES CAREFULLY! I am an enthusiast and I know the feeling of driving far to pick up a car/bike/moped/etc and being disappointed upon arrival. I will tell you as much as I can, in hopes that your expectations will be accurate. I would rather you arrive and be pleasantly surprised at how the bike shows in person, rather than disappointed that flaws were omitted.

Condition Notes: This bike is very clean; please view photos carefully for best idea of condition. The mirrors have some minor/superficial scuffs on the plastic on the backsides, see photos. There is a small hairline crack near left mirror, see photos(has been reinforced on backside to prevent further spread). There is a scuff/wear where the bodywork meets, near the right fork tube, see photos(this is hard to notice unless underneath or very low, but worth mentioning). Black paint is chipping on kickstand. Please view photos carefully and let me know if you have questions about any other areas.
The seller appears knowledgeable and the bike looks very clean, in spite of a few minor blemishes and the over-exposed photos that don't flatter the paintwork. I'm a huge fan of 90s Bimotas and values have managed to remain low, although that can't last forever. They are pain to work on, but the mechanical bits are sound and this thing could still surprise an unwary modern bike with its performance. As to the claim that this "the most sport-touring" friendly Bimota available: the pegs do feel very high, but I've read that the somewhat odd riding position does work very well once you've acclimated yourself.
-tad